In 2018, we saw the American people respond to unprecedented cruel attacks on immigrants with enormous compassion and advocacy to defend our immigrant brothers and sisters and uphold our most cherished American values. Thank you for standing with immigrants in our communities and for welcoming aspiring Americans.
Today on International Human Rights Day, we commemorate the United Nations General Assembly's passage of the Universal Declaration of Human Rights 70 years ago.
Here are just a few of the ways we advanced human rights protections for immigrants and families together this year: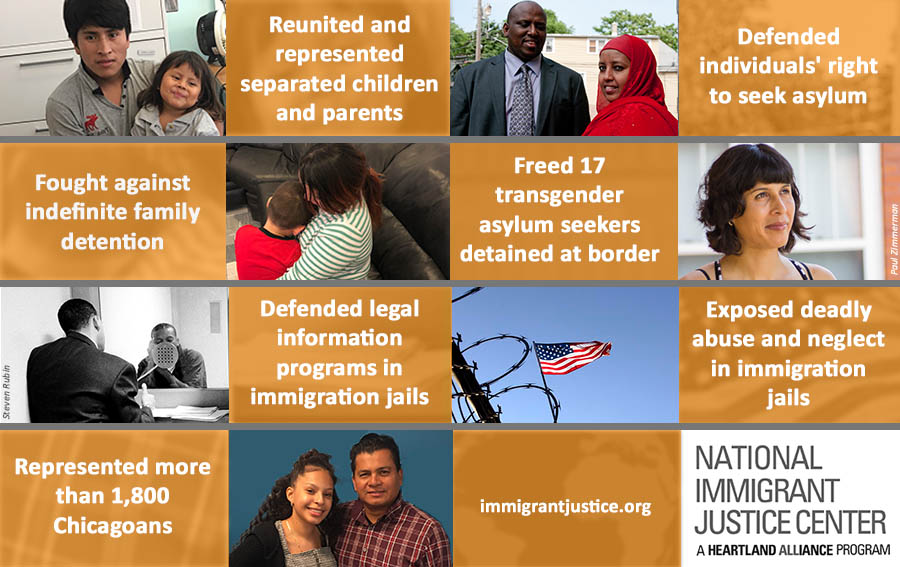 1. Reunited children and parents separated at the border
NIJC represented parents and children who were desperate to reunite after the U.S. government separated them at the border as they tried to seek asylum. NIJC also provided legal counsel to immigrant children who were separated from their parents and advocated for their rights. In December, a mother and child NIJC had represented for over eight months finally reunited after NIJC and pro bono attorneys from Gibson Dunn LLP won a federal court order forcing the Trump administration to reunite them.
Read more stories of separated families whom NIJC helped reunite.
 
2. Defended individuals' right to seek asylum
The Trump administration's radical plan to block individuals arriving at the U.S. southern border from applying for asylum was met with immediate and intense backlash. Six asylum seekers, represented by NIJC, Human Rights First, and Williams & Connolly LLP, sued the U.S. government challenging the policy, following another suit temporarily disabling the ban. NIJC also spoke out against other inhumane attempts to deter and block individuals from seeking asylum such as firing tear gas on families, and urged the Mexican president to refuse President Trump's proposal to force asylum seekers to stay in Mexico. 
3. Fought against indefinite family detention
When the Trump administration attempted to erase rules that protect the rights of immigrant children in U.S. custody and allow the government to detain families indefinitely, NIJC led national efforts to oppose the proposed new regulation. Americans and organizations like NIJC submitted more than 98,000 comments to stop family detention.
 
4. Freed 17 transgender asylum seekers detained at the border
When a group of transgender individuals arrived at the U.S. border to seek asylum, the U.S. government locked them up in immigration jails. NIJC's legal team jumped into action and filed parole requests for 17 individuals, winning their freedom so they could fight their asylum cases outside of jail.
 
5. Successfully defended legal information programs in immigration jails
The Trump administration's announcement that it would terminate the Legal Orientation Program (LOP) and the Immigration Court Helpdesk program led to public outcry. The programs educate individuals about their legal rights and give basic information about the detention and deportation process. LOP is a lifeline for the more than 50,000 immigrants who face complex deportation proceedings from remote detention facilities every day. For its part, NIJC drafted a legal complaint and educated members of Congress on the program's impact. Two weeks later, the attorney general reinstated the programs.
6. Exposed deadly abuse and neglect in immigration jails
NIJC's reporting exposed the U.S. government's continued deadly medical neglect and mismanagement of the Immigration and Customs Enforcement (ICE) detention system. NIJC teamed up with Human Rights Watch, the American Civil Liberties Union, and Detention Watch Network (DWN) to expose how inadequate medical care regularly contributes to deaths in detention. NIJC and DWN's ICE Lies report uncovered the immigration enforcement agency's egregious patterns of fiscal mismanagement and disregard for congressional oversight. NIJC's prior reports triggered an investigation by the government's watchdog agency, which released a 2018 report condemning ICE oversight failures.

7. Represented more than 1,800 Chicagoans
In 2018, NIJC provided legal representation to Chicago residents in more than 1,800 cases through the City of Chicago's Legal Protection Fund. Since January 2017, NIJC and its partners have provided counsel and quality legal information to more than 40,000 Chicagoans through the Fund. Providing low-income Chicagoans access to free immigration legal services has been critical as the Trump administration has dismantled immigration protections in the United States and seeks to deport as many people as possible without due process. Immigrants who have lawyers are nearly five times more likely to win their cases than those without lawyers, but the U.S. government does not offer appointed counsel to immigrants facing deportation.


Continue fighting for human rights with us! Close out your year strong with a donation to NIJC.