In a year defined by words like "challenging" and "difficult," let's not forget that "victory" and "extraordinary" are a crucial part of 2020's vocabulary. Faced with unprecedented challenges, legal staff and immigrant rights advocates around the country rose to the occasion to protect human rights in extraordinary ways. Today, on International Human Rights Day, we celebrate these victories.
Here are some of the ways we protected human rights together this year: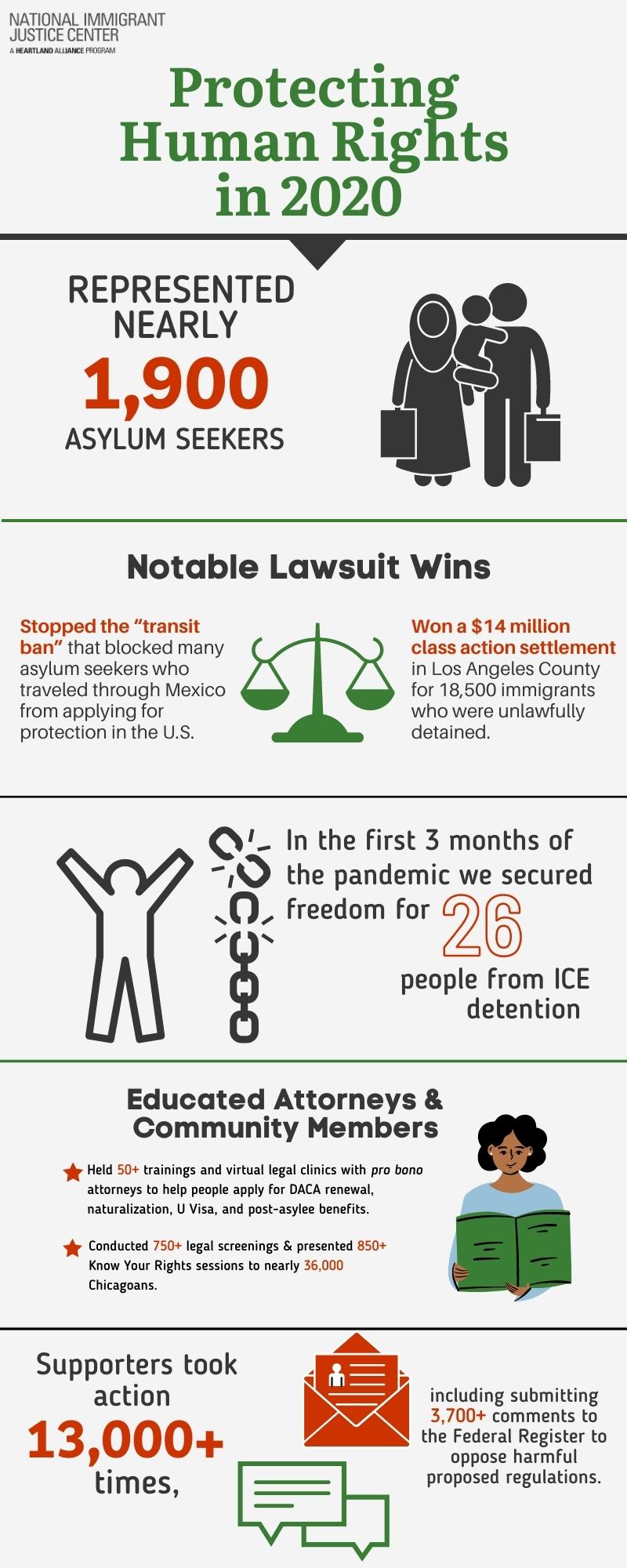 Represented nearly 1,900 asylum seekers
NIJC lawyers and pro bono attorneys represented nearly 1,900 asylum seekers, winning protection for asylum seekers in nearly 90% of cases. Without a lawyer, only 18% of people win asylum. The asylum process is incredibly confusing and difficult to navigate, but with a lawyer by their side, people have a real chance to establish safe lives for themselves and their families in the United States.

Won freedom from immigration jail for a record number of people
In 2020, we won release from immigration detention for more than 95 people—including transgender individuals, those with medical and mental health conditions, and others at high risk of abuse or harm in detention—reuniting them with their families and communities. During the COVID-19 pandemic, NIJC has ramped up efforts to free immigrants from dangerous conditions in jails, where access to health care and even basic sanitary supplies is limited and social distancing is impossible. During the first three months of the pandemic alone, we secured freedom for 26 people.

Protected asylum seekers, unaccompanied immigrant children, and detained individuals through federal lawsuits
In some of NIJC's most notable lawsuit victories this year, we:
Mobilized for more humane and racially just immigration policies
We continued to draw attention to and educate the public about the connection between race and over-policing in communities of color and criminalizing immigrants, culminating in NIJC's report documenting the abuses and racial injustices behind migration-related prosecutions. Together with community partners and formerly detained people through the #DefundHate coalition, we urged Congress to end immigrant detention and deportation—systems founded in systemic racism—and to invest in our communities to benefit all of us. Through NIJC's online actions, immigrant rights supporters took action more than 13,000 times, sending messages to their members of Congress and submitting comments to the federal registrar opposing harmful proposed regulations.
Educated community members and the legal community in the midst of a pandemic
We held more than 50 trainings for pro bono attorneys and virtual legal clinics—including for Deferred Action for Childhood Arrivals (DACA) renewal, naturalization, U Visa, and post-asylee benefits. We launched two new online event series open to all community members about immigration policy and issues. Through the Chicago Legal Protection Fund, NIJC conducted more than 750 legal screenings and, together with The Resurrection Project and Community Navigator organizations, presented more than 850 Know Your Rights sessions to nearly 36,000 Chicagoans.

Continue fighting for human rights with us! Close out your year strong with a donation to NIJC.


Julia Toepfer is NIJC's senior marketing and digital engagement strategist.