This past year presented many hardships, as we continued to brave a global health crisis, fight for racial justice, and witness people seeking safety being turned away at our borders. But there is no doubt that through it all, we saw communities come together to speak out and stand with their fellow human beings in incredible ways.
In honor of International Human Rights Day today, we want to share some of the ways that we defended human rights together this year: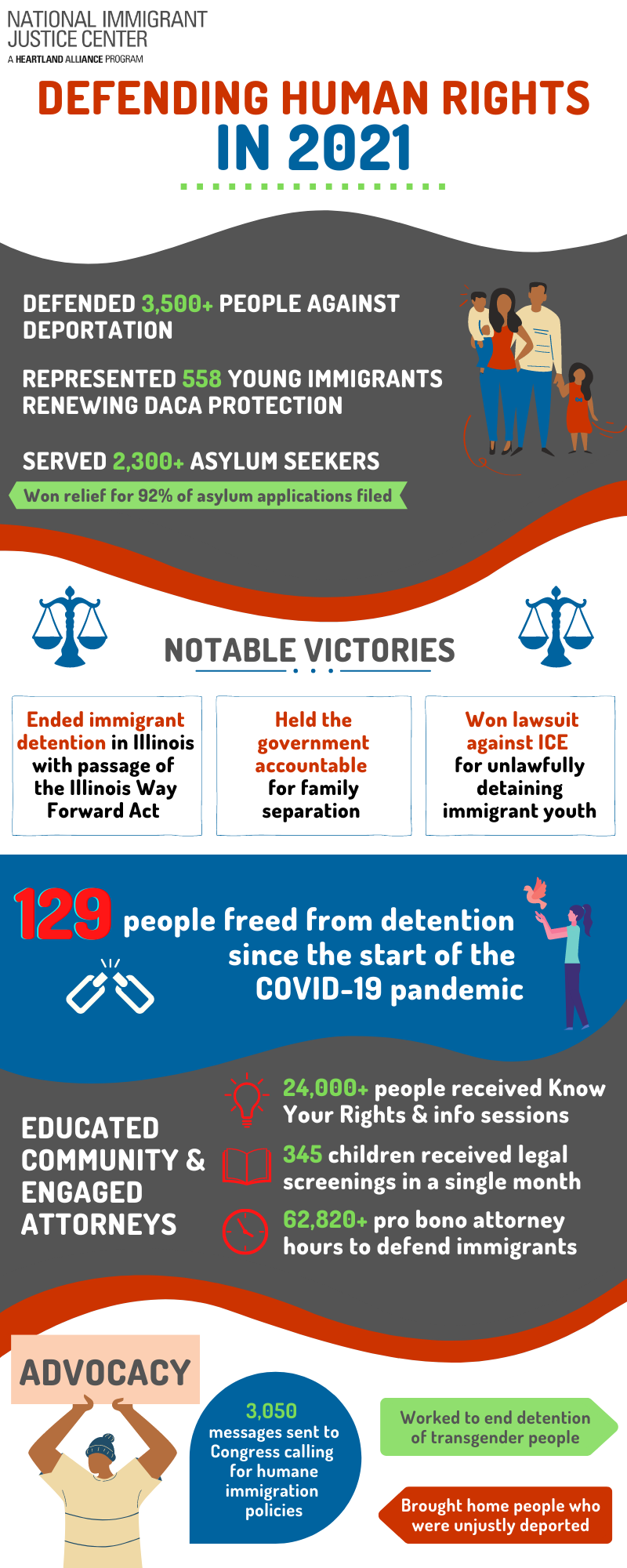 Protected Immigrants, Refugees, & People Seeking Asylum
Together, the National Immigrant Justice Center's (NIJC) legal staff and network of 2,000 volunteer attorneys—with the backing of tens of thousands of supporters and donors—provided life-changing legal services to nearly 9,000 immigrants, refugees, and people seeking asylum from more than 101 countries around the world. Pro bono attorneys devoted nearly 63,000 hours to defend immigrants, helping them stay together with their families, get free from detention, and be on their way to a safe and stable future. NIJC legal staff provided legal screenings to 345 unaccompanied immigrant children in a single month, and won lawful permanent resident status for more than a dozen young immigrants who had Special Immigrant Juvenile Status. Through the Chicago Legal Protection Fund, NIJC conducted more than 570 legal screenings and, together with The Resurrection Project and Community Navigator organizations, presented Know Your Rights and information sessions to more than 24,000 Chicagoans. Plus, immigrant rights supporters sent 3,050 messages to 300 members of Congress advocating for more humane immigration policies.

Represented 2,300+ Asylum Seekers
NIJC legal staff and pro bono attorneys served more than 2,300 asylum seekers, winning asylum in 92% of cases. Without a lawyer, only 18% of people win asylum. The asylum process can be extremely overwhelming and complex to work through alone, but with the help of a lawyer, people have a much higher chance of securing asylum and starting a safe life in the United States.

Won Freedom for People in Immigration Detention
Since the beginning of the COVID-19 pandemic in March 2020, NIJC helped 129 people get released from immigration detention and reunite with their loved ones and communities. We fought for people with medical and mental health conditions, and others at high risk of abuse or harm in detention. NIJC's LGBTQ Immigrant Rights Project and our partners called on the government to immediately release all transgender people from detention and worked with more than 30 members of Congress demanding an end to the detention of transgender individuals. NIJC staff filed six civil rights complaints on behalf of twelve people who suffered serious abuse and medical neglect in ICE detention or at the border. NIJC's detention team worked with public defenders in Illinois to help them better represent their immigrant clients. In August, we celebrated with coalition partners as the Illinois Way Forward Act became law, ending immigration detention in Illinois.

Protected Asylum Seekers, Unaccompanied Immigrant Children, and People in Detention through Federal Lawsuits
In some of NIJC's most notable litigation this year, we:
Won a federal lawsuit against U.S. Immigration and Customs Enforcement (ICE) for detaining unaccompanied immigrant youth on their 18th birthdays. After three years of litigation, the court ordered ICE to change its practices and procedures to stop further unlawful detentions.
Won a settlement in a class action lawsuit which significantly limits ICE's ability to detain immigrants through mass raids and traffic stops
Continued to represent five asylum-seeking mothers and their children in a lawsuit seeking compensatory damages from the government for trauma caused by family separation
Defended access to asylum for people fleeing violence by filing new lawsuits challenging harmful regulations issued by the Trump administration in its last few months in office

Advocated for DACA Recipients & Undocumented Community Members
NIJC represented 558 young immigrants in renewing temporary status through DACA, with 100% approval rate. Together with pro bono partners, we held 14 free legal clinics for people to renew their DACA. With litigation around DACA ongoing, NIJC continues to help those eligible for DACA determine the best path forward and to advocate for a permanent path to citizenship for all undocumented community members.

Fought to Bring Home Those who were Unjustly Deported
NIJC released A Chance To Come Home, joining other immigrant rights advocates in calling on the Biden administration to establish a centralized process to review past deportations and expedite the return of those who had been unjustly deported. The white paper exposes how racism in the U.S. criminal legal system and U.S. immigration system disproportionately harm Black and Brown immigrant families and communities. Many of the individuals featured were allowed to return to the U.S. following our advocacy, including Howard Bailey.

Keep up the good fight for human rights! Close out your year strong with a donation to NIJC.


*Most statistics represent fiscal year 2021

Garance Perret is is the communications and marketing intern at NIJC.