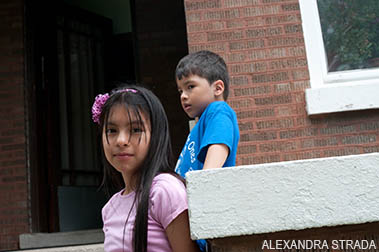 Who is an unaccompanied child?
An unaccompanied child is someone who is:
Under the age of 18 years old,
Has no legal status, and
Has no parent or legal guardian in the United States or the parent or legal guardian is unavailable to provide physical custody or care
NIJC and its network of 1,500 pro bono attorneys provide legal counsel and representation to nearly 10,000 immigrants each year, including thousands of unaccompanied children detained in the Chicago area. Children seek refuge in the United States for many reasons: to escape war, gangs, or violence; to flee abuse; or to reunite with family. Others enter involuntarily as labor or sex trafficking victims. In recent years, we have seen the administration unabashedly use unaccompanied children as bait to arrest and detain their loved ones, secure more funding for immigration enforcement, and racially profile teens in order to significantly reduce their shot at due process in immigration court.
Unaccompanied children seeking safety in the United States do not have the right to appointed counsel in immigration court, even as they face an immigration judge and government-funded prosecutor. To help fill this gap, NIJC's provides legal services to unaccompanied children held in Chicago-area shelters. The Children's Protection Project visits all of these facilities on a weekly basis to interview the children, conduct legal assessments, and deliver "Know Your Rights" presentations that provide an overview of the immigration court process. This on-the-ground experience provides NIJC a unique in-depth perspective on the realities children face when they enter the U.S. alone, and on the need for systemic reforms to ensure children's human and due process rights in the complex immigration legal system.
Issues Affecting Unaccompanied Children
Unaccompanied immigrant children face many challenges including:
No right to court-appointed counsel. Unless they can afford attorneys or secure pro bono counsel, they appear in court without legal representation.

A confusing and complex court and detention system. Deportation proceedings against children often begin in the jurisdiction where the child is in the custody of the Department of Health and Human Services (HHS) Office of Refugee Resettlement (ORR). Once a child is released from an ORR shelter to a sponsor or to foster care, it is the child's responsibility – regardless of age or legal representation – to submit paperwork to inform the court that he or she has moved and to file a formal motion to change venue if the new address is under the jurisdiction of a different court. If a child does not properly update his or her address, he or she could be ordered deported in absentia for failing to appear in court.
Absence of legally binding regulations to protect children in DHS custody. Unaccompanied children are held alone in DHS custody before they are transferred to an ORR shelter. Although there are standards to guide the treatment of unaccompanied children, DHS lacks appropriate legally binding regulations to protect children in their custody. Currently, little oversight exists to ensure that unaccompanied children are treated humanely and cared for according to child-appropriate protocols while in DHS custody.
Attempts to undercut protections for children in detention. The Flores Settlement Agreement, a binding consent decree, has been actively ensuring the government's compliance with detention conditions and time limits on custody of children for over two decades. However, in 2018, the administration instigated a cruel campaign to strip away the few safeguards that are currently in place by publishing a proposed rule that would essentially eviscerate the Flores Settlement. NIJC's comment was one of over 100,000 submitted comments in response to the government's harmful proposed rule. The federal judge presiding over the Flores Settlement Agreement issued a permanent injunction in September 2019. The Trump administration appealed, and litigation related to this is currently pending.
Inability to quickly reunify with family or sponsors. In an attempt to deter Central Americans from coming to the United States, DHS and the Department of Health and Human Services (HHS) entered into an agreement in early 2018 requiring these agencies to share information about individuals attempting to reunify with an unaccompanied child. The information was then used by ICE to arrest and detain potential sponsors, typically family members. This ultimately created a domino effect of harmful consequences. Parents and loved ones of unaccompanied children now live under a cloud of fear that stepping forward to sponsor the child they love will trigger their own detention and deportation; this child has in effect dramatically prolonged lengths of stay for children in ORR custody.
Read NIJC's comments on the Flores Settlement, and their policy brief on DHS and HHS's information sharing agreements.
Recommendations
Providing counsel to unaccompanied children. Children face insurmountable challenges and experience a denial of due process when navigating the U.S. immigration system without attorneys. Access to legal representation is critical for children to be able to understand the legal protection and immigration benefits that may be available.
Increasing funding for legal orientation programs (LOPs) at ORR shelters and legal orientation programs for custodians (LOPCs) when children are released. As unaccompanied children move more rapidly through the ORR system, the government must ensure that children receive basic information about their rights and responsibilities, and individualized legal assessments to understand whether they might be eligible for immigration relief. Once they are released, their family or sponsors must also have access to information about the immigration system so they can properly assist the children during the immigration process.
DHS and HHS must terminate the harmful 2018 agreement requiring information sharing regarding the sponsors of unaccompanied children. While the agreement remains in place, Congress must continue to prohibit DHS from using any money to engage in enforcement actions against parents and family members using information shared by children. The safest place for a child is to be at home with their family, not in government custody.
Ensure the Flores Settlement Agreement remains active. The Flores Settlement stands as a critical check on the government's treatment of immigrant children. The government's attempt to terminate the settlement and replace it with anemic protections, or no protections at all, is unacceptable.
End the use of "influx" or emergency shelters. Because of the prolonged detention of children caused by the administration's own policies, ORR has resorted to the use of so-called "influx" or emergency shelters, large barracks-like facilities that are not properly licensed and cut corners on care. These shelters are incredibly problematic, often leaving children isolated and unable to access legal services. HHS has a history of failing to engage in adequate background checks for those providing resident children care. All children, regardless of their place of birth, deserve to be treated with dignity and provided with care and shelter that center their needs and well-being.