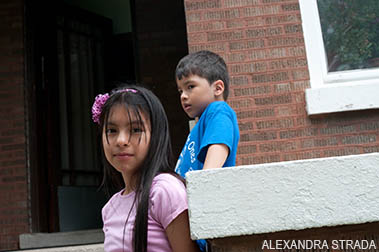 Who is an unaccompanied child?
An unaccompanied child is defined by U.S. law as someone who enters the United States:
Under the age of 18 years old,
Without lawful status, and
Without an accompanying parent or legal guardian.
The National Immigrant Justice Center (NIJC) and its network of 2,000 pro bono attorneys provide legal counsel and representation to nearly 10,000 immigrants each year, including thousands of unaccompanied children detained in the Chicago area. Children seek refuge in the United States for many reasons: to escape war, gangs, or violence; to flee abuse; or to reunite with family. Others enter involuntarily as labor or sex trafficking victims. In recent years, we have seen the U.S. government unabashedly use unaccompanied children as bait to arrest and detain their loved ones, secure more funding for immigration enforcement, and racially profile teens in order to significantly reduce their shot at due process in immigration court.
Unaccompanied children seeking safety in the United States do not have the right to appointed counsel in immigration court, even as they face an immigration judge and government-funded Immigration and Customs Enforcement (ICE) prosecutor. To help fill this gap, NIJC provides legal services to unaccompanied children in government custody in the Chicago area. The Children's Protection Project visits facilities on a weekly basis to interview the children, conduct legal assessments, and deliver "Know Your Rights" presentations that provide an overview of the immigration court process. Unfortunately, NIJC lacks the funding to offer every child representation in their immigration court case. From this direct work with children seeking protection in the U.S., NIJC has a unique in-depth perspective on the realities children face when they enter the U.S. alone, and on the need for systemic reforms to ensure children's human and due process rights in the complex immigration legal system.
In 2008, Congress passed the Trafficking Victims Protection Reauthorization Act, requiring special care and protections for children when they approach our borders alone. The bill, passed on unanimous consent, recognizes that immigrant children are children, first and foremost, and mandates protective procedures for unaccompanied children, given the high risk that they will be subject to exploitation, trafficking, or violence. Over the years, both executive and legislative branches have sought to strip those protections from children, including access to legal services and a fair day in court, in order to expel or deport children as quickly as possible.
Issues Affecting Unaccompanied Children
Unaccompanied immigrant children face many challenges including:
No right to court-appointed counsel. Unless they can afford attorneys or secure pro bono counsel, they appear in court without legal representation. Children are at the center of a larger due process crisis in immigration courts that fail to provide counsel to the most vulnerable individuals, despite the serious risks of violence or trafficking upon deportation from the U.S.

A confusing and complex court and detention system. Deportation proceedings against children often begin in the jurisdiction where the child is in the custody of the Department of Health and Human Services (HHS) Office of Refugee Resettlement (ORR). Once a child is released from an ORR shelter to a sponsor or to foster care, it is the child's responsibility – regardless of age or legal representation – to submit paperwork to inform the court that the child has moved and to file a formal motion to change venue if the new address is under the jurisdiction of a different court. Children who do not properly update their address could be ordered deported in absentia for failing to appear in court.
 
Absence of legally binding regulations to protect children in CBP custody. Unaccompanied children are held alone in Customs and Border Protection (CBP) stations and jails before they are transferred to an ORR shelter. CBP jails are frequently squalid, failing to uphold basic constitutional requirements in overcrowded cells where unaccompanied children, pregnant women, adults, and families are held. Although there are standards to guide the treatment of unaccompanied children, CBP lacks appropriate legally binding regulations to protect children in their custody. Currently, little oversight exists to ensure that unaccompanied children are treated humanely and cared for according to child-appropriate protocols while in CBP custody.
 
Attempts to undercut protections for children in detention. The Flores Settlement Agreement, a binding consent decree, has been actively ensuring the government's compliance with detention conditions and time limits on custody of children for over two decades. However, in 2018, the Trump administration instigated a cruel campaign to strip away the few safeguards that are currently in place by publishing a proposed rule that would eviscerate basic Flores protections. NIJC's comment was one of over 100,000 submitted comments in response to the government's harmful proposed rule. The federal judge presiding over the Flores Settlement Agreement issued a permanent injunction in September 2019. The Trump administration appealed and a federal court of appeals upheld large portions of the injunction. At this time, the Trump regulations have yet to be implemented.
 
Inability to quickly reunify with family or sponsors. In an attempt to deter Central Americans from coming to the United States, the Department of Homeland Security (DHS) and the Department of Health and Human Services (HHS) entered into an agreement in early 2018 requiring these agencies to share information about individuals attempting to reunify with an unaccompanied child. The information was then used by ICE to arrest and detain potential sponsors, typically family members. This ultimately created a domino effect of harmful consequences. Parents and loved ones of unaccompanied children lived under a cloud of fear that stepping forward to sponsor the child they love will trigger their own detention and deportation; this agreement also dramatically prolonged lengths of stay for children in ORR custody. In March 2021, the Biden administration ended a large portion of the sponsor information sharing agreement, though it has yet to enforce a robust firewall between ORR and ICE. It remains unclear how the prior agreement continues to taint or chill the reunification process for children's caregivers who fear retaliation.
 
Information-sharing between ORR and ICE. Unaccompanied children frequently entrust extensive personal information to their case managers, clinicians, or other adults while in ORR custody. Their daily interactions with these ORR employees invite them to disclose many details about their past experiences as they process layers of trauma they suffered. These disclosures hinge on their belief that ORR will not share their intimate details with ICE. That is why a robust firewall between ORR and DHS, who either prosecutes children or decides their applications for relief, is necessary to children's welfare in ORR custody. Otherwise, DHS will continue to use children's ORR records against them in the adjudication of their asylum applications. The story of Kevin Euceda, a remarkable asylum seeking youth who entered ORR custody is a tragic and heartbreaking example. Despite a short time in ORR custody, Kevin's ORR therapy notes were used against him in his immigration proceedings. As subsequently revealed, the use of his ORR record had ripple effects, as Kevin was detained for more than three years until he lost hope during a COVID-19 outbreak—only to be found dead one month after his deportation. Kevin's story elevates the impact that ORR records can have on children's lives, including their immigration cases and the risk of their fatal deportation.
Read NIJC's comments on the Flores Settlement, and their policy brief on DHS and HHS's information sharing agreements.
Recommendations
Providing counsel to unaccompanied children. Children face insurmountable challenges and experience a denial of due process when navigating the U.S. immigration system without attorneys. Access to legal representation is critical for children and all people in immigration court to be able to understand the legal protection and immigration benefits that may be available.

Increasing funding for full legal representation at ORR shelters and legal orientation programs for custodians (LOPCs) when children are released. As unaccompanied children move more rapidly through the ORR system, the government must ensure that children receive basic information about their rights and responsibilities, and individualized legal assessments to understand whether they might be eligible for immigration relief. Once they are released, their family or sponsors must also have access to information about the immigration system so they can properly assist the children during the immigration process.

DHS and HHS must ensure that no detained child's information in ORR custody is used to deport them. Though NIJC applauds the rescission of the 2018 memorandum of agreement between DHS and HHS, there are still avenues for the two agencies to share information that will be weaponized in removal proceedings. ORR will only cease to be a proxy for ICE when children's information, including what they share with their therapists, is fully insulated from DHS.
Ensure the Flores Settlement Agreement remains active. The Flores Settlement stands as a critical check on the government's treatment of immigrant children. The government must meet and exceed the terms of the settlement, rather than replace it with anemic or nonexistent protections proposed in the Trump era.
End the use of "influx" or emergency shelters. Because of the prolonged detention of children caused by the administration's own policies, ORR has resorted to the use of so-called "influx" or emergency shelters, large barracks-like facilities that are not properly licensed and cut corners on care. These shelters are incredibly problematic, often leaving children isolated and unable to access legal services. HHS has a history of failing to engage in adequate background checks for those providing resident children care. All children, regardless of their place of birth, deserve to be treated with dignity and provided with care and shelter that center their needs and well-being. Rather than warehouse children in unsafe conditions, ORR must immediately move towards small, family-based placement models that are in the best interest of children.