For background on the U.S. Immigration and Customs Enforcement detention inspection system, read the full October 2015 report by the National Immigrant Justice Center and Detention Watch Network: Lives in Peril: How Ineffective Inspections Make ICE Complicit in Detention Center Abuse.

Facility Profile
| | |
| --- | --- |
| Detention Standards (as of 2012): | 2008 PBNDS (Performance-Based National Detention Standards) |
| Facility Type: | IGSA (Intergovernmental Service Agreements) |
| Private Contractor: | CCA (Corrections Corporation of America) |
| 2012 ICE Average Daily Population: | 1632 |
2011 ERO
(Office of Enforcement and Removal Operations)

2011 ODO
(Office of Detention Oversight)

2012 ERO
(Office of Enforcement and Removal Operations)

Private Contract
Inspector:

MGT

Private Contract Inspector:

MGT

Private Contract Inspector:

Nakamoto

Rating:

Meets
Standards

Rating:

N/A

Rating:

Meets
Standards

Deficient
Standards:

0

Deficient
Standards:

0

Deficient
Standards:

0

Deficient
Components:

2

Deficient
Components:

25

Deficient
Components:

3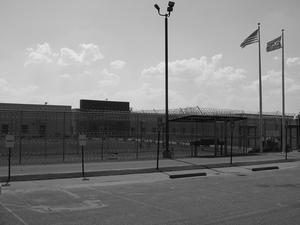 Photo credit: Will Coley
Stewart Detention Center (SDC) in Lumpkin, Georgia, is one of the largest immigration detention facilities in the United States with the capacity to jail 2,000 people. Although the facility is owned by Stewart County and is contracted as an IGSA, the facility is actually operated by CCA. In 2012, SDC was inspected under the 2008 PBNDS, but because there are certain standards that only apply to CDFs and SPCs, CCA was provided leniency in its compliance with certain standards under Stewart County's IGSA contract. Out of 889 components, 144 were marked as non-applicable because the facility is an IGSA.1
Considerable discrepancies between the 2011 ERO and ODO inspections again bring into question their value and credibility. While the 2011 ERO inspection noted only two deficient components and zero deficient standards, the 2011 ODO inspection found 25 deficiencies in 12 standards. Among the most egregious deficits: Stewart lacked a written policy to ensure that medical grievances were received by the next business day,2 ICE staff was reported to be generally inaccessible and failed to respond to the majority of detainee requests,3 and the ODO inspection team witnessed a male detainee changing in full view of a female corrections officer.4 The ERO inspection ignores or only cursorily examines other major deficiencies, and in some cases provides comical justifications. For example, the 2012 ERO inspector cites the use of floppy discs—technology that otherwise had been largely obsolete for at least a decade—as compliant with a standard requiring that detained individuals be allowed to store legal work in private electronic form.5
Medical Care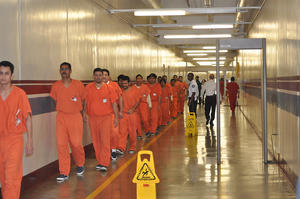 Photo credit: La Visión
Both ERO and ODO inspections managed to identify one major deficit regarding medical care: intake examinations were not reviewed by physicians or mid-level practitioners by the following business day. In fact, it sometimes took more than 90 days before the examinations were reviewed by a doctor.6 According to the 2012 Detention Watch Network Expose & Close (DWN E&C) report, SDC had only one doctor and seven nurses to provide medical care for over 1,500 detained men. Several of the concerns raised by the DWN report were underscored by the 2012 ACLU report, "Prisoners of Profit: Immigrants and Detention in Georgia," which highlighted the death of Roberto Medina Martinez, who died from a treatable heart condition in 2009 after being detained for two months at SDC. Nonetheless, ERO and ODO inspections stated that the medical staffing was adequate at SDC, even with five vacant positions in 2011 and 2012 (two of which had been vacant for more than two years).7 These staffing issues may explain why, according to the ERO inspection, SDC referred more than 775 people for outside medical care in 2012.8
Sexual Assault
The 2012 ERO audit mentions six allegations of sexual assault or abuse, and then proceeds to methodically dismiss or minimize them. Two were downgraded to verbal harassment, and another was relabeled as physical assault, despite the clear sexual nature of the incident: the victim was severely beaten after refusing to provide sexual favors for another detained person. The remaining three were found to be unsubstantiated,9 though the slow nature of investigations—sometimes taking weeks or even months—means that witnesses, perpetrators and victims may have been transferred, deported, or released.
Legal Rights Access and Visitation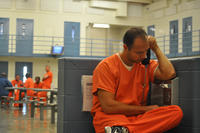 Photo credit: La Visión
SDC's remote location is a hindrance to attracting and retaining adequate medical staff, but it also creates barriers to visitation from attorneys and family members. Attorneys in the region told DWN in 2012 that visitation rooms at SDC were inadequate because they were forced to speak with their clients through a phone and Plexiglas, making it difficult to prepare for court and to provide clients confidential documents.10 People detained at SDC in 2012 also claimed that they were allowed infrequent access to the law library and had unreliable phone access. None of these concerns were reflected in the ERO and ODO inspections.
Endnotes
1.
2012 Stewart ERO Inspection
. "IGSAs must conform to these procedures or adopt, adapt or establish alternatives, provided they meet or exceed the intent represented by these procedures" (written into the 2008 PBNDS in regards to how IGSAs should conform to standards that apply to CDFs/SPCs).