For background on the U.S. Immigration and Customs Enforcement detention inspection system, read the full October 2015 report by the National Immigrant Justice Center and Detention Watch Network: Lives in Peril: How Ineffective Inspections Make ICE Complicit in Detention Center Abuse.

Facility Profile
| | |
| --- | --- |
| Detention Standards (as of 2012): | 2000 NDS (National Detention Standards) |
| Facility Type: | IGSA (Intergovernmental Service Agreements) |
| 2012 ICE Average Daily Population: | 252 |
2011 ERO
(Office of Enforcement and Removal Operations)

2011 ODO
(Office of Detention Oversight)

2012 ERO
(Office of Enforcement and Removal Operations)

Private Contract Inspector:

MGT

Private Contract Inspector:

MGT

Private Contract Inspector:

Nakamoto

Rating:

Good

Rating:

Acceptable

Rating:

Acceptable

Deficient
Standards:

0

Deficient
Standards:

0

Deficient
Standards:

0

Deficient
Components:

14

Deficient
Components:

4

Deficient
Components:

5
Although the Baker County Detention Center in Macclenny, Florida, has been cited as one of the worst immigration detention centers in the United States, it continues to detain a daily average of 228 individuals who have no access to outdoor recreation, no exercise equipment, no volunteer work program, and are forced to attend court hearings via video-conferencing (because the immigration court is 200 miles away) while dressed in jump suits and shackled.1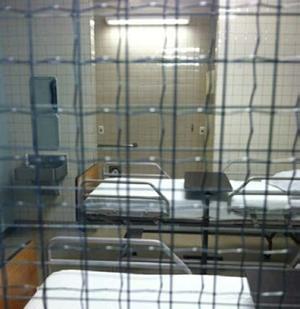 Photo courtesy Detention Watch Network
Nonetheless, in its 2011 inspection, ERO rated this facility as "good," one standard below the highest rating of "superior." This is despite the fact that inspectors identified 14 specific deficient components (although no overall standards were found deficient) and despite the ODO's inspectors rating the facility as "acceptable" that same year. In the following year, the ERO inspectors found only five deficient components (two of which were repeat offenses) and rated the facility as "acceptable."2 The different ratings assigned by the ERO's and ODO's 2011 inspections already raise suspicions, but the downgrade from good to acceptable when there were fewer identified deficiencies brings into question the rigor and reliability of inspections. (For an explanation of the ERO's three-tiered ratings approach, see Figs. 2-4.)
As with many of the ERO inspections, most of the deficiencies that were identified in the 2011 and 2012 inspections concerned the finer points of administration and security, including the absence of written policies regarding barbershop hours, head counts, and other similar procedures. The two repeat deficiencies referred to the policy of opening detained individuals' mail without appropriate protocols and the absence of a separate area for the barbershop (currently in the facility's common space). DWN's November 2012 Expose & Close report conveyed concerns about the facility's physical isolation, the exorbitant cost of phone cards, and how visitors who traveled a great distance to the facility were only allowed to see their loved ones through a video feed upon arrival, yet ICE's standards (old and new) fail to check for these concerns.
Recreation
DWN's E&C report notes that a lack of access to fresh air and sunlight is an issue at Baker because the "area for recreation is a room with concrete walls, floor, and a roof. The room's only window is high on a side wall and is covered with mesh to allow in fresh air." The 2012 ERO inspectors, contrary to common understanding of what these words mean, found that
… each of the two housing pods includes an outdoor recreation area3 with access to fresh air and natural light through a 12-foot long by 3-foot high security screen. The design of the rooms allow for a substantial amount of natural light and fresh air to enter the recreation areas. The natural light and the exchange of free flowing outdoor air reflect the outside climate and the time of day [emphasis added].
Equally unacceptable, the standard for outdoor recreation can also be satisfied if the facility provides the option for a detained person to be transferred after 180 days to a facility with an actual outside recreation area.4
Telephone Access
Another standard requires the Office of Inspector General (OIG) phone number to be programmed into the facility's phone system (and the number to be checked during the inspection). The 2012 ERO inspectors wrote, "[c]alls placed to the OIG hotline were connected. The caller was not able to reach an actual person." Nevertheless, this was marked as complying with the standard—yet another example of the checklist culture that creates simplified shortcuts and fails to take into account the actual experience of detained individuals.
Endnotes
1. Detention Watch Network, Expose & Close: Baker County Jail, Florida, Nov. 2012.
2. No 2010 ODO inspection was released for Baker.
3. In referring to an "outdoor recreation area," the inspector means that it is outside of the housing pods.
4. 2011 Baker ERO Inspection, at 28.