Earlier this year, Gretta sat down to write a letter to President Joe Biden and Vice President Kamala Harris, urging them to reform the immigration system to make it more welcoming and just for people like her. Her main request for the president?  To end detention. 
Her letter came from a place of personal experience. Though she's been living in California for years now, Gretta spent over 900 days--nearly two and a half years--in immigration detention. Gretta first entered the detention system after she was pulled over and a police officer discovered she had alcohol in her system. 
"I had a traffic citation, and because of that, I spent 900 days in hell," she said. "In detention, I was mistreated, mocked, and threatened, I went through it all." 
As a trans woman, Gretta's time in detention was marked by extreme levels of gender-based discrimination and abuse. Even now, after her detention has ended, she's still concerned about the people still inside, and angry about the way in which detention makes millions of dollars a year for private prison corporations.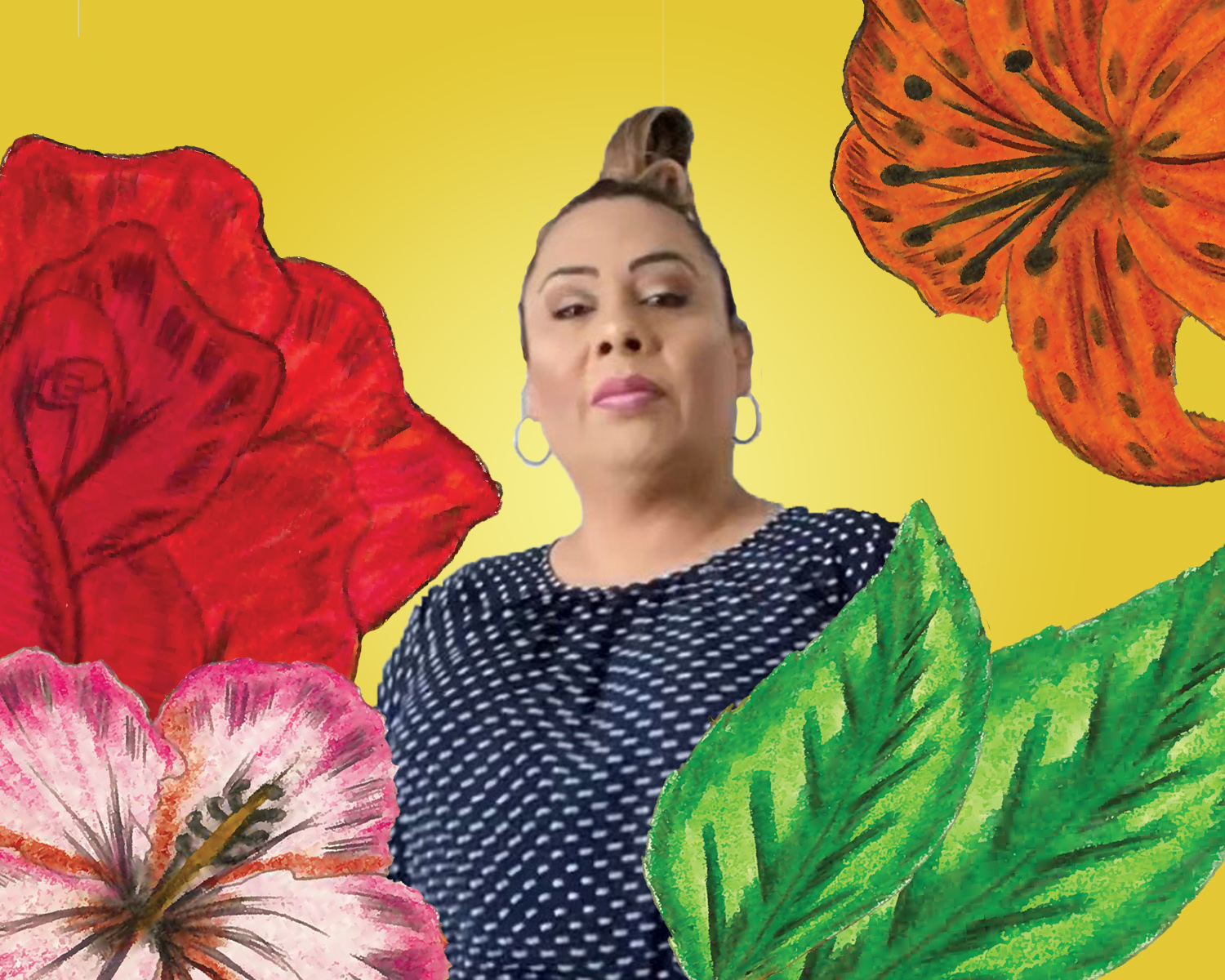 "The owners of the detention centers and prisons are making money with each person they have in detention. I find it to be unjust, to be irrational to use a human being like a pig or a chicken. This is completely wrong." 
In her letter, she lays out her vision for a more welcoming and just immigration system, based on her own experiences. 
"With this humble letter, I want to say hello, and also send you a proposal for immigrants facing deportation. I know that you are following a protocol established by President Obama which seems to me completely unjust. I propose that our good behavior be taken into consideration once we are given freedom after ICE detention."
Gretta believes her story is proof that immigrants deserve second chances, and time to establish themselves and get to know the American system before they're punished and deported back to unwelcoming home countries.
"An immigration judge told me he'd give me one last chance, but he also said 'I never want to see you in my courtroom again. And if I find out it's for the same thing, I will never again give you a chance, and from here you'll be deported to your country.'"
Gretta took his warning to heart. However, not all immigrants are given this opportunity.
"Those of us that have committed small crimes and traffic violations and who have already paid with the loss of our liberty and who have not made the same mistakes repeatedly should not be considered for deportation, but rather, it should be recognized that we have paid our debt to society," she said.  
She reimagines the immigration system not as a law enforcement agency, but as a kind of educational clearinghouse for new Americans, giving lessons in U.S. laws and good citizenship and connecting immigrants with resources like language classes and housing. 
She has been taking classes and following her release she worked at a center that donates household supplies to families. She's working on improving her English, both spoken and written, although "I still have an accent, I'll admit it," she says, laughing. 
The impetus behind her letter came for a very simple reason: 
"There are those of us who want this country to be better, because it's the country that's given us an opportunity, and we want it to be a good example for us, for our families, and for other transgender women like me." 
Alejandra Oliva is the communications coordinator at NIJC
---
"Habemos aquellos que quieren que este país sea mejor": La Carta de Gretta al Presidente
Al principio del año, Gretta se sentó a escribirle una carta al Presidente Joe Biden y la Vicepresidenta Kamala Harris, pidiéndoles que reformaran el sistema de inmigración para hacerlo más justo y acogedor para personas como ella. ¿Su petición principal para el presidente? Terminar la detención de inmigrantes. 
Su carta vino de un lugar de experiencia personal. Aunque ahora ya ha vivido muchos años en California, Gretta pasó más de 900 días--casi dos años y medio--en detención de inmigración. Gretta primero entró al sistema de detención después que fue detenida y un policía descubrió que tenía alcohol en su sistema.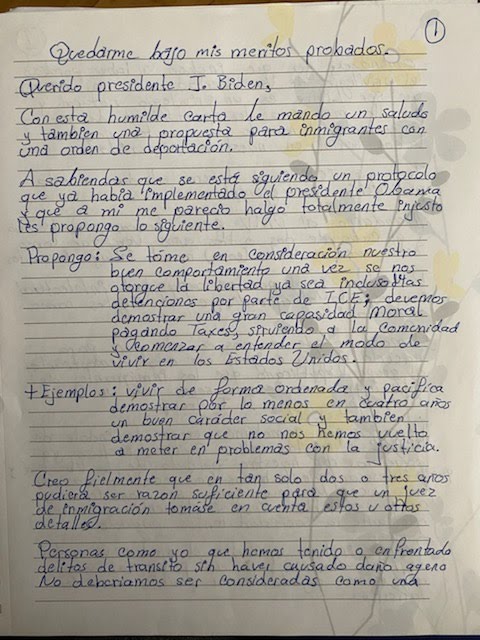 "Yo tuve una cita de tráfico, y por eso, pase 900 días en el infierno," ella dijo. "En detención, yo fui maltratada, burlada y amenazada, lo pase todo."
Como mujer trans, el tiempo que Gretta estuvo en detención fue marcado por niveles extremos de discriminacion y violencia a base de género. Aun ahora, ya que ha sido liberada, sigue estando preocupada por la gente que sigue adentro, y enojada sobre la manera en que la detención hace millones de dólares al año para corporaciones privadas de prisión.
"Los dueños de los centros de detención y de las prisiones están haciendo dinero con cada persona que tienen en detención. Lo encuentro injusto, irracional usar un ser humano como un cochino o un pollo. Esto está completamente mal."
En su carta, establece su visión para un sistema de inmigración más acogedor y justo, basado en sus propias experiencias.
"Con esta humilde carta, le mando un saludo y también una propuesta para inmigrantes con una orden de deportación. Sabiendo que se está siguiendo un protocolo que ya había implementado el Presidente Obama, y que a mi me pareció algo totalmente injusto. Les propongo lo siguiente: Que se tome en consideración nuestro buen comportamiento una vez se nos otorgue la libertad después de las detenciones por parte de ICE." 
Gretta cree que su historia es prueba que los inmigrantes se merecen una segunda oportunidad, y tiempo para establecerse y conocer el sistema Americano antes de ser castigados y devueltos a países natales peligrosos.
"Un juez de inmigración me dijo que me daría una última oportunidad, pero también me dijo "No quiero volver a verte en mi corte otra vez. Y si me entero que fue por lo mismo, no te daré otra oportunidad, y será deportada derecho a su país."
Gretta tomó esta advertencia en serio. Sin embargo, no a todos los inmigrantes se les otorga esta oportunidad. 
"Nosotros que hemos cometido delitos pequeños y violaciones de tráfico y que ya han pagado con la pérdida de nuestra libertad, y que no hemos cometido los mismos errores una y otra vez no debemos ser considerados deportables. En vez, se debe de reconocer que hemos pagado nuestra deuda a la sociedad." 
Ella reimagina el sistema de inmigración no como una agencia policiaca, sino como un tipo de oficina de información y educación para americanos nuevos, dando clases en leyes de los Estados Unidos y civismo, y conectando a inmigrantes con recursos como clases de inglés y vivienda.
Por su parte, ha estado tomando clases y trabajando en un centro que hace donaciones de provisiones necesarias del hogar para familias. Está trabajando en su inglés, hablado y escrito, aunque, "sigo teniendo acento, eso lo admito," dice, riendo.
El impulso detrás de su carta vino por una simple razón:
"Habemos aquellos que quieren que este país sea mejor, porque es el país que nos ha dado una oportunidad, y queremos que nos sea un buen ejemplo para nosotros, para nuestras familias, y para otras mujeres trans como yo." 
Alejandra Oliva es la coordinadora de comunicaciones de NIJC.