The one-year asylum filing deadline, which requires that people apply for asylum within one year of their arrival in the United States, has resulted in thousands of survivors of persecution being turned away because of an arbitrary, technical barrier. Many of these asylum seekers were returned to political, religious, or other persecution. Even when asylum officers believed people would be persecuted in their native countries, the law prohibited the officers from granting the individuals full asylum protection. My colleagues wrote a few weeks ago about how this deadline has affected their clients.
Heartland Alliance's National Immigrant Justice Center (NIJC) asylum client Aissatou, who is now studying neuroscience in New York City, and her pro bono lawyer Patrick Harrigan of Katten Muchin Rosenman LLP, sat down for a video interview about the barriers they faced to overcome the one-year deadline bar. Aissatou realized several years after arriving in the United States that if she ever returned to her native country of Guinea, she would face forced marriage and be subjected to female genital mutilation. She needed asylum protection. After a vigorous search for affordable legal respresentation, she connected with Patrick through NIJC's Asylum Project. With her team of pro bono lawyers, Aissatou was able to mount an extraordinary case to overcome the one-year deadline bar.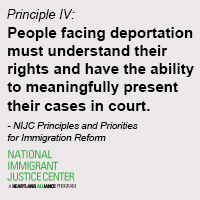 But many people are not so lucky. Aissatou's story also shows how badly the one-year deadline wastes the immigration system's already strained resources. When people with legitimate claims for asylum are forced to seek waivers to the deadline bar, it pushes their cases into the already overburdened immigration courts and diverts limited time and resources that would be better spent assessing the merits of asylum applications. The resources that Aissatou and Patrick exerted to meet the high standard of evidence required to obtain a waiver to the deadline bar—expert witnesses, medical exams, and extensive documentation—shows how the one-year deadline restricts protections only to those who can afford high quality legal counsel or are fortunate to connect with one of a limited number of legal aid organizations (like NIJC) who can provide pro bono representation.
The one-year deadline defies commonsense and harms those who the United States promised to protect when Congress passed the Refugee Act of 1980. Beyond that, Aissatou—who received her green card last year and is applying to doctorate programs to continue her research on the connection between traumatic brain injury and alzheimers—is a testament to why upholding America's legacy as a welcoming country makes us a better nation.
Tara Tidwell Cullen is the associate director of communications at Heartland Alliance's National Immigrant Justice Center.
Rethink Immigration is a blog series in which National Immigrant Justice Center staff, clients, and volunteers share their unique perspectives and specific recommendations on what Congress and the Obama administration must include in comprehensive immigration reform to create an inclusive, fair, and humane immigration system.