We are now accepting internship applications for fall 2023. See below for details about our available internships and complete the form to apply.

Get email updates about career opportunities at NIJC.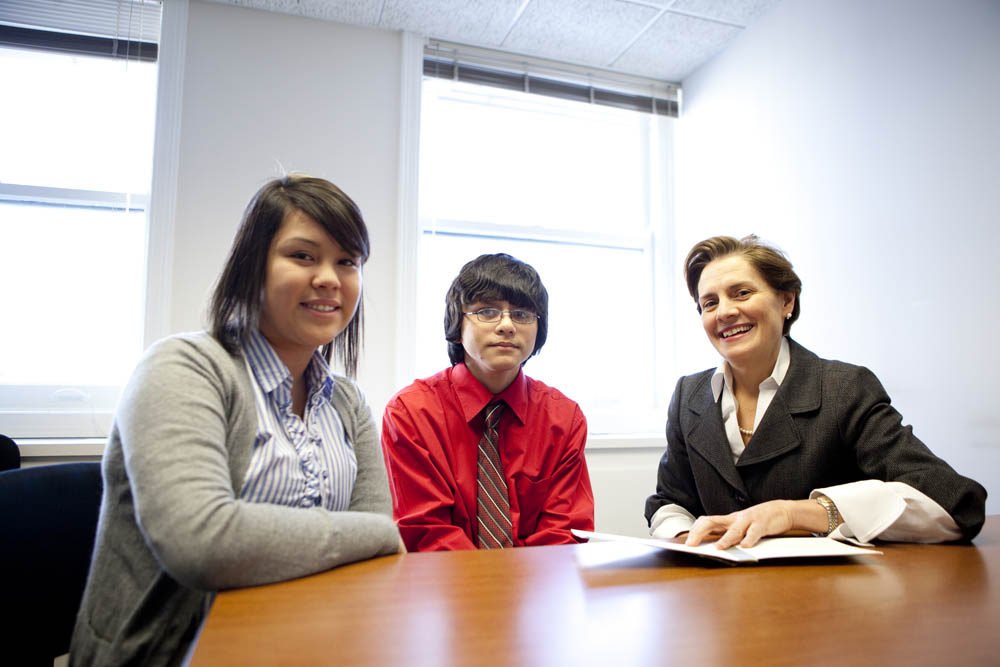 The National Immigrant Justice Center (NIJC) offers internships to law students and undergraduate students to work in a variety of its different legal services programs as well as our other non-legal services programs, such as communications and development. The internships present an excellent opportunity to learn more about U.S. immigration law and policies while making a difference in the lives of people who are in need of legal representation. NIJC posts and begins reviewing applications for internships three times a year:
Summer Internship applications: Open in October
Spring Internship applications: Open in November
Fall Internship applications: Open in May
NIJC has garnered a national reputation for providing quality free and low-cost legal services and advocacy for immigrants, refugees, and asylum seekers. NIJC's trainings, publications, and technical assistance reach a diverse constituency of pro bono lawyers, non-profit organizations, policymakers, and government officials. NIJC offers internships at its main office in Chicago and its offices in Goshen and Indianapolis, Indiana; Washington, DC; and San Diego, California. Also, many interns may work remotely (please see the specific position descriptions for more details).
In general, a legal internship may include the following activities:
Interview clients telephonically and in-person to collect factual information related to their cases;
Input case-related information into client database and prepare case summaries and legal immigration documents and materials;
Conduct follow-up interviews with clients throughout the case preparation process;
Assist NIJC attorneys in preparing for interviews with U.S. Citizenship and Immigration Services (USCIS) and hearings before the Executive Office for Immigration Review; and
Ensure copies of all relevant documentation are routed to the client's case file.
NIJC also offers internships with our development, communications, and pro bono projects.

Compensation / Academic Credit:
In an effort to provide a more equitable and inclusive internship experience, NIJC requires all interns to receive compensation or academic credit for their internships. Most interns either receive outside funding or academic credit, although NIJC is able to fund a small number of internships every year and encourages applicants to apply even before they have secured funding.
The National Immigrant Justice Center, an equal opportunity, affirmative action employer, is strongly committed to diversity and welcomes applications of all races, ethnicities, genders, and sexual orientations, including people who have been previously incarcerated.

Fall 2023 internship opportunities:
Asylum Project: This internship is open to undergraduate and law students. Law student interns will work directly with clients seeking asylum before the Chicago Immigration Court. Law student interns will draft legal briefs and memos, conduct legal research, and prepare client affidavits. Undergraduate interns will assist with prospective client interviews, country conditions research, document translation, client database management, and other special projects as needed. This is a hybrid position, requiring both remote and in-person work in the Chicago office.

Counter-Trafficking Project: This internship is open to both law and undergraduate students. The intern will work directly with trafficking survivors in completing applications for T visas and adjustment of status. This may include screening clients for eligibility, drafting client affidavits, filing out U.S. Citizenship & Immigration Services (USCIS) forms, gathering country condition and secondary sources to support filings, communicating with clients, and other tasks as assigned. Law student interns will also have the opportunity to conduct research related to client cases and draft legal arguments demonstrating a client's eligibility for relief. Spanish proficiency required. This is a hybrid position, requiring both remote and in-person work in the Chicago office.

LGBT Project: This internship is open to undergraduate and law students. Law students and undergraduates will work directly with clients on a variety of matters before USCIS and the Chicago Immigration Court and may have the opportunity to observe a hearing. Potential projects include conducting intakes, preparing client affidavits, country conditions research, document translation, and database management. Law students may also conduct legal research, draft legal briefs and memos, and may have the opportunity to appear in court.

Policy & Federal Litigation: NIJC's litigation team pursues cases in federal court presenting issues relating to immigrant rights. Many cases involve direct appeals (petitions for review) to circuit courts or individual matters in district court (habeas petitions for detained individuals, mandamus actions for cases with long delays). Other cases are systemic in nature and challenge larger agency policies like the issuance of an illegal regulation or improper reliance on a particular policy. Interns with the litigation team conduct legal research, write legal memos, and work with clients who have pending (or soon to be pending) federal-court matters. Client facing work includes writing declarations and interviewing clients primarily. Legal writing experience includes memos and potential court documents like motions. Because the litigation team also helps litigation project clients with their agency level cases, interns could also be assigned to work on a litigation client's USCIS or EOIR case. This position can be fully remote and is open only to law students. Because litigation and policy work often overlap, litigation interns can expect to work on policy matters as well. The intern will also support NIJC's DC-based policy team in advancing legislative, regulatory, and executive branch advocacy projects that advance the rights of immigrant communities. Projects generally will include supporting on legal research and writing, participating in coalition meetings, and analyzing policy developments. NIJC's policy team's advocacy priorities are decarceration and decriminalization in the immigration context and access to asylum. The intern will be working remotely.

Application Form:
Please complete the following application to be considered for an internship position with NIJC. All fields are required.