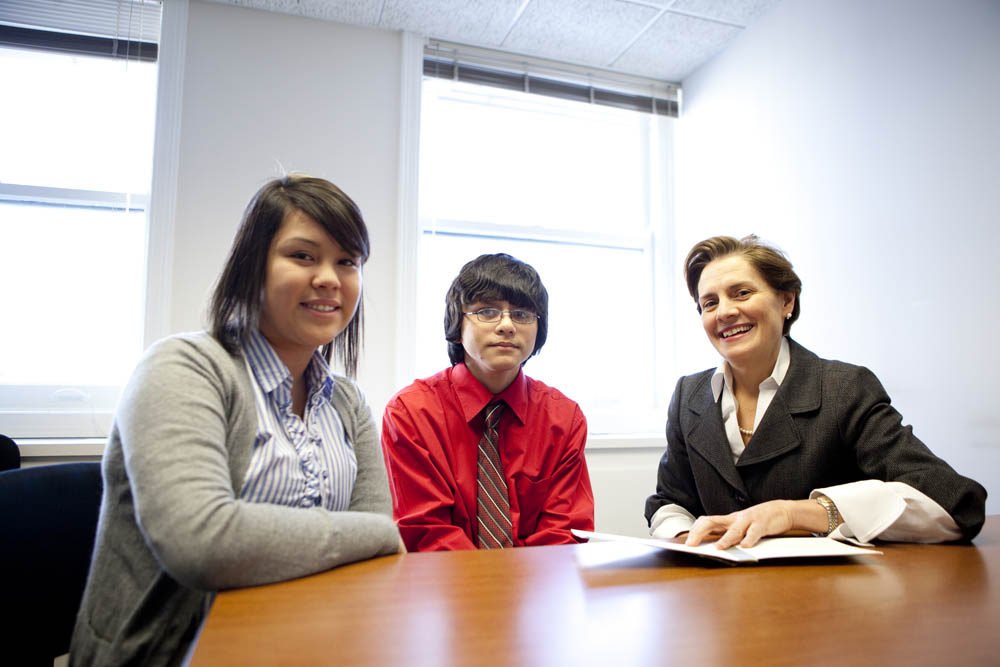 The National Immigrant Justice Center (NIJC) offers internships to law students and undergraduate students to work in a variety of its different legal services programs. The internships present an excellent opportunity to learn more about U.S. immigration law and policies while making a difference in the lives of people who are in need of legal representation. NIJC is currently accepting internship applications for winter/spring of 2021 (typically January to April).
NIJC has garnered a national reputation for providing quality free and low-cost legal services and advocacy for immigrants, refugees, and asylum seekers. NIJC's trainings, publications, and technical assistance reach a diverse constituency of pro bono lawyers, non-profit organizations, policymakers, and government officials. NIJC's office is located in downtown Chicago and many of the internships may be done remotely (please see the specific position descriptions for more details). NIJC will support individuals in obtaining outside compensation.

NIJC is seeking applicants for the following internship positions:
The Asylum Project is seeking a Spanish-fluent law or undergraduate intern to work remotely with our team in spring 2021, specifically working with our non-detained unaccompanied immigrant children's team. The intern would work directly (remotely) with clients, assist with preparation of asylum, adjustment of status, and Special Immigrant Juvenile Status applications, research legal issues related to client cases, and assist with Spanish interpretation and translation as needed. Preference to candidates able to commit at least 15 hours/week.
The Counter-Trafficking Project (CTP) provides immigration legal services to survivors of human trafficking, including representation before U.S. Citizenship and Immigrant Services (USCIS) and the Chicago Immigration Court. CTP also conducts education and outreach to improve the early identification of trafficking survivors. The intern will support CTP's legal services by drafting client affidavits, conducting legal research related to client cases, gathering country condition and secondary sources to support filings, drafting legal briefs, communicating with clients, and other tasks as assigned. Preference to candidates proficient in Spanish and able to commit at least 15 hours/week.
The Detention Project is seeking a Spanish-fluent undergraduate student to work remotely with our team this spring. The intern would work directly (remotely) with clients, research country conditions and legal issues related to client cases, assist with Spanish interpretation and translation as needed, as well as review completed intakes and input them into a database. This is a part-time and remote internship.
The Washington D.C.-based Policy Team seeks a spring intern to help advance NIJC's vision for a humane and just approach to immigration law and policy. Specifically, the intern will be tasked with providing support to the policy's team's legislative and regulatory work through legal research, writing, and administrative support.
The Pro Bono Program intern will support NIJC's Pro Bono Program operations with a specific focus on data management and coordinating team support. NIJC operates one of the largest pro bono programs in the Midwest with over 2,000 active pro bono attorneys from 165+ partners. This is an excellent opportunity for individuals interested in project coordination and data management. Experience with Microsoft Excel is necessary, as is the ability to multi-task with flexibility and focus. This position is intended to be 15 to 30 hours per week and remote depending on the candidate's availability. Activities may include: support program staff in updating information in LegalServer, NIJC's database, and maintaining regular data reports; coordinate and update materials for pro bono attorneys and in-house Pro Bono Program teams, including organizing website materials.
The Immigrant Children's Protection Project is seeking a law student intern who can help with many asylum cases for unaccompanied immigrant children that we currently have pending at the asylum office. This includes preparing legal cover letters/briefs, drafting affidavits with clients and their family members, conducting both legal and country conditions research, etc.). The intern will also likely have the opportunity to represent detained children in court for master calendar hearings and/or to represent children at the asylum office under attorney supervision.
The Marketing and Communications internship is an opportunity to learn strategies for engaging audiences through digital channels including social media and email, create engaging content, assist with creating and executing a marketing plan for a major fundraising event, and understand how to use data and analytics for more effective programs. Applicants with fundraising experience, design skills, and experience creating social media content a plus. This is a part-time, remote internship for the spring 2021. Please follow application guidelines listed on this page but note that a 1-2 page writing sample is sufficient. Activities may include:

Creating content for NIJC's website, emails, and social media accounts. This includes creating graphics and drafting copy.
Assisting with managing NIJC's social media accounts
Analyzing data from NIJC's social media accounts and email marketing statistics
Assisting with the 21st Annual Human Rights Awards, an annual luncheon raising critical funds for NIJC's programs. This may include marketing the event via online and offline channels, developing printed and digital materials, coordinating with event sponsors and speakers, developing social media toolkits, among other tasks.

Qualifications:
Interns must have a passion for our issues and excellent written and verbal communication skills. The ideal candidates are independent, detail-oriented, and highly organized. Experience with Windows XP, Microsoft Excel and Microsoft Word is a must. Database experience is very helpful. Oral comprehension and proficiency in both English and Spanish or French is preferred. Applicants must be open to evolving responsibilities.

To apply:
Please send an email to nijcinternships@heartlandalliance.org specifying which internship position(s) you are interested in from the list above and include the following materials:
Resume
Cover letter
Brief writing sample (3-5 pages on any topic and law students may choose to submit legal writings; 1-2 pages on any topic for Communications and Marketing internship)
Transcript
Contact information for at least one reference
The National Immigrant Justice Center, an equal opportunity, affirmative action employer, is strongly committed to diversity and welcomes applications of all races, ethnicities, genders, and sexual orientations, including people who have been previously incarcerated.