The U.S. LGBT rights movement celebrated some significant victories in 2012, particularly when voters in four states passed legislation legalizing or upholding same-sex marriage. These successes affirmed our country's growing understanding of LGBT equality, but many people are still at risk for discrimination and abuse because of their sexual orientation. LGBT immigrants in the custody of U.S. Immigration and Customs Enforcement are among the most vulnerable. Most fled countries where they were persecuted for their sexual identity, only to be locked up and targeted again in the obscure immigration detention system. As the project coordinator for the National Immigrant Justice Center's LGBT Immigrant Rights Initiative, I have met far too many people in this situation. Maria* is still in custody, fighting for her safety, but she agreed to let me share her story. She told me that she wants to speak out because there are countless more who are forced to remain silent. The victories of last month are steps in the right direction, but the fight for LGBT human rights still has a long way to go.

Unthinkable abuse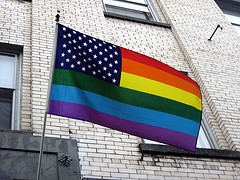 Maria was born in El Salvador and, from an early age, knew that she was attracted to women. She also knew that the backlash she would receive for being gay in the tightly controlled social setting she grew up in would be severe and could cost her life. She told me that, despite her best efforts, her family and members of her community knew that she was gay. At the tender age of 14 years, Maria's family forced her to marry her 68-year-old uncle in an attempt to "fix" her sexual orientation. She had no other choice and endured years of rape. One night, on her way home from work, a group of women viscously attacked her in a dark alleyway, yelling gay slurs as they beat her so severely that she was hospitalized. Maria said it was clear to her that she was not safe in El Salvador and, as soon as she was able, she fled to the U.S. She was detained at the border, however, and has been locked in a detention center ever since.

Suffocating isolation
Because of the long process involved in her case, Maria has now been detained for over one year and three months. Most of the other detainees at the jail come from the same culture as Maria, and many of them have the same biases against members of the LGBT community that she was forced to endure in El Salvador. She is shunned by many of the other women, which creates an atmosphere of total isolation. She feels forced to hide her sexual orientation the best that she can, but word has already spread through much of the detention center.
Maria has been moved around by detention officials based solely on the perception that she is not "safe" to be around because of her sexual orientation. She says that being moved only starts the harassment cycle over again and she loses what little traction she has gained with other detainees. Every time I talk with her on the phone, I can hear the loneliness and trepidation she feels in detention.

Continuing the fight for human rights in the U.S.
Maria crossed into the United States seeking sanctuary from trauma and persecution. Now she is forced to endure constant harassment and discriminatory practices in the U.S. detention system. Unfortunately, she is not alone. NIJC works everyday to right the wrongs that so many LGBT individuals face in detention. Even though many of the people we work with are the victims of harassment within the detention centers, they often are the ones punished.

NIJC's 2011 civil rights complaint on behalf of 17 LGBT immigrants who suffered abuse in detention shed light on this hidden problem, and in 2012 the government took some steps to make LGBT people safer in the system. But stories like Maria's, and the 17 clients we represented in the complaint, are symptoms of serious systemic problems that require much broader reform. Maria, and most other people in the system, should not be detained at all, particularly when other options have been proven to be cheaper for the government and more humane for people who have already suffered so much. Maria could, and should, be released while she fights her immigration case.

Many are optimistic that 2013 will see meaningful strides toward LGBT equality and a more humane immigration system. It is critical that included in this struggle are Maria and the hundreds of other LGBT immigrants who are fighting for their most basic human rights.

*Name has been changed to protect her privacy.
Seth Ashton is the national project coordinator for NIJC's LGBT Immigrant Rights Initiative.
Photo credit: Padraic/Creative Commons