A federal District Court in Nevada has issued a landmark decision finding that the law used to criminally prosecute people for entering the country without permission after having been previously deported was passed with racial malice and is applied in a discriminatory manner. U.S. District Judge Miranda Du handed down the decision in US v. Gustavo Carrillo-Lopez on August 18, finding prosecutions under the "illegal entry" statute (8 USC § 1326) unconstitutional, in violation of the Equal Protection Clause. 

The Nevada decision is an enormous testament to organizing efforts by communities impacted by such prosecutions who have bravely spoken out about the discriminatory harms they endured. This commentary provides an analysis of the key findings in the US v. Gustavo Carrillo-Lopez decision and discusses how, in light of the Nevada District Court decision, the Biden/Harris administration should take steps towards ending the government's reliance on criminal penalties for entry and reentry offenses.

The Decision: US vs. Gustavo Carrillo-Lopez
Mr. Carrillo-Lopez is one of several individuals challenging the constitutionality of their prosecution for unauthorized reentry before the federal courts. The government charged Mr. Carrillo-Lopez in June 2020 with the crime of re-entering the U.S. after being deported in 1999 and 2012. Mr. Carrillo-Lopez challenged the "illegal reentry" prosecution, arguing that Section 1326 was enacted with a discriminatory purpose and that the law has a disparate impact on Latinx persons. 

In response, Judge Du dismissed the charge against Mr. Carrillo-Lopez on August 18, 2021, asserting that he had "established that Section 1326 was enacted with a discriminatory purpose and that the law has a disparate impact on Latinx persons, and the government fails to show that Section 1326 would have been enacted absent racial animus." 

Racist History and Systemic Abuse 
Judge Du's decision marks the first time the federal judiciary has acknowledged that the laws used to prosecute people for entering and reentering the U.S. without permission were passed to further racist and white supremacist ideology. During the 1920s, nativism and eugenics ideology spread and had a direct impact on Congressional immigration proposals. At the height of the eugenics movement, the "Undesirable Aliens Act of 1929" was conceived, drafted, and enacted by white supremacists who sought to keep the country's blood "white and purely Caucasian" by targeting the "Mexican race" for exclusion. The unlawful entry and reentry provisions were codified at Sections 1325 and Section 1326 of Chapter 8 of the U.S. Code, part of the Immigration and Nationality Act (INA). 
In US v. Gustavo Carrillo-Lopez, the government defended the illegal reentry statute by arguing that the racial animus behind the Act of 1929 had "no bearing" given the law was subsequently reenacted over the years, without discriminatory intent, which "cleansed" the law of prior discriminatory motivation. Far from it, however: Congress repeatedly added more punitive measures to Section 1326 between 1988 and 1996, and with knowledge of the law's disparate impact. The 1952 reenactment also occurred over a presidential veto addressing the bill's racism and came at a moment in history when Congress was simultaneously passing other legislation disparately impacting Latinx migrants, such as the derogatorily entitled "Wetback Bill" passed by the same Congress only months prior to the 1952 INA. 
"The record before the Court reflects that at no point has Congress confronted the racist, nativist roots of Section 1326," Judge Miranda Du wrote in the decision. "The government had failed to establish that a nondiscriminatory motivation existed in 1952 for reenacting Section 1326 that exists independently from the discriminatory motivations, in either 1929 or 1952."

For years, historians have worked to document the white supremacist origins of the laws used to prosecute people for entering or reentering the country without permission, and community groups have documented the systemic rights violations stemming from such prosecutions. NIJC issued a report in July 2020 as part of the growing body of literature and evidence in support of calls to end migration-related prosecutions. The report traced the legislative and political history of Sections 1325 and 1326, with testimonies of the pervasive abuse resulting from these prosecutions. Those surveyed for the report who had been prosecuted under these sections testified to abuses including: permanent separation of family members; routine violation of international and domestic asylum law; violation of basic due process protections provided to individuals facing criminal charges; and persistent dehumanizing and racist treatment by federal officials. 

Disparate and Discriminatory Impact: Recent Data  
In US v. Gustavo Carrillo-Lopez, the court examined how prosecutions for unauthorized reentry have a disparate impact on individuals of Hispanic or Latinx origin and are carried out with a discriminatory intent. An analysis of the U.S. Justice Department data on charges brought under Sections 1325 and 1326 in recent years indeed shows that the laws continue to fall disproportionately on Latinx populations. For example, 94 percent of people prosecuted for unauthorized reentry from October 2019 to June 2020 were from Mexico, Honduras, Guatemala, and El Salvador. (see graphs below).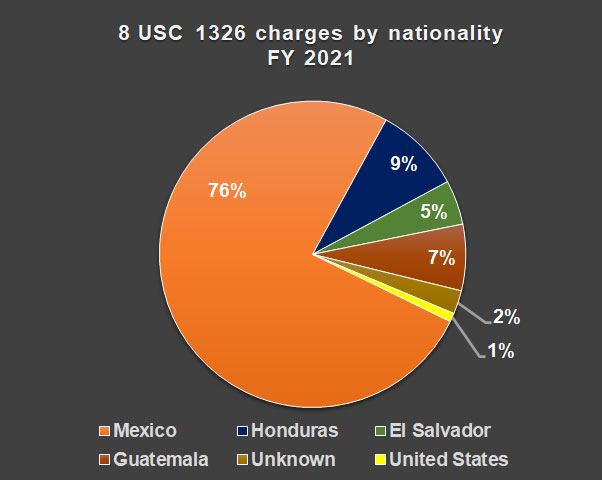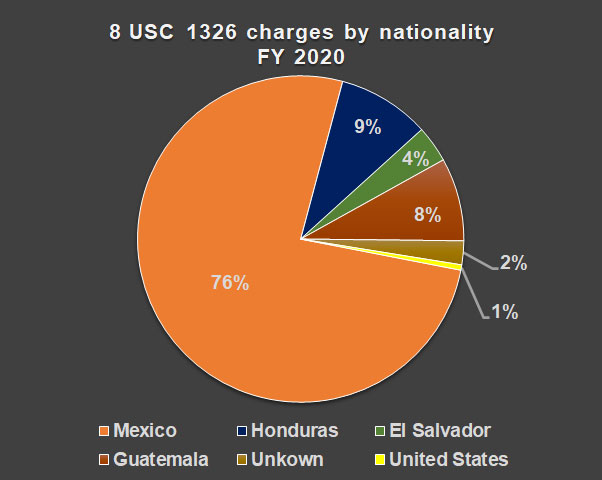 The government argued before Judge Du that the disparate impact of Section 1326 prosecutions was a product of geography, not discrimination and that the statistics were a feature of Mexico's proximity to the United States. The government also argued that Mexican citizens comprised a high percentage of unauthorized entry defendants, thus, they made up a disproportionately high percentage of the overall "illegal alien" population.

The court was not persuaded by these arguments. In the ruling, Judge Du emphasized that while individuals from Mexico and Latinx communities could likely make up more unlawful reentries because they are a higher percentage of the overall undocumented population, this does not exclude them from raising equal protection challenges. Ultimately, the law still bears more heavily on those individuals than others, which is the standard that Mr. Carrillo-Lopez has met here.

The court cited data showing that the vast majority of people apprehended by U.S. Border Patrol in recent decades are of Mexican and Latinx descent (97% of persons apprehended at the border in 2000 were of Mexican descent, 86% in 2005, and 87% in 2010). The most recent U.S. Border Patrol data similarly reflects the disproportionate impact: in fiscal years 2019 and 2020, individuals from Mexico, Guatemala, Honduras, and El Salvador made up 90% and 89% of border apprehensions, respectively (FY 20 data also includes Title 42 expulsions). Ninety-nine percent of these apprehensions occur along the U.S. Southern border, and U.S. Customs and Border Enforcement (CBP) or U.S. Immigration and Customs Enforcement (ICE) are the agencies that refer virtually all federal criminal prosecutions for immigration-related offenses. Judge Du rejected the government's position that over-policing of certain locations, i.e. the Southern border, instead of the Northern border, prevents a specific group from raising equal protection challenges. The Court accordingly found that Section 1326 disparately impacts Latinx individuals with discriminatory intent.

Recommendations 
A broad-based coalition of more than 100 organizations working on criminal justice reform has called on the Biden administration to suspend criminal prosecutions for unauthorized entry and reentry. NIJC also joined more than 160 groups in February 2021 calling on President Biden to uphold past commitments to end mass prosecutions for migration-related offenses that deny individuals their right to a fair hearing and due process.

The letter points out that the Justice Department took an important step in rescinding the Zero-Tolerance directive in January 2021, ending the guidance behind the horrific family separation program under the Trump administration. However, the Biden administration has done little to address the continued reliance on Section 1326 prosecutions, and still preserved the de facto prosecutorial practice of prioritizing entry and reentry prosecutions. This is evidenced by the fact that there have been nearly 7,000 charges for unauthorized reentry from January to June 2021 alone (compared to 10,069 charges from January to June 2020 under the Trump administration and 17,612 total charges during Obama's last fiscal year in office). The administration should halt all referrals for prosecutions for unauthorized entry reentry violations, and take measures to phase out the use of criminal prosecutions for migration offenses going forward, including by revoking the April 2017 Justice Department memo issued that instructed federal prosecutors to ratchet up such prosecutions.

The laws used to prosecute entry and reentry violations are rooted in xenophobia, continue to discriminate along racial and ethnic lines, and should not form the basis for any legitimate government policy today. De-prioritizing such prosecutions is an essential step toward ending systemic injustices, reducing mass incarceration, and protecting fundamental human rights.

Read the case here: U.S. v. Carrillo-Lopez, 3:20-cr-00026, U.S. District Court, Nevada (Reno).
Learn more of the history: