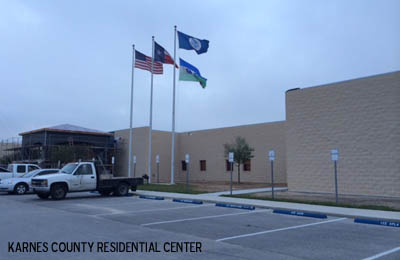 The international community is taking note of the Obama administration's treatment of the children and families fleeing Central America. In October, the Inter-American Commission on Human Rights (IACHR), an international body that monitors human rights in the Americas, completed an initial investigation into the Department of Homeland Security (DHS) response to this year's influx of refugees who fled to the United States seeking protection from gang- and gender-based persecution in Guatemala, El Salvador, and Honduras. At a meeting following the IACHR's tour of Karnes County Residential Center in Texas, the National Immigrant Justice Center and other civil society organizations emphasized that the international right to protection is only meaningful in the United States if there is robust access to legal representation and freedom from detention to present one's claim.
The commission's review continues at a hearing today at the IACHR headquarters in Washington, D.C. Human rights advocates and government officials are testifying about the apprehension, detention, and deportation practices that thousands of Central American mothers and children and unaccompanied children have been subject to since June. At the hearing, DHS officials will have an opportunity to respond to some of the concerns that emerged during the commission's Texas visit.
The commission's primary concerns had to do with children's lack of access to legal counsel, the government's rapid expansion of family detention facilities, and the failure to implement more humane and effective alternatives to detention. IACHR members also worried about the lack of accountability to ensure that CBP agents are properly screening Mexican children for protection.
Children need lawyers
Under U.S. immigration law there is an array of distinct forms of protection available to children and their families—including asylum, CAT protection (for victims of torture), T-visas (for victims of human trafficking), Special Immigrant Juvenile Status (for children who have been abandoned, abused, or neglected by a parent), Temporary Protective Status (for victims of designated natural disasters or armed conflicts), humanitarian parole (for victims of urgent humanitarian crises), and deferred action, to name some of the most prevalent.
However, to realize these protections in practice, immigrant children and families need to have legal counsel. The federal judge presiding over litigation that seeks appointed counsel for all children in removal proceedings recently observed: "With only a small degree of hyperbole, the immigration laws have been termed second only to the Internal Revenue Code in complexity. A lawyer is often the only person who could thread the labyrinth."
U.S. government data substantiates this point in stark terms. In fiscal year (FY) 2013, the most recent data available, 78 percent of children represented by an attorney in removal proceeding were granted protection in the United States. By contrast, only 25 percent of children without an attorney were granted protection. These statistics demonstrate that when recently arrived immigrant children are represented by counsel, the United States recognizes that the vast majority are in need of international protection. Yet, sadly for the children whose cases were completed in fiscal year 2013, only 42 percent were represented by attorneys. Children's right to meaningfully seek and be granted international protection must not turn on the arbitrary factor of whether they have legal representation.
Refugee families should not be detained
The commission expressed a number of concerns regarding the U.S. government's rapid expansion of the use of family detention to deter mothers and their children from fleeing violence. Since June, the United States has increased the capacity of the family detention system from 85 beds to 2,400, with an additional 1,400 beds slated to be added by next spring . More damning, the United States is pursuing a coordinated effort to deny release on bond to all families, making the ludicrous argument that the families present a threat to U.S. national security.1
Accordingly, immigrant families are held in detention hundreds of miles from legal services and without meaningful access to family, mental and medical health services, or the information and documents that might support their claims to protection. Alternatives to detention would allow them better access to all of these things.
Access to counsel and alternatives to detention also would help the overburdened court system operate more smoothly. When represented by counsel, more than 91 percent of children appeared for their removal proceedings through completion.2 Moreover, in fiscal year 2013, the government's alternative detention program recorded a 96.2 percent appearance rate through the completion of removal proceedings, at a fraction of the cost of adult or family detention.
Despite its own empirical data on the benefits of access to counsel and alternatives to detention, and the requirement to maintain custody of children in the least restrictive setting possible, for political reasons or otherwise the government has failed to embrace these policies on a systemic level. As the judge observed in the ruling that ended the U.S. government's last foray into family detention at the T. Don Hutto Residential Center in Texas: "[I]t seems fundamentally wrong to house children and their non-criminal parents this way. We can do better."
Protections for Mexican children
The U.S. government has aggressively pursued other alarming measures to "deter" children and families from seeking protection in the United States. Under the Trafficking Victims Protection Reauthorization Act (TVPRA), Mexican and Canadian children are provided only a brief screening by an untrained Customs and Border Protection (CBP) agent, without consultation with an attorney, regarding whether they might qualify for protection. If the CBP agent decides that a Mexican or Canadian child does not qualify, the child is summarily returned home. The IACHR expressed concern that, despite the extreme violence that has emerged in some parts of Mexico over the past decade, only a small number of Mexican children have been permitted to proceed with asylum proceedings following a CBP screening. The U.S. government has never been transparent regarding whether these screenings of Mexican children actually take place, and will not share information about training or oversight measures CBP uses to make the screenings effectual. Even more concerning, this summer the U.S. government sought to expand this provision of the TVPRA to encompass Central American children.3
As non-State persecutors present increasing threats in the Western Hemisphere, the United States must embrace its history as a refuge for the persecuted and reject policies of fear and paranoia that cut off access to protection for innocent children and families fleeing violence.
Mark Fleming is the national litigation coordinator for Heartland Alliance's National Immigrant Justice Center.
---
Footnotes:
1. In a declaration, the author of the article "2014 Barometer Insights: 2014, Violence and Migration in Central America" has thoroughly rejected the government's interpretation of his research as supporting its blanket decision to mandatorily detain all Central American mothers and their children. [Return to blog post]
2. The appearance rates are even higher when a child is released into the custody of a parent. See American Immigration Council, "Taking Attendance: New Data Finds Majority of Children Appear in Immigration Court" (July 29, 2014), available at http://immigrationpolicy.org/just-facts/taking-attendance-new-data-finds-majority-children-appear-immigration-court/. [Return to blog post]
3. 8 U.S.C. § 1232(a)(2) (entitled "Special Rules for children from contiguous countries"). [Return to blog post]