Critics of Cook County politics often blame our elected officials for squandering taxpayer dollars. That this complaint is such a common refrain here is just one reason why recent efforts to roll back a county ordinance that saves residents from picking up the tab for federal immigration enforcement is perplexing.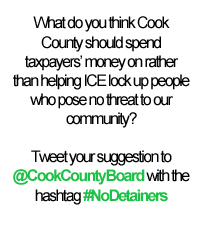 People who are forcing the issue show a fundamental lack of understanding of the so-called "immigration detainer ordinance," which passed the Cook County Board of Commissioners by a wide margin last September.
What's at stake
Immigration detainers are requests U.S. Immigration and Customs Enforcement (ICE) issues to police when the agency identifies someone in local custody it believes is potentially deportable. The detainer instructs the police to hold that individual for an additional 48 hours after their authority has expired so that immigration officials can assume custody.
Last fall, the county board discovered that the sheriff's office was expending millions of local dollars each year and clogging limited jail space to honor these detainers. In addition, the vast majority of individuals held on detainers faced only minor criminal charges. Cook County Sheriff Tom Dart also reported that police involvement in immigration enforcement was undermining public safety because immigrants who were witnesses and victims of crime feared interacting with police. But cost was the main motivation for the board to pass the detainer ordinance, which says that Cook County cannot honor an ICE detainer unless the federal immigration agency has agreed to reimburse the county for the costs of the extended detention. On Thursday, the Cook County Board of Commissioners will meet to consider amendments that could weaken the ordinance.
Why is the board rethinking its September vote?
Tragedy and misinformation
ICE is exploiting one family's tragic loss to fuel anti-immigrant fear and strong-arm Cook County into complying with the harmful detainer policy. Last summer, Chicagoan William McCann was killed in a hit and run. The perpetrator, Saul Chavez, was an undocumented immigrant with a previous DUI conviction. A Cook County judge gave Chavez an uncharacteristically low bond, which Chavez paid. Chavez has since disappeared, and officials suspect he returned to Mexico.
ICE and the ordinance's detractors are perpetuating the false argument that an immigration detainer would have kept Chavez in the United States to face justice. But that's not how detainers work. Once Mr. Chavez paid his criminal bond, ICE would have had to pick him up within 48 hours. ICE would have quickly initiated deportation proceedings and Mr. Chavez would have been deported to Mexico, a free man, before he was ever brought to trial for the crime.
ICE is not a backstop for errors in the criminal justice bond system. As Cook County Board President Toni Preckwinkle said in a letter to ICE, "Immigration status should not be the driving force for detainment." Blaming the Cook County ordinance for what happened in Chavez's case does a disservice to community safety and wastes money on unnecessary detention.
What happens at Thursday's hearing could have national consequences. Cook County has been a leader in rejecting ICE's attempts to turn local police into federal immigration agents; its influence is evidenced by a letter Iowa Senator Chuck Grassley and a group of senators sent last month to U.S. Attorney General Eric Holder and Homeland Security Secretary Janet Napolitano demanding legal action in response to the county's rejection of ICE's detainers mandate.
Heartland Alliance's National Immigrant Justice Center Executive Director Mary Meg McCarthy will be at the hearing on Thursday to testify in support of immigration detainers ordinance. Before that, commissioners need to hear from county residents to know that we demand public policy that protects everyone.
What do you think Cook County should spend taxpayers' money on rather than helping ICE lock up people who pose no threat to our community? Tweet your suggestion to @CookCountyBoard with the hashtag #nodetainers.