Today, U.S. Representatives Pramila Jayapal and Adam Smith (along with 39 co-sponsors) took a significant step towards overhauling the United States' abusive immigration detention system by introducing the Dignity for Detained Immigrants Act. The Dignity for Detained Immigrants Act will significantly reduce the number of individuals held in immigration detention while restoring fairness and integrity to the system. The bill ends the use of private prisons and county jails for immigration detention, repeals mandatory detention, and increases oversight, accountability, and transparency of the immigration detention system. Daniel, an NIJC client who was locked up in immigration detention while he fought his case to seek asylum in the U.S., shared his story at a press conference. Below are his remarks.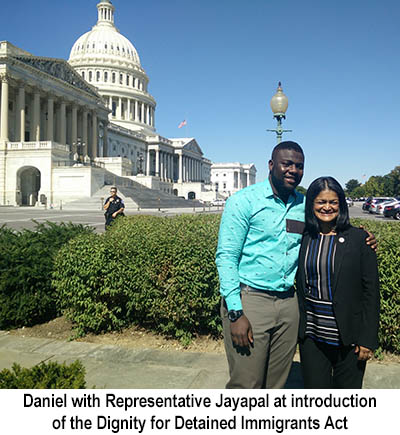 Good morning. My name is Daniel. I am a medical student in Chicago. Right now I spend my days studying for my board exams next spring and tending to patients as part of clinical rotation at a hospital in Chicago.
Earlier this year I spent five months in detention at a Wisconsin county jail, in the custody of U.S. Immigration and Customs Enforcement, known as ICE. Today I am here to offer a glimpse of that terrible experience, and ask that Congress support the Dignity for Detained Immigrants Act and stop funding the inhumane ICE detention system.
In February of this year, I was detained at O'Hare International Airport as I returned to the United States from a visit to my home country of Nigeria. I had a visa, tuition receipts, and my hospital schedules, all proof that I was here to finish my education to become a physician. But none of this mattered once I also told the immigration officer that I was afraid to return to my country, where I believe my life would be in danger.
ICE arrested me and took me to Kenosha County Jail. For two weeks I just spent my days crying because I never imagined in my life I would be in jail. I had never even been to a police station.
For 10 days after I arrived I wasn't getting critically important prescription medications I had with me when I was detained. I asked to see a physician and was denied. The nurse told me to drink more water. Eventually I became so sick that I needed to go to a hospital. Even though my health was already deteriorated, ICE made me wear chains on my wrists and ankles. I had to walk into the hospital and see other patients looking at me. I thought, "For goodness sake, I'm an attending physician!" And here I was walking through the hospital in handcuffs.
Being detained was difficult in every way. You are a prisoner. I am 6-foot-2 and the bunk in my cell was too short for me. The food is not good, and there is not enough. If you do not have money to purchase something from the commissary you go hungry. You are punished if you share your commissary with someone who is hungry. They turn off the phones, so you can't speak to your attorney or family. I learned that my mother had a heart attack and was in the hospital for a week. I had no way of communicating with her.
The people in the worst situation were those who did not have any attorney. They didn't have family in this country, so they could not access the evidence that the immigration judges wanted to see.
In August I won my asylum case and finally was freed from detention.
There was no good reason to keep me locked up for five months. My experience in detention has made me scared of my environment. I'm scared of the cops. But I am working hard to overcome this trauma. I am determined to pass my board exams and become a doctor even though my time in detention left me far behind my classmates. I am speaking out today because the Dignity for Detained Immigrants Act gives me hope that the U.S. government can find a way to stop the inhumane treatment being given to so many immigrants. We want to live peacefully and safely in this country, and I ask that our country's leaders remember that all human beings deserve to be treated with dignity.  
Watch Daniel speak at today's press conference:
Learn more about the Dignity for Detained Immigrants Act: