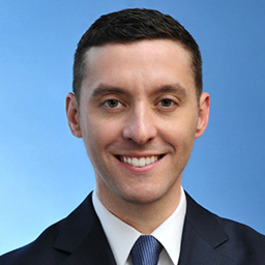 Q&A with Jenner & Block Associate and NIJC Pro Bono Attorney Daniel Epstein
Daniel Epstein is an associate in the litigation practice at the law firm of Jenner & Block. He maintains a thriving pro bono practice and recently represented an Eritrean asylum seeker detained in the Calhoun County Jail in Michigan. We interviewed Daniel about his commitment to pro bono work and his experiences working in the immigration detention system. At a time when immigrant communities are increasingly at risk of detention and deportation, Daniel shared his simple message to fellow attorneys at resource-rich firms: "Call NIJC and take on a deportation defense case… You won't regret it."
Q: Why do you do pro bono work?
A: There are people who are lost in a system that I can navigate. I feel duty-bound to help them. I think justice demands high quality legal defense, regardless of ability to pay. And, happily, my firm feels the same way.
Q: How did you get introduced to immigration pro bono work?
A: Recently, Jenner & Block agreed to defend to a group of women detained by Immigration and Customs Enforcement and incarcerated at the Calhoun County Jail in Michigan. The firm put a team on each case, and about midway through the process I was asked to join a team to draft the brief and second-chair the dispositive hearing. For me this presented a great opportunity to get into court and to do legal research and persuasive writing, which I enjoy.
Q: What stands out to you about immigration law?
A: The disorienting reality that detainees facing deportation don't have a right to counsel. It's disorienting because deportation defense cases look a heck of a lot like the kinds of proceedings in which you'd expect to have appointed counsel: the detainees are incarcerated pending the outcome of an adversarial proceeding in which they'll face off against a trained attorney representing the government, and the consequences of losing can be effectively fatal. And yet—even though they are completely out of their element in a courtroom, and even though the stakes could hardly be higher—these detainees typically do not get an attorney. In some ways, it doesn't feel American.
Q: How did it impact your work with your client that she was detained?
A: My client had a hard time dealing with the stress of feeling dispossessed of control over her own fate. She didn't speak English, she had almost no education, and she came from a country without a legitimate system of justice. In jail, she found herself trapped in a place where her every activity was restricted, and in a process that she didn't really understand. Understandably, that was very stressful for her. So my colleagues and I spent a lot of time trying to help her understand the immigration court process so that she could participate in their own defense and take back some control over her life. You can never entirely eliminate the uncertainty and stress of the situation for a detained client facing possible deportation, but from a strategic and emotional standpoint, we felt it was important to give our client the information that she needed to be an active participant in her defense.
Q: Many attorneys who have never practiced immigration law are intimidated at the idea of taking on a deportation defense case. How did you feel?
A: I was excited. I enjoy the process of learning new things and chipping away at big complicated problems until I understand them well enough to explain them and be persuasive. So I relished the opportunity to do that in a case that was so important to my client's well-being. It also helped that I had some factors working in my favor, like Jenner & Block's unflinching commitment to pro bono, my supervising partner's experience with immigration cases, and NIJC's willingness to help with matters both substantive and administrative.
Q: What advice do you have for attorneys looking to help immigrants in this time of mass immigration enforcement?
A: Call NIJC and take on a deportation defense case. Right now there's a person huddled in the corner of a stone cell, surrounded by people they don't know speaking languages they don't understand. They're afraid. But not of their cell or cellmates. They're afraid of what comes after: that they might be sent back to the country they escaped. Their only offense may be something like fleeing their abuser, or demanding democracy, or being queer, or helping the U.S. military and expecting that the favor would be returned. But where they're from, those offenses are enough to get one killed. They need help, and as an attorney you are one of the few people who can give it to them. Give it a try. You won't regret it.

If you are an attorney at a law firm with the resources and capacity to support an immigration case, learn more about NIJC's pro bono project and consider taking a case!