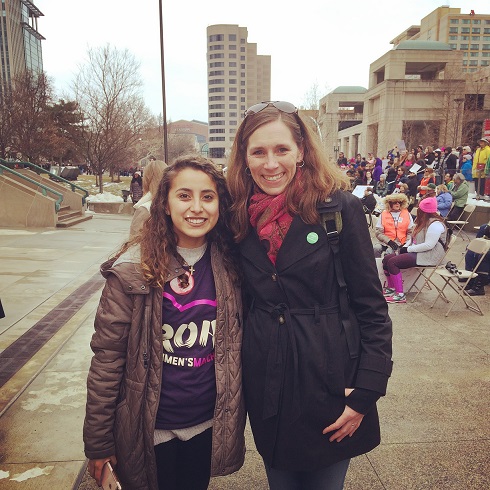 As Americans respond to the president's State of the Union address, I reflect on his first year in office. The president's remarks were the same distorted vitriol we have been hearing since January 2017, when this administration formally announced its anti-immigrant platform through a series of executive actions. What has emerged in the intervening 12 months – and what gives us cause for hope – is the increased vigor with which American communities have come together to protect each other in the face of hateful rhetoric and dangerous policy making. In the past two weeks alone, I have witnessed in my home state of Indiana what happens when communities come together. 

On Monday, January 22, private prison company CoreCivic withdrew its proposal to build an immigration detention center in my home: Elkhart County, Indiana. Our county is a dynamic, diverse, and engaged community. When we were confronted with the threat of an immigration prison, we educated ourselves and mobilized. On a cold, rainy Saturday morning in November, right after the proposal was announced, hundreds of us showed up for a rally where we realized we just might be able to prevail against this huge multi-billion dollar corporation. As the weeks wore on, our resolve deepened and we sustained a level of resistance that CoreCivic, Immigration and Customs Enforcement, and our elected officials did not expect. When the overwhelming strength of our voices finally forced the private prison corporation to concede that they could not prevail, we all breathed a sigh of relief.  But with our next collective breath, we asked, what next? We are a community primed and ready to take on our next challenge!

And just days before we got the good news that the prison proposal was off the table, I attended the Women's March in Indianapolis, where nearly 4,000 Hoosiers marched to defend American values of fairness and equality. 

At the march, I had the privilege to take the podium and share some brief remarks along with Sandy RIvera, a DACA recipient who is studying to become an elementary school teacher. What I said at that gathering are the same thoughts I've returned to as we've marked the first-anniversary milestones of this administration over the past week, and tonight's State of the Union address.
Here are my remarks:

I marched in 2017 and 2018 to express my commitment to fight alongside immigrant women like Sandy and other strong, brave immigrant women. In the past 12 months, we have seen unprecedented attacks on immigrant communities fueled by false narratives, misinformation, xenophobia, and racism. I lament the failure of our lawmakers to pass laws that reflect who we are as a nation of immigrants.  I feel outraged at the stalled DACA negotiations, which leave Sandy and our other sisters and brothers in excruciating legal limbo.  But, I also celebrate the individual victories that have kept hope alive this past year. I celebrate Helen, a Honduran woman, who fled severe gender violence and was granted asylum this year before the Chicago Immigration Court. Helen lives in Indianapolis and is raising her young daughter in safety. I celebrate Charlotte, from the Congo, who escaped after she was abducted and tortured by militias. Charlotte won protection in the United States and recently received her green card. She is pursuing a nursing degree and dreams of helping other survivors of violence overcome trauma. I celebrate Maria, a Mexican woman, who secured a U visa after she rescued her children from their abusive father. She lives in Plymouth, Indiana, where she is the primary caregiver in her family.  
The laws we need to protect our communities and ensure full participation by our immigrant sisters will not come to pass without effort.  I encourage our allies to protect immigrant rights in one of the following ways:
Educate yourselves about immigration issues. (Learn the facts from organizations like NIJC, which you can access at immigrantjustice.org/know-your-rights.)
Show up at town meetings and public forums and speak out about immigrant rights.
Call on lawmakers to support good bills and oppose the bad ones. (You can sign up for action alerts at immigrantjustice.org/action so you know when your action is most critical.)
This suggestion is especially for allies: Initiate fact-based, non-adversarial conversations with acquaintances and contacts who need to hear the human stories of brave women like Sandy so that they understand what is at stake in this debate. 
And, vote. You must vote people into office who will protect the rights of immigrants. 
I call on our lawmakers to:
•    Pass a clean DREAM Act 
•    Maintain protection for asylum seekers and unaccompanied children 
•    Reject legislation that reduces family-based immigration

We must celebrate our victories and continue to advocate with and for all immigrants. For those who remain undocumented, we must push loudly and persistently for change so that they may continue to enrich our communities without the threat of deportation.  In order to realize the promise of America, we need them; and they need those of us with status to cultivate and amplify the impulse for justice within ourselves, within our communities, and throughout our great nation.
Lisa Koop is the director of the National Immigrant Justice Center's office in Goshen, Indiana.