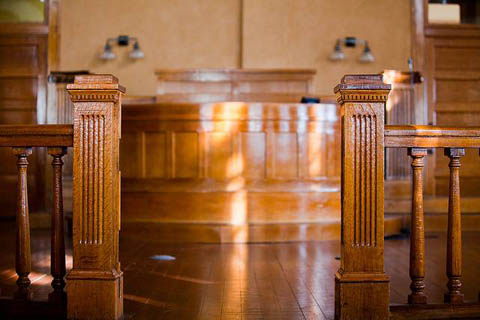 Across the country, the U.S. government is violating the due process rights of children. Children, who have no right to appointed counsel, now face increasing hostilities in a system that was already heavily stacked against them. In a hasty move to speed up cases in immigration court, the Department of Justice created "rocket dockets" to process the cases of children who have fled one of the world's most violent regions, Central America's "Northern Triangle" which is comprised of Guatemala, El Salvador, and Honduras.
In its rush to complete cases, the U.S. government has created a due process crisis. Many of the children who recently arrived in the United States escaped gang violence, rape, and abuse in their home countries. The United Nations High Commissioner for Refugees has found that at least 58 percent of these children are eligible for refugee status. Many are eligible for other forms of immigration relief as well, including Special Immigrant Juvenile Status (SIJS) and visas for survivors of human trafficking. But under the new expedited court system, these children could be quickly deported without getting the chance to find attorneys, apply for legal protection, or fully participate in fair hearings so judges can determine whether sending them back would put their lives at risk.
Rocket dockets deny due process and negate justice
In Chicago, hundreds of children who had been scheduled for hearings in late fall or winter had their cases suddenly rescheduled for last week. While some children received minimal notice of the new hearing dates, many children never received notice of the new dates at all because their hearing notices were sent to the wrong addresses, if they were sent at all. Most of the children on the rocket docket in Chicago reside in places far from Chicago—like New York and Louisiana—making it next to impossible for them to attend their court date with such little notice. When the National Immigrant Justice Center (NIJC) discovered this was happening, we reached out to the children; most were shocked to learn of the new court dates. Last week alone, NIJC staff successfully changed venue for nearly 200 children who otherwise could have been ordered deported in their absence.
Failing to appear at an immigration hearing has dire consequences. If a child does not appear in court, regardless of the reason, an immigration judge can order him or her deported "in absentia." And, sure enough, when the children did not appear for hearings on these rocket dockets because they were unaware of the hearings or had no way to travel hundreds of miles to Chicago, government attorneys began requesting that these children be ordered deported, even in the case of a child who was not even 10 years old.
NIJC's Immigrant Children's Protection Project jumped into action to work with the Chicago Immigration Court to ensure that children were not ordered deported simply because they were not aware they had to be in court or could not travel quickly enough to get here. But this response is not sustainable and cannot be replicated at immigration courts nationwide due to a lack of capacity or presence of legal service organizations.
Faster doesn't mean better
Immigration proceedings for asylum seekers, and particularly children, simply cannot be rushed. These children have experienced tremendous emotional trauma in their home countries and on their long journeys north. They often arrive in the United States with only a family member's phone number written into the waistband of their jeans. They are shell-shocked. They need time to recover and feel safe again so they can explain why they need protection in the United States. They also need a chance to find lawyers, and once they do, their lawyers need time to establish trust with children and prepare strong applications for legal protection in an immigration system that is incredibly complex. To have any chance at winning asylum for a child, an attorney must obtain intimate details of the trauma the child endured, develop a legal argument , coordinate forensic exams, and gather country condition reports, police reports, and other evidence. This is a lengthy process that takes time.
Pro bono attorneys cannot act alone – legal service organizations need support
Vice President Biden's recent remarks suggesting that private law firms are not stepping up to assist children missed the point and proposed no useful solution. Pro bono attorneys are ready to help ensure immigrant children do not have to face immigration judges and prosecutors alone. But they need basic training in immigration law and technical support from legal service organizations like NIJC. Without guidance from immigration law experts, their assistance will only be superficial.
Right now, organizations like NIJC are operating beyond capacity. And even if NIJC's staff did have the capacity and resources to train and coordinate the numerous lawyers who have offered assistance, the current expedited hearing system—in which children are scheduled for hearings with little notice—makes it nearly impossible for attorneys to intervene. When a judicial system is rushed by an arbitrary time frame, there is no justice at all.
We should not force children to defend themselves alone before immigration judges and trained prosecutors. Our justice system works best when there are lawyers on both sides and immigration judges agree. Among 166 surveyed immigration judges, 92 percent reported that they are able to process immigration cases more efficiently and quickly when immigrants have representation. Children who have attorneys are nearly five times more likely to secure protection. When the majority of immigrant children present facts that suggest eligibility for refugee protection, ensuring access to counsel for these children is truly the difference between life and death.
The current rocket docket system makes a mockery of due process. As Americans, we believe in fairness, justice, and due process. These children are fleeing unspeakable violence, seeking safety. They should be given a meaningful opportunity—including legal representation—to tell their story to an immigration judge who has sufficient time to determine if sending them back to their home countries would put their lives at risk.

NIJC started a petition to President Obama that will be submitted by lawyers and community members demanding that immigrant children get a fair day in court.

Jennifer Chan is the associate director of policy at Heartland Alliance's National Immigrant Justice Center.