June 21, 2011
By Tara Tidwell Cullen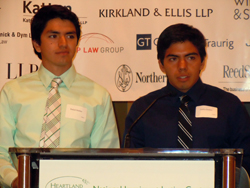 Among the hardest working activists in the immigrant rights movement are thousands of students who call themselves Dreamers. In addition to dealing with demands and obligations most American students can relate to, such as keeping up with coursework and figuring out how to afford it, Dreamers also face constant concerns about whether they will be deported from the United States before they are able to put their education to good use in the country they consider home. Despite the challenges, together they have managed to move the passage of the Development, Relief and Education for Alien Minors (DREAM) Act closer to reality than any other piece of immigration reform legislation in recent memory. The DREAM Act would establish a pathway to citizenship for undocumented youth who were brought to the United States at a young age, completed high school, and attended at least two years of college or joined the U.S. military.

Until recently, Carlos and Rafael Robles (pictured above) were among the Dreamers facing an imminent threat of deportation. The brothers came with their parents to the United States from Mexico when they were 13 and 14 and were honor roll students and tennis stars at Palatine High School in suburban Chicago. The Department of Homeland Security (DHS) arrested and detained them in March 2010 while they traveled on an Amtrak train to visit a friend at Harvard University. For over a year, with support from their community, the Robles brothers and their lawyers at the National Immigrant Justice Center advocated for DHS to use its prosecutorial discretion to discontinue their deportation proceedings. This month, thanks to intervention by Senator Richard Durbin (D-IL) Carlos and Rafael received the news they had been waiting for: ICE agreed to grant them deferred action.
Add your name to NIJC's petition in support of the DREAM Act here.

To convince the government, Carlos and Rafael collected dozens of letters of recommendation from high school teachers, coaches, and parents who knew them as honors students, athletes, and community volunteers. They also continued to work toward the futures they hope they might one day be allowed to have in America: Carlos began college part-time at Loyola University to study to become a teacher, and Rafael took community college classes and was accepted to the University of Illinois at Chicago's architectural school. They also spoke out and told their stories publicly to help Americans better understand why they and thousands of students like them deserve to be able to stay in the United States. Carlos accompanied a group of college students to Springfield this summer to talk to his state representative about why the Illinois DREAM Fund, a state bill inspired by the DREAM Act that sets up a private fund to support immigrant youth, was necessary for the state's future.
"If they would allow us to stay here, we would love to" Carlos told columnist at the Daily Herald, their local paper, in March. (The Herald published a follow up article about Carlos and Rafael today.)
Carlos and Rafael now will be safe from deportation for another year, and will be able to apply to renew the deferred action status. They also will be allowed to work, making their college dreams more of a reality. They are grateful for the reprieve they've received from the U.S. government, but without any way to make their status permanent they know they will continue to face obstacles to building a future in the United States. The real solution, which would put them on a path to citizenship and guarantee that they will be able to continue working and contributing in their communities, is immigration reform like the DREAM Act.
"If we were to be deported, we could use our education in a different country, and make a difference in that country. A hard-earned American education would go to foreign lands," the brothers said in a statement that Senator Durbin is expected to read on the floor of Congress this week. "However, it has always amazed us that so many students like us want to live and work in the United States. We just cannot find a way to do so, regardless of our achievements. The fact that the government chooses to deport hard-working men and women does not make sense. It seems to go completely against American ideals of hard work and diligence. The system needs to be fixed and the DREAM Act is the way to do it."

Senator Durbin recently reintroduced the federal DREAM Act, which was first introduced in 1999 and last fall made it through the U.S. House of Representatives before the U.S. Senate failed to bring it to a final vote. Send Senator Durbin a note of thanks for his tireless support of immigrant youth, including Carlos and Rafael.