Five years ago, Christian* fled his native country of Togo to escape political persecution. He had to leave his wife and young daughter behind. When he arrived in the United States, he requested asylum. He was supposed to present his case to a judge this year, but he recently learned that the immigration court rescheduled his hearing to 2016. As he's waited, he has attended school and tried to build a life in the United States. But the distance caused his marriage to fall apart and his daughter has grown from a child to a teenager in his absence.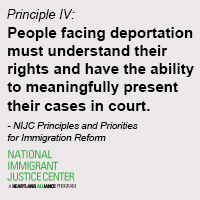 Christian is just one of NIJC's many asylum clients who have struggled to preserve their families and lives as they wait years in limbo to receive decisions in their cases. Christian was among a group of clients who had 2013 hearings cancelled and rescheduled for 2016 to make room for other cases. Michael, an Eritrean asylum seeker who I wrote about last year, is still waiting for his hearing scheduled for 2015—four and a half years after he requested asylum. As immigration court backlogs cause increasingly lengthy hearing delays, the impact on our clients' lives has become more severe.

The immigration reform bill introduced in the U.S. Senate could go a long way toward reducing these backlogs and improving court efficiencies. If it becomes law, S.744 would dramatically increase the number of immigration judges and court personnel, as well as the number of staff attorneys at the Board of Immigration Appeals. It also would provide a path to citizenship for millions of people who have been living in the United States with no ability to legalize their status and thus, we hope, reduce the extraordinary number of unnecessary deportation proceedings that have burdened the courts in recent years.

Despite the Obama administration's claim that it is exercising prosecutorial discretion to focus on high priority "criminal" immigrants, recent documents from the Department of Homeland Security (DHS) and the Department of Justice (which houses the immigration court system) demonstrate that the administration's immigration policies continue to be driven by detention and deportation quotas. Recent statistics show that the immigration court backlog is now higher than it was in 2011 when DHS announced its prosecutorial discretion policy. The average wait time to see an immigration judge is now 553 days, but unfortunately, in cities with large immigrant populations like Chicago, the waiting time is often closer to three years.

It is easy to imagine that asylum seekers who have escaped persecution and torture in their home countries find life in the United States to be a dream, and to assume that any delays in their cases are only inconveniences or somehow work to their advantage. But for individuals like Christian and Michael, the delays are excruciating.

Asylum seekers often do not have work authorization, so supporting themselves during the years of delays, much less providing for their families back home, is nearly impossible. Some clients become homeless and move into shelters, while others must live in uncomfortable or exploitative situations with anyone willing to provide them a roof and bed. For these individuals, justice delayed truly is justice denied.

There are some other simple things missing from S.744 which the government could do to minimize some of the court delays. For example, judges could require that DHS attorneys participate in pre-trial conferences so that issues that might slow down the adjudication of some cases can be resolved outside the courtroom.

Ultimately, however, these problems are bound to continue as long as the Obama administration continues to focus on meeting quotas rather than upholding the public good. In fact, delays will continue to increase. Just two weeks ago, one of our asylum clients received a hearing notice for 2017.

I hope that S. 744 brings us a step closer to a functioning immigration system that shortens his wait.

Ashley Huebner is supervising attorney for Heartland Alliance's National Immigrant Justice Center's Asylum Project.
Rethink Immigration is a blog series in which National Immigrant Justice Center staff, clients, and volunteers share their unique perspectives and specific recommendations on what Congress and the Obama administration must include in comprehensive immigration reform to create an inclusive, fair, and humane immigration system.