Lizzy Westrope was at the U.S. Citizenship and Immigration Services (USCIS) office, waiting nervously next to her very first asylum-seeking client. They had come in for his interview with an asylum officer a few weeks before, and now they were sitting in the same building, waiting to hear whether her client would be granted a lifesaving opportunity to remain in the U.S.
"I will never forget sitting next to him and the asylum officer said, 'Congratulations, you've been granted asylum,'" Ms. Westrope said. "He just burst into tears and hugged me—it was so emotional and very rewarding."
At that point, Ms. Westrope had been at her firm, DLA Piper, for only a few months as a Krantz Fellow, a program through which two associates nationwide are selected to spend their first year at the firm working exclusively on pro bono matters. This case was the first of many cases she would represent in partnership with the National Immigrant Justice Center (NIJC).
"With so much need in the community, I felt very eager to do whatever I could, whatever role I could play, big or small," Ms. Westrope said. "That's really what interested me in getting involved in pro bono work and more specifically immigration work."
In her pro bono cases with NIJC, Ms. Westrope has worked with all kinds of clients and types of immigration law—from Special Immigrant Juvenile Status for children, to LGBTQ asylum claims, to clients who have spent time in detention. Taking on a broad range of cases meant she learned a lot about how the immigration system works.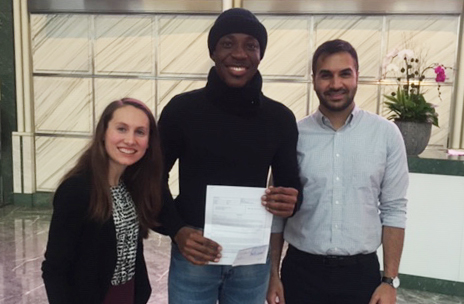 "I would say that anyone interested in doing [pro bono work with NIJC] should definitely do it and should be excited for the opportunity to get outside of their comfort zone," Ms. Westrope said. "Often times, you don't know anything about the substantive area of law when you get started, but NIJC is always there to help and support you along the way and to answer your questions."
Challenges are also inherent in the work, both inside and outside the courtroom. Ms. Westrope's clients are in vulnerable situations. Not only are many of her clients facing increased legal scrutiny in the current environment, but they also are coping with the real-world impact of policies like those which limit access to work permits or housing assistance.
"Both my former client and a current asylum client called me with housing issues," Ms. Westrope said. "They both were saying they were on the verge of not having anywhere to live. It's a reminder that there are so many ways in which starting over in a new country is really, really hard. At least I can offer my skills as a lawyer to help them through the immigration process, which can be complex and confusing for anyone trying to go it alone."
Ms. Westrope ended up referring both clients to local agencies that would help them secure housing. She has also continued taking on clients from NIJC's long list of people awaiting representation, in order to help more individuals and families gain access justice and stay safe.
"Through pro bono work, you get to meet clients that you would never otherwise meet and you forge close relationships with them, which makes the work extremely rewarding," she said. "I'm nearing the end of my Fellowship and still the best moment for me has been helping my client win asylum. There's nothing like it."
---
Alejandra Oliva is a communications coordinator at NIJC.