A year ago, Ella* found herself walking down the middle of one of New York City's avenues, tall buildings on either side, surrounded by a crowd of approximately 150,000 people, all of them members of the LGBTQIA+ community or supporters. She held a sign, "Post Soviet and Queer," and her hair was dyed rainbow shades for the occasion. Even a few months before, the scene would have been unimaginable. Ella had come to the United States from a country in central Asia to find a place where she might live freely as herself, and now here she was, at the 50th anniversary of the Stonewall Riots that kicked off the struggle for gay rights in the U.S., and at WorldPride, a global celebration of queer life. 
"I was in the middle of the crowd, just participating, enjoying being there," she said. "I got to meet people I adored, got to see many organizations who advocate for the rights of queer people, I got to march with them. It was such a thing for me, after all those violent years, I finally started being able to be myself, I no longer have to lie to myself. " 
Ella has since begun the process of applying for asylum protection so she can remain in the United States permanently. With the Trump administration's latest proposed asylum rule, however, winning protection may become more difficult for cases like Ella's—the rule would invalidate claims involving persecution or violence based on gender, including against people who identify as LGBTQ. Ella's life story—from the danger and abuse she fled to the freedom she has discovered in the United States—shows why it is critical to defend access to asylum and challenge the administration's new proposal.
Ella knew she was a lesbian from a very young age. 
"In my culture, being from the LGBTQ community means you are sick," Ella said. "I was afraid, so I was trying to hide myself, trying to tell people all the time, 'of course I'm not a lesbian!" I was also trying to date boys, pretending to be in love with them. But I felt like I was lying to myself and this was the most horrible thing."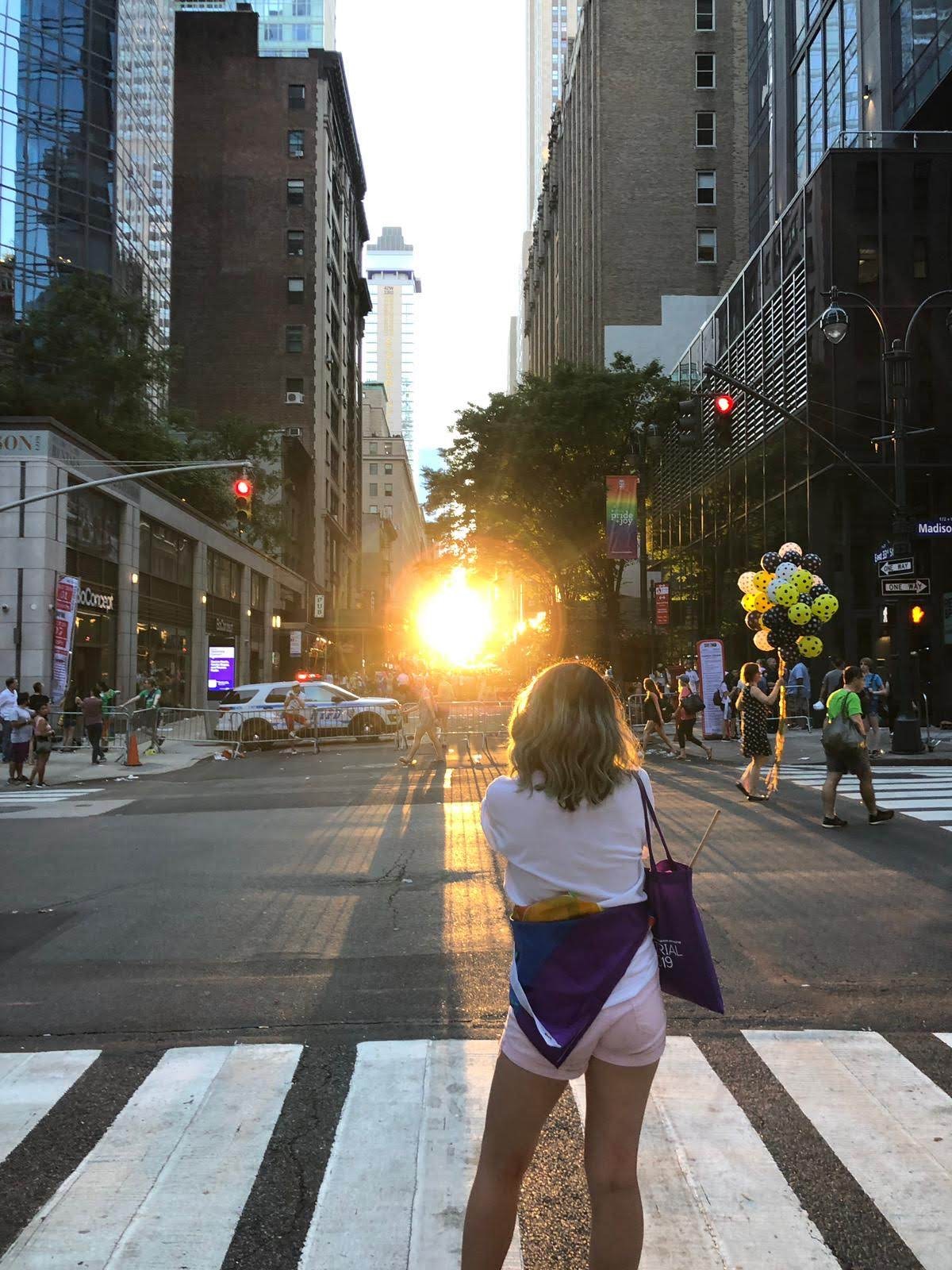 In college, police officers found Ella and another girl kissing in a car. The police sexually harassed and verbally abused them, and held up a cell phone as if they were filming and threatened to out the two women. Ella had to bribe the police to let them go. A mutual friend found out about the incident, and asked Ella out. 
"He was my classmate, and I couldn't say no," she said. "He might spread my rumors, he might tell my parents about me. I didn't expect it or want it, but when I told him to stop, he threatened to tell my parents about what had happened." 
Ella ended up staying in the abusive, coerced relationship for close to five years, under constant threat of physical violence and outing to her family and community. If she was outed, she feared physical violence from her father and forced marriage to her abuser. 
After college, she began to work as a journalist for progressive outlets, where she was connected with a local queer advocacy organization. It was the first time she had met activists and openly queer people in her country. 
"The most empowering thing for me was that after two months, I ended up in a closed-door LGBTQ meeting," she said. "I ended up giving a speech there. I didn't actually come out, but told a story based on my life, and was able to share it with more than 200 people who were queer as well. It was so incredible, I can still feel that atmosphere, see those people, feel myself on the stage. Everything was so, so wonderful."
Meanwhile, the violence and threats from her boyfriend escalated, She grew depressed and suicidal, but still wanted to continue reaching out to others and helping. Through her activism, she helped to organize a women's march in the capital, with nearly 500 attendees. 
"While I was there, I wanted to say something about myself--I am a feminist, I am a lesbian," Ella said. "So I wore a t-shirt with a feminist symbol on it in rainbow color. I ended up being questioned about that shirt by everyone: starting from the police and ending with random people on network TV. There were so many photos of me circulating, and so many threats targeting LGBTQIA+ people and the women at this march." 
She said she grew increasingly convinced that she could never have the kind of life she wanted in her country. She obtained a visa to travel to the United States and arrived in the New York area in June 2019. 
After hearing about the National Immigrant Justice center from a friend, Ella travelled to Chicago, to request legal representation for her asylum case. Since then, she's been matched with pro bono attorneys who are helping her collect evidence and prepare her application. 
"I'm here and now I feel better, like I got a second chance to live my life," Ella said. "I still feel pain for those people in my country who don't have that. I'm so terrified, and I still cannot be in my country, I cannot support people on the ground. I still try to share things online, try to educate people and answer questions. I really want the whole world, especially people in my country, where LGBTQIA+ rights are not protected, to be safe. I hope to become someone who can protect them. So I guess this is my goal, to become someone who could help."
Ella's experiences growing up and as an adult in her country helped shape her politics and ethics—she's a volunteer at a women's shelter, keeps a vegan diet and lifestyle, and is considering getting a master's degree in women's and gender studies so she can continue her work as an activist and writer.
However, even the short time she's been in the U.S. so far has made a difference in her life. 
"I can date people!" she said. "Before the pandemic, I got to go on a few dates, and I'm excited to be able to start going out again, to meet people. I can't believe I get to go out, and actually call them dates—this is something I've never dreamed about, and being able to do it freely, without thinking 'Is someone staring at me in the middle of the street?' is just wild."  
Alejandra Oliva is the communications coordinator at NIJC.