Linda* wants other women to know that they have rights.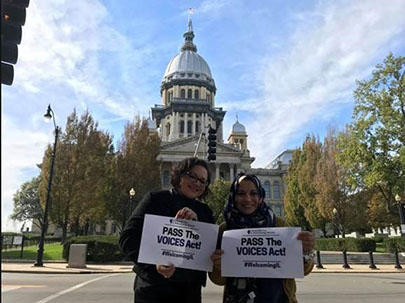 A survivor of domestic abuse and a new green card holder living in Illinois, Linda understands firsthand the fears of leaving an abusive relationship.

"I was really afraid at first because I didn't know what's going on exactly and I didn't know how the system works," Linda said.

For 10 years, Linda's husband had abused her and led her to believe she was nothing and that she could do nothing. Familial pressure and fear of deportation made Linda feel like she had no choice but to stay married to him. Like in many situations of domestic abuse, even when she did run away, because she and her husband had children together, she was obligated to remain in communication with him. Even after they separated, Linda's husband still abused and manipulated her emotionally, physically, and financially. One day, after he attacked her in front of their children, Linda found the courage to seek help from the authorities.

"I said to myself, it's enough. Enough is enough. I said, I can do it no matter what," Linda recalls.

Linda not only feared retaliation from her abuser but was uncertain how the police would treat her. At the time, she was undocumented. But she took a chance because she feared for her life.
listen
Listen as Linda describes her decision to seek help.
Organizations serving immigrant survivors of domestic violence reported a drop in the number of undocumented immigrants willing to pursue orders of protection following the 2017 presidential inauguration.
Seeking safety
The police officer who responded to Linda's call had dealt with abuse cases before. She knew the signs and quickly sought to help Linda. The officer asked Linda questions about what happened and took photos of the bruises her husband had inflicted on her body. Linda filed a domestic violence order, answered the officer's questions, helped in filing a domestic violence complaint to the court, submitted pictures of her bruises as proof, to both the police report and the court case and filed a restraining order.
The court recommended Linda find legal representation for her immigration case, which is how she met Trisha, an NIJC senior legal supervisor. Trisha informed Linda that she was eligible for a U visa, a special visa for victims who are willing to participate in the investigation and/or prosecution of certain crimes.
"It was a big relief for me. I felt like some way opened for me from God, you know?"
The first step in the U visa process is to obtain police certification, in which a law enforcement agency states whether the applicant cooperated with police in reporting and/or prosecuting the perpetrator.
"[The police] told me, 'If you need anything we will do it.' They told me to fill out the report, they would answer any questions. They were so helpful, so nice to me, so respectful."
In this respect, Linda was lucky. She received her U visa certification in Cook County, Illinois, which, according to
WBEZ
, is one of the state's jurisdictions where law enforcement is more likely to approve certification requests.
In many other parts of Illinois, immigrant survivors hit a wall in the U visa process because police departments refuse to sign the certifications. Without that, a U visa application cannot go forward for review by the federal government.
With the help of the NIJC and the police, Linda gathered evidence to complete her application, which she submitted to U.S. Citizenship and Immigration Services (USCIS).
"Living here with no status, sometimes you don't know what is going on. But Trisha was with me and she always told me, 'don't worry, don't worry, because we have everything.' She always told me, 'we have evidence.'"
"I felt at that moment, I had rights here. This is when my whole life changed."
USCIS granted Linda's U visa  and she is now a lawful permanent resident. She is focused on working and raising her children. As a survivor who has overcome physical abuse, mental abuse, and courageously fought her battle in court, she wants other survivors to know they are not alone.  
Listen to the advice Linda feels survivors should know. 
"After a couple years, I am free. I went to school, I have a better life, I am more mature, I am happy. I have what I want, I don't have abuse. Nobody can abuse me now, I am stronger. This is the most important part of my story: you have rights. You are a woman and you have rights."

Support the Illinois VOICES Act

Immigrant survivors of abuse in Illinois should have access to protections provided under U.S. law, no matter where in the state they live. The Campaign for a Welcoming Illinois, a coalition of residents, immigrant rights organizations, and domestic violence prevention organizations are working to pass the Voices of Immigrant Communities Empowering Survivors (VOICES) Act. This state law that would ensure uniform access to U visa protection for all immigrant victims of trafficking, domestic violence, and other qualifying violent crimes in Illinois. The VOICES Act requires each law enforcement agency to designate an official to receive and respond to certification requests, and to provide outreach to crime victims about the certification process. The bill also requires law enforcement and other investigative agencies to respond to certification requests from victims within 90 business days.

The VOICES Act passed the Illinois Senate in April, and is moving to the House this week.

**Update (June/July 2018): The VOICES Act passed out of the Illinois legislature and now awaits Governor Rauner's signature.
*Linda's name has been changed for her privacy
Isabel Sophia Dieppa is the Communications Coordinator at the National Immigrant Justice Center