The National Immigrant Justice Center (NIJC) partners with 1,600 volunteer attorneys who provide free representation to thousands of immigrants, refugees, and asylum seekers and their families each year. As the Trump administration continues to attack immigrants' rights in the United States, NIJC pro bono attorneys in Chicago and across the country are leading national impact litigation and zealously fighting for individuals in our communities. Here are just a few ways that they defend immigrant rights: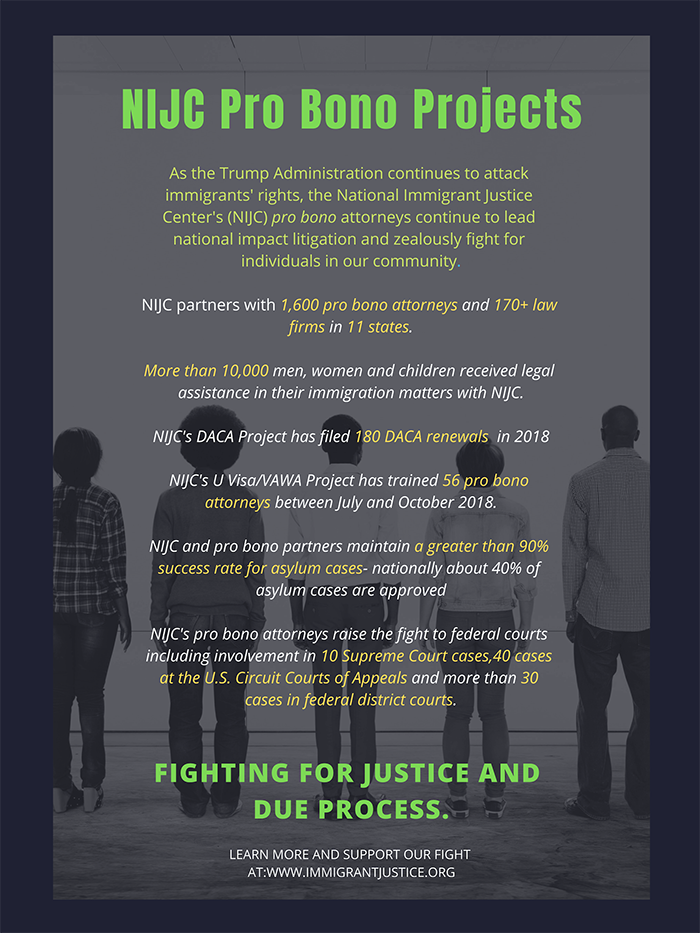 During Pro Bono Week, we wanted to recognize some attorneys who have recently started volunteering with NIJC and have shown stellar commitment to clients.
Adrienne D. Boyd of Arnold & Porter (Denver) for her work representing individuals seeking asylum based on their sexual orientation and gender identity. NIJC pro bono attorney as of 2017.
Daniel Applebaum of Sidley Austin LLP for his work for his work petitioning for family members and obtaining permanent residency for refugees and asylees. NIJC pro bono attorney as of 2018.
Rosalyn Flores of Kirkland & Ellis LLP for her work representing immigrants applying for naturalization. NIJC pro bono attorney as of 2018.
Gergana Peeva of DLA Piper for her work representing an asylum seeker. NIJC pro bono attorney as of 2018.
Ellen Miller is the pro bono manager with NIJC.