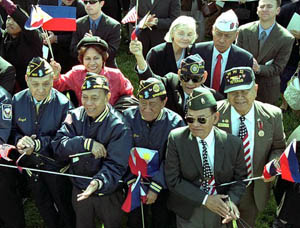 As Memorial Day approaches, the U.S. Congress and the Department of Defense have an important opportunity to strengthen our armed forces by broadening opportunities for all Americans to enlist in the U.S. military. Currently, countless young men and women are denied the chance to serve their country due to their immigration status or that of a family member.
Many immigrants are barred from enlisting in the U.S. military. Individuals who have received status under the Obama administration's Deferred Action for Childhood Arrivals program are not allowed to enlist despite being eligible for a work permit. In addition, individuals are denied from enlisting if they live with or are married to an undocumented immigrant, or if they have undocumented dependents.
This contradicts the long history of immigrants serving in the U.S. Armed Forces. According to U.S. Citizenship and Immigration Services, 20 percent of the 1.5 million service members in the Union Army during the Civil War were immigrants. Today, more than two-thirds of foreign-born individuals on active duty in the armed forces are naturalized citizens.
Senator Durbin (D-IL), who chairs the Defense Appropriations Subcommittee, held a field hearing in Chicago on Monday, "Immigrant Enlistment: A Force Multiplier for the U.S. Armed Forces." The hearing featured several DREAMers enrolled at Phoenix Military Academy who wish to serve in the armed forces. Cadet Captain Jessica Calderon testified that America is the only country she has ever known and she would not feel comfortable defending any other country.
Colonel (Ret.) Kevin Kelley, who serves as the Director of Military Instruction for Chicago Public Schools, stated that Chicago has the largest Junior Reserve Officers' Training Corps (JROTC) presence of any school district in the country. He estimated that 10 percent of JROTC graduates are not able to fulfill their dream to serve the nation through military service, despite the fact that they would meet the highest enlistment quality benchmarks.
Both Senator Durbin and Colonel Kelley pointed out that the U.S. military faces recruitment challenges given that 75 percent of Americans are unable to serve due to medical and weight issues. Greg Chen, advocacy director at the American Immigration Lawyers Association, noted that a 2005 Center for Naval Analyses report found that immigrants add valuable diversity to the armed forces and perform extremely well, often having significantly lower attrition rates than other recruits. In addition, the report noted that "much of the growth in the recruitment-eligible population will come from immigration."
While Republican leadership in the House of Representatives continues to hold immigration reform hostage, the Pentagon has the authority to make policy changes that would open the doors to many qualified men and women who want to serve their country. Congress may also have a chance to vote on the issue as part of the National Defense Authorization Act, which funds the military.
But immigrants don't just contribute to our military. Ultimately, we need commonsense immigration reform that will fully incorporate all 11 million undocumented immigrants into our society and truly recognize the immense value immigrants contribute to our country.
Jennifer Chan is the associate director of policy at Heartland Alliance's National Immigrant Justice Center.