The number of immigrants detained by U.S. Immigration and Customs Enforcement (ICE) has reached unprecedented levels in recent months. NIJC's Detention Project staff, who provide legal rights information and representation to immigrants and asylum seekers detained at county jails in Illinois, Wisconsin, and Kentucky, see first-hand the harm caused by such widespread and unnecessary incarceration of immigrants, including parents and young adults, and by the Trump administration's refusal to release them while they seek legal protection. This is the second story in NIJC's four-part series, "Getting Out," highlighting the experiences of NIJC legal staff and clients trapped in the system.
Sebastian* is a young man who fled his home country of Nicaragua after paramilitary groups and the police tracked his involvement in a local group that had opposed the president's policies. When I represented Sebastian this summer, he told me he felt that he had no other choice but to flee his country or risk being imprisoned or killed. Out of desperation, he entered the United States without documents and turned himself into immigration.
For immigrants who cross the U.S. border outside a port of entry and are detained, and who aren't deemed ineligible by punitive immigration laws, seeking a bond is the only opportunity to potentially win release while their cases are still pending. A bond is a promise to the immigration agency that upon release from jail, they will go to all court hearings and do what the judge orders them to do, even if that ultimately means complying with their own deportation.
Sebastian's friend had connected him with someone in the United States who had permanent resident status and could have posted his bond, if his family were able to raise the money, and provide housing. But even though Sebastian was a young man, who did not have any crimes in the United States, was seeking asylum, and had somewhere to live, the immigration judge set a $5,000 bond.
Immigration bonds have to be paid in full, so for Sebastian and his family, who were all still in Nicaragua, it was a lot of money. Using a bond agency was not an option, due to the high interest rates most companies charge.
As Sebastian's detention dragged on while his family struggled to figure out how to raise his bond, we lost contact with the friend who had offered housing. At Sebastian's next status hearing, when I asked the judge for additional time to prepare Sebastian's asylum application, the judge questioned why Sebastian had not posted his bond. I explained to her the difficulties for his family to come up with that kind of money. Two weeks later when I filed Sebastian's asylum application, the immigration judge again questioned why he remained detained. At no point did the judge acknowledge that the bond was high, but seemed frustrated that Sebastian did not just pay it. Sebastian was frustrated because he too wanted to get out of detention and wished he could afford to post it. He wondered if the judge thought he wanted to remain detained.
He decided to stop pursuing a bond and focus on preparing his asylum claim.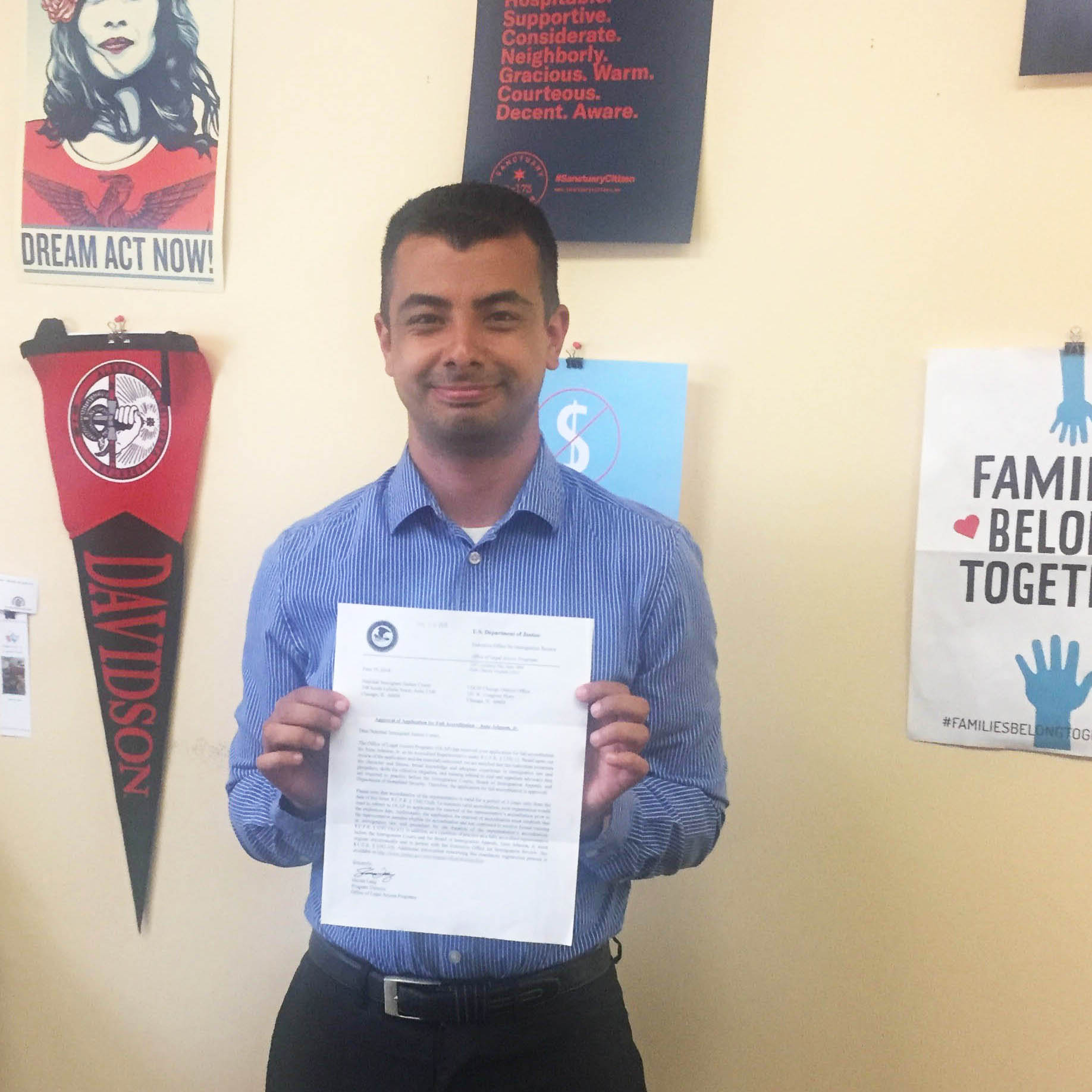 Prolonged detention
Detention was often tough for Sebastian. He had never been to prison before, but he said being detained in the United States made him feel like a criminal when he was only here to survive. Deportation officers and correctional officers gave him very little information. Once, ICE brought Sebastian to Chicago, purportedly to meet with a consulate, but he did not understand why.  He was brought to Chicago very early in the morning, about a 60-mile drive from the jail where he had been held in McHenry County, Illinois. He waited in a holding facility all day. He told officers repeatedly that he wanted to speak with me, but they never allowed him to call me. He later learned he had been brought to the city in error. He did not end up speaking with anyone. When he returned to the jail, he found out that the facility had cashed out his commissary account, which held the money he earned from his $3-per-day job inside the jail. It took a while for the facility to reinstate the account for Sebastian to be able to use his money again, which means he was unable to call me and was only able to inform me during our next scheduled check-in call.
Two months later, and more than six months after Sebastian had first been detained, we returned to court to present Sebastian's asylum case to the judge. This was no easy feat. I requested that the court bring Sebastian in person, as opposed to having him participate in his hearing via video teleconference, like many hearings are held. Going in, Sebastian and I felt that he had a good chance to win, with arguments ready showing the Nicaraguan government's ongoing suppression of political demonstrations. We were able to document the various threats Sebastian received before he escaped to the United States. Nonetheless, before the hearing, I prepared him for the various possible outcomes, which included winning asylum but then facing a government appeal, or winning another form of legal protection, either Withholding of Removal or protection under the Convention Against Torture, which allows the government to keep individuals detained for up to 90 more days to seek a safe third country to send them to.
To our relief, at the end of the hearing, the immigration judge granted Sebastian asylum, the government did not appeal, and he was released from ICE custody the same day.
The real costs of high bonds
Even though Sebastian had a strong asylum claim, he overcame the odds when he won his case from detention. Detained immigrants with legal representation are twice as likely to win relief as those without, but only 14 percent of detained immigrants go to court with legal counsel by their side.
As of December 2018, ICE paid the county jail where Sebastian was detained $95 per person per day. Over the six months while he was detained, ICE spent over $17,000 in taxpayer dollars to detain Sebastian. He had a viable claim to asylum and all of the characteristics that should have allowed him to be free, except for his inability to raise $5,000 for his bond. This is unjust and a waste of resources.
*I've used a pseudonym to protect my client's privacy.
Jesse Johnson, Jr., is a Department of Justice fully accredited representative and the detention project pro bono coordinator at NIJC.