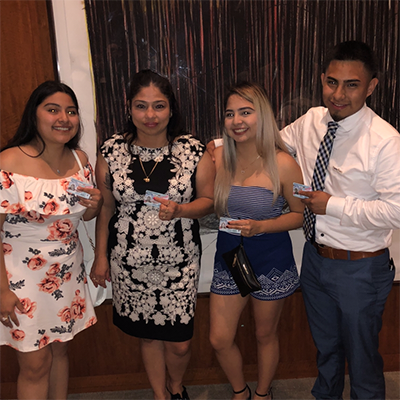 Twenty years ago Fabiola trekked the treacherous desert for three hours alone with her three children: Jorge, Celia and Euridice. They left Mexico and arrived at the U.S. border with hopes for a better future. 
In the United States, Fabiola had three more children born as U.S. citizens. This year, Fabiola and her three eldest children became lawful permanent residents.
It wasn't an easy or quick journey. Their path to legal status was only opened because they qualified for a U visa, a special visa for immigrant victims of crime. While they waited for their application to be processed they dealt with poverty, insecure employment and an unsure future. The family is grateful for the legal services they had access to through the National Immigrant Justice Center (NIJC) and the Chicago Legal Protection Fund, and the vast opportunities they now have available to them. Fabiola and two of her children, Jorge and Celia, sat down with NIJC to share their stories and hopes for the future.
Fabiola
Fabiola and her children, ages two months to six years, crossed the Mexican desert by foot in the late 1990s.
"We could not go back because when I came here it was very difficult. Walking with three children alone is difficult because you're in the desert and, after walking for three hours, I was scared but then I saw I was almost here."
"No podíamos regresar porque cuando yo me vine para acá fue muy difícil. Caminar con los tres y yo sola con ellos que nos veníamos, es difícil porque estas en desierto y luego de caminar tres horas si me dio miedo  pero ya casi estaba yo aquí."
Walking through the desert was the first but not the greatest hurdle the family overcame. That distinction goes to the economic struggles the family faced. They left Mexico to work and have a secure future, which was difficult to do without lawful immigration status.
"To obtain a good job is not easy. If one does not have their papers for a secure job that pays well, it's difficult. I have to try to keep striving and teach my children that above all we will be okay."
Fabiola took on a variety of jobs to help take care of her family. At the same time, her partner and father of her children, who had arrived in the U.S. before them, suffered under the economic pressures, began to drink frequently, and became violent.
"He beat me. I was pregnant and he tried to suffocate me with a pillow. I thought, 'I can't be like this, because next time he is actually going to kill me.' That was the situation that made me leave because he couldn't control himself anymore. The more time passed, the more harm he inflicted on us.
listen
Fabiola describes the difficult decision she had to make for her children.
"I didn't want [the children] to be separated from their father. … But seeing the situation, he wasn't trying to change. I didn't have another choice but to seek help and separate myself from him."
"Eran muchas cosas que ya estaban pasando, y la última vez, fue que, como yo estaba embarazada él trato de ahogarme con una almohada, esa fue la última vez. Y dije, ya no puedo estar así con él, porque entonces para la próxima ves me va querer en verdad matar. Esa fue la situación que yo trate de sepárame de él de dejarlo porque él ya no se controlaba. Mientras más tiempo pasaba, más daño nos estaba haciendo.

"No queria separa los niños de su papa. ... Pero viendo esta situación, que él no intentaba cambiar. No me quedo de otra más, más que buscar ayuda y de separar me de él."
Fabiola sought the advice of her aunt who had also left a situation of domestic violence. The aunt pointed Fabiola to NIJC, suggesting she might be eligible for a U visa, a special visa for victims of certain violent crimes.
If Fabiola qualified for the U visa, her NIJC attorneys told her, her children could obtain legal relief as her "derivatives."
But the family still had to endure years of waiting, in poverty, before they won protection.
First, they gathered police reports and other documents they would need as evidence for their application. It took about two years to get the information they needed before they were ready to begin the U visa application process with NIJC. "When it was my turn, they called, they gave me an appointment, and I took all my information, the court papers, the police reports I had, because it wasn't just one police report, there were many."
The U visa application process took about two years, and then the family waited another four years to secure permanent status.
Celia
Celia, the eldest of the three children, remembers the early years in the United States the most. She recalls the advice her mother's aunt gave her about how to find safety from her abusive father. She recalls her mother's doubts in seeking help -- what if the help backfired?
"My mom was really skeptical because back then we didn't have any type of papers, so of course we're going to be hiding and we're not going to want to expose ourselves. So she really never took [leaving] into consideration."
Celia remembers when her mother first came to NIJC for a legal intake in 2011.
"She came into the [downtown Chicago] location. She went in there, she got the appointment, and they started talking about her case. It took a while for us to get an attorney," Celia says.
Once her pro bono attorney and the staff at NIJC started working on her case, however, the family worked together to gather all the police reports they had made, and other proof that all of the family members had been victims of violent abuse.
"It was a pretty solid case," Celia says, "They were basically telling us, you have a really solid case here. Because you guys have evidence throughout the years of abuse."
By the time the family was on their way to lawful status, Celia had lived her entire school career from kindergarten through 12th grade undocumented.
"I remember, not everything, but most things of how I grew up here. I had to learn the language because I didn't know anything, I only knew Spanish. I struggled a bit when I was in school and of course I had to translate with my mom because everywhere we would go she didn't know the language and I was in school so I had to translate.
"I never really thought about it, until I knew that I wasn't from here," Celia recalls. "I'm very proud to be Mexican and where I'm from but it hit me really hard when I was in high school. When I was about to graduate, everyone was talking about college and graduating and they would ask me. On top of me not knowing what career I wanted to take, I also was scared because I can't do any of these things. I can't get FAFSA. I can apply and I can get into colleges, but the financial help isn't there for me. So that's what hit me the most."
Celia says the feelings of helplessness were so intense, at one point she felt like she "didn't even want to try to go to college. So, that for me, that was a huge [realization that], 'Oh, I'm an immigrant.'"
While the family was waiting for their U visa approval, Celia attended community college. Although she won some scholarships, they still were not enough to pay tuition.
She had to pay a portion out of pocket, and while she waited for USCIS to make a decision on her U visa, she was forced to work low-paying jobs where she felt she was exploited.
"I remember I used to come home crying to my mom because [my manager] was so mean to me," Celia says.
After years of hoping, Fabiola and her children were granted U visa protection in 2014.
"I felt like it was a relief because we were like, 'finally.' It's like seeing a light at the end of the tunnel. It was such a huge relief because with that we were able to get better jobs," Celia says.
Jorge
Like his sisters, Jorge had no idea he was undocumented until he started to notice his family couldn't move ahead in the way other families could. "I started realizing everything when I was in high school. I started thinking about it when I was younger and realizing, 'oh my parents don't have the resources to have a good job,'" Jorge says. When the process for the U visa began, he was 13.
"We had to help out with gathering information. We had to recover all the police reports that were made in order to show proof that [our mother] was a victim of domestic violence and so were we. We also had to go to therapy sessions, so we could also prove the trauma was still in us. And we had to get our fingerprints done."
When the U visa came through, Jorge was relieved to be able to help his family even more through a job at McDonald's.
"That was my goal, that when I turned 16 I would be able to start working, so I could help my mom out and also have a little money for myself to buy my own clothes and my own shoes."
But even after the family secured their U visas, Jorge's lack of permanent status in the United States limited his ability to plan for the future as he neared high school graduation.
"It was all about, 'What school are you going to? What are you planning on doing after high school?' You know, everybody was asking those questions. And I'm really glad that at the high school that I went to they were very supportive and I was open about [my status]. People knew and they saw what was going on in the world so they understood my situation."
Jorge was planning to enroll in a city college in Chicago when his high school counselor recommended he participate in a one-year workforce development program, Year Up. He was ecstatic when he was placed to work at US Foods, a fortune 500 company.
"Year Up came in and they were even more of a support than I had in high school. I was able to take advantage of the opportunity with just the working permit that I had. They were able to take me in and say, 'You're good enough to participate and excel through the program and we'll see what happens at the end.'"
listen
Listen to Jorge describing the emotions he felt leading up to receiving his residency.
Security at last
Three years after securing their U visas, Fabiola and her children were eligible to apply for lawful permanent residence. By then, Chicago's Legal Protection Fund allowed them to obtain free legal representation from NIJC. In early 2018, Fabiola and her children all received their green cards. A few months later, Jorge spoke about his experience at a celebration hosted by Chicago Mayor Rahm Emanuel: "My life could not have been the way it is now without the legal representation I received through NIJC and the Chicago Legal Protection Fund," he told the audience. "To top it off, after coming to the U.S. at two months of age, 20 years later I was able to return to Mexico and finally meet my grandparents and family for the first time in my whole life."
With Jorge's permanent status secured, US Foods hired him for a full-time job. His next step is college.
"Now I am looking at Oakton Community College in Des Plaines. And since the Year Up program was able to provide college credits, I am able to enroll and finish the rest of my credits toward a bachelor's in business administration."
Jorge dreams of one day starting a nonprofit organization that helps youth. "Any students who were in my situation, I would like to be able to support them in the same way as I was supported," Jorge says.
Celia still is not working in the career she would like, but she has been able to turn her energies to her passion, storytelling. "I love writing, I love reading and anything that has to do with telling stories," she says. "I want to become an author, to be able to put my story out there, and have people relate."
Fabiola encourages her children to continue to strive, and not forget the struggles they all went through and the importance of working through what at times may feel like impossible situations.
"Yes, [life] is difficult. That is what I explain to my children most of all. I explain to them that it is important that they value their experience and this country. I encourage them to study. It's important to work toward a career.
"More importantly, it's important that people know when it comes to domestic violence you should seek help and it's never good to stay quiet. We must be strong and have the courage to do it. You may have one child, two children, three children but you must have faith that things will be all right.
"I know it's difficult but nothing is impossible," Fabiola says.
"Si es difícil, eso es lo que mas les digo. Les explico que es muy importante que valoren este país y que traten de estudiar algo de ser algo importante, porque no es tan fácil. 
Una carrera que es bien importante acá para hacer algo en la vida.

Mas que nada es bien importante que toda la gente sepa que cuando se trata de violencia domestica que pidan ayuda, y que nunca es quedarse callados y que pues hacer se fuertes mas que nada y tener valor para hacer lo. Así puede ser con un hijo, dos hijos, tres hijos, siempre tener fe en uno mismo para poder salir adelante. Se que es difícil pero nunca es imposible las cosas."
Isabel S. Dieppa is the communications coordinator at the National Immigrant Justice Center.