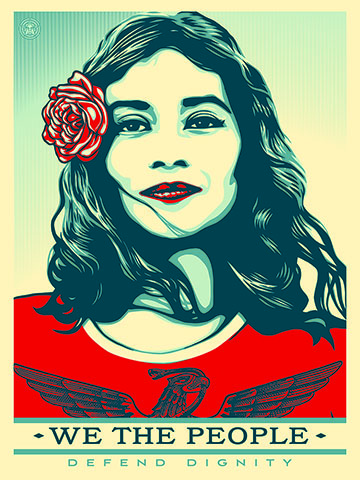 All she wanted was a chance to prove to the judge she was turning her life around. 
Days before Christmas, a 24-year-old Kentucky-raised mother named Estrella* sat in a detention center, awaiting deportation. After months of being locked up by U.S. Immigration and Customs Enforcement (ICE), unable to see her four-year-old daughter, she had decided to stop fighting her asylum case because she could no longer put her child's life on hold while she was detained. 
In a phone interview, she talked about the confluence of life circumstances and harsh immigration laws that left her with little choice but to agree to be deported to Mexico, a country she already had fled twice, "I don't think the United States understands how bad it is in my country, there is so much corruption. … I have no idea what I'm going to do because I can't go back to my state, and I feel like if I go to a place where there is not a lot of people I can easily be spotted because of my English, my Spanish." 
Estrella already has experienced more pain than many people her age. After spending the first seven years of her life in Mexico, moving between foster care and relatives' homes, she came to the United States to reunite with her parents.
"Life with my parents was kind of weird; they made me grow up in this atmosphere where there were drugs and alcohol. That was a part of living in my household, so then I picked up on it.
"Nobody really said, 'what you're doing is wrong or bad.' My father, he wasn't the best father. He used to physically abuse us, he used to mentally abuse us, and, you know, I used drugs and alcohol to cope with it a lot."
Rise up, knocked down
Like many American kids brought up in difficult circumstances, Estrella made mistakes. 
After her father died of an overdose when she was 16 years old, she spiraled and heavily consumed drugs and alcohol. It was during this time when she met Matt*, who was charming and made her believe she could live a happy life with him even though sometimes he was verbally abusive. The two began a relationship and eventually had a daughter together. Matt convinced Estrella to move to Mexico, promising that things would be better for them there. In Mexico, Matt's verbal abuse became physical. To escape the abuse and prevent her daughter from living the same childhood that she experienced, Estrella moved to another city, where she had family and found work. 
That new city was supposed to be another new beginning for Estrella. She got a job as a server and met a man named Ezequiel*, who became obsessed with her. He continually asked her to date him and she said no. One day he threatened her, revealed he was a member of a cartel called Los Zetas and told her she had to be his girlfriend. 
"I ran away from Los Zetas in my state. I ran away from them and I didn't find any way to provide for me elsewhere since the place where I was at, is where I got hurt."
Estrella fled, with her daughter, back to Kentucky. 
"Coming here to the States, I thought I was going to be better, and that this was a country that was going to be able to protect me. But unfortunately, it wasn't like that."
Unforgiving immigration laws
Back in Kentucky, Estrella worked, but her mistakes caught up with her. Once she was the passenger in a car during a traffic stop and the police officer found she was carrying $10 worth of weed. Estrella went to court without a lawyer and, not knowing the impact it would have on her immigration status, she pleaded guilty. 
"I thought it was easier, you know to just plead guilty, pay a fine, and I didn't know that it was something that was going to affect me in the long run of my immigration case."
Listen as Estrella explains why she was stopped by the police. 
listen
She also was arrested twice for driving under the influence. Ultimately, it was these convictions that blocked her path to legal protection under U.S. immigration law. 
 
In a sad irony, during her time in ICE detention at a county jail in Illinois, Estrella finally had access to the help she needed in order to deal with her past trauma and addictions. 
"I started taking AA classes for alcoholics anonymous, Narcotics Anonymous, there's this other group I go to called Celebrate Recovery. It was just a lot of stuff I feel like I never got a chance to do. The court never ordered me, 'go to rehab' or 'you have this many DUIs, go and fix yourself.' The court didn't do it, my mom didn't do it, I didn't have anyone to push me to be better.
"I'm not trying to have pity on myself, really I'm not. My life was such that I was at the wrong place at the wrong time. I wrapped myself up around all of this violence, I didn't have the opportunity to be better, that's all I was asking.
"I feel like I took these classes and I feel like I learned so much from them. I feel like I don't need drugs and alcohol to make myself feel better, to make myself normal in my own skin. I learned all of that and I was trying to have the judge see that, see the change in me, See that I need one opportunity—that's all I need, one opportunity to change things around to make better choices."
Since 1996, U.S. immigration law has been unforgiving when it comes to people with drug convictions, regardless of their individual histories or family ties. Increasingly under the Trump administration, that stringency has extended to DUI convictions. Even with Estrella's daughter's life on the line, her history as a survivor of gender-based violence, and her fear of being targeted by the cartel she already fled once, Estrella and her pro bono attorneys from NIJC were unable to overcome the legal obstacles posed by two DUI convictions.
     
An immigration judge denied Estrella's case, a ruling that the Board of Immigration Appeals later affirmed. Appealing to the federal courts would have forced Estrella to spend months longer in detention – something she felt her responsibilities as a mother didn't allow. 
"My daughter, she has to be with me because I'm her mom and I don't want her to have to go through things I went through when I grew up because I didn't have my mom. I want to be there to protect her."
Facing motherhood in exile
In December, Estrella's plan was to return to Mexico, get settled, and then send for her daughter.
"I want to keep her safe wherever I am and I do want her to go to school. I feel like it's very important for people to go to school. I wish I would have done so much better, but you know I didn't. I want [my daughter] to go above that. I want her to go to college. I want her to have a good job. Thankfully she's a citizen; she can come back whenever she wants.
"I want to find a good job to provide for her. I want to hopefully, open up an A.A. over there where I can stay sober and be busy. I've learned a lot that it takes giving to receive, and I got so close to my spiritual life, like to God and stuff and I feel like if God sees me doing good things he is going to reward me. Also, I have to be a good example to [my daughter], because I can't make her live in the un-normal life that I lived. The same examples my parents gave me, I can't have that for [her]. I have to break that cycle."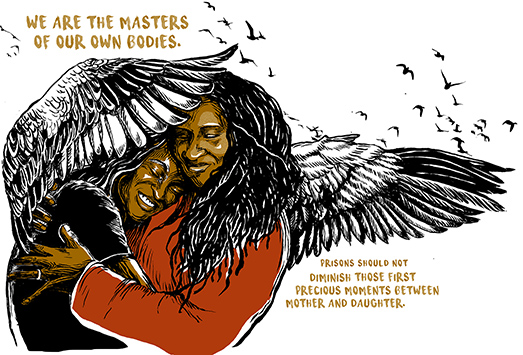 Listen to what Estrella feels is the most overlooked and important part of her case. 
listen

Art by Amplifier
Isabel Dieppa is the communications coordinator at the National Immigrant Justice Center.