Alejandra describes getting her work authorization like this:
"It was perfect timing. I had just graduated college, and I really didn't know what I was going to do. I used to cry in frustration and see my daughter and not know, 'what am I going to do next?' I had just gotten this beautiful piece of paper that says that I have a degree, but I can't do anything with it...after I got my work authorization, I started applying to jobs like there was no tomorrow, and I got my first official job. It was pretty surreal, because in Mexico you really don't have much, and to come to a point where you're making something out of yourself...it gives you a little bit of hope back."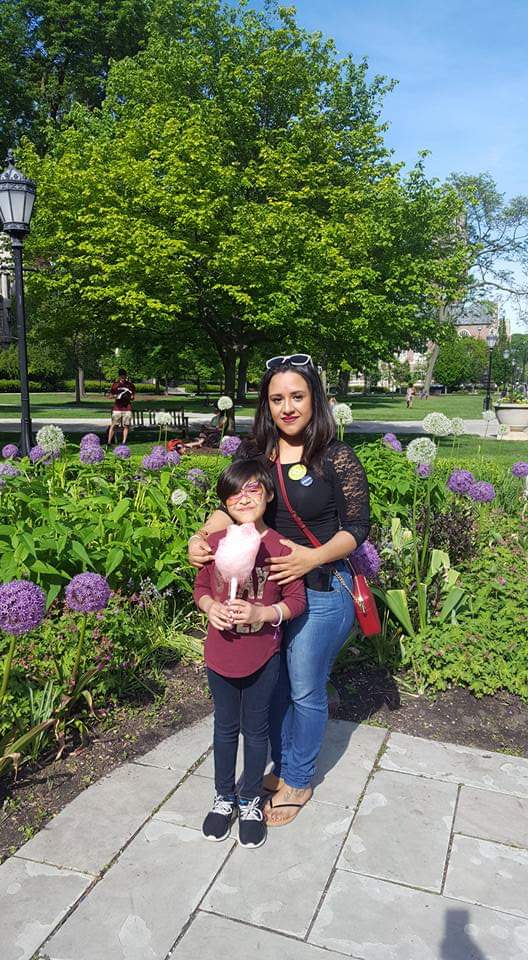 As a child, Alejandra, her mother and sister had walked across the desert for three days to reunite with her father, who had come to the United States a few years earlier.
"We were literally starving to death," she says. "I know it sounds extreme, but it was really what was going on, so he decided to part ways with us in hope of getting us a better future."
Fast forward a little less than a decade and Alejandra was mother to a young daughter. A friend of her mother who knew about her undocumented status recommended that she visit the National Immigrant Justice Center.
Attorneys at NIJC helped Alejandra obtain a U visa and added her parents onto the case as derivatives. This meant that the whole family was able to obtain work authorizations at roughly the same time.
Fast forward again, almost 5 years from getting those work authorizations in the mail to today: Alejandra is working hard at making a career for herself in the nonprofit and immigration sectors. She works providing career and vocational guidance for recent high school graduates, and also works part-time at a law firm, doing translation and helping people fill out their immigration paperwork.
"I really like to empower people to have their voice heard, and be able to navigate that process in a world that they don't really understand, and can be intimidating," she said. "I like to be that person that can talk them through the process and ease their nerves and then empower them to be able to speak their piece, and hopefully with that be able to adjust their immigration status."
She sees a parallel between her own story and that of the people she works with every day.
"Most of the people that are trying to make a change in their adjustment status are simply doing it to make ends meet, or find a better life for their family, and are really coming to this country in hopes of something better, just like my dad did, just like I did," she said. "I have really dedicated my career to giving back to individuals who are American citizens, to individuals that for whatever reason are at a point in their life where they need a little help."
"I run across a lot of young girls who have told me, 'I don't know if I can tell you this, but I don't have an immigration status,'" she said.  "And then I'm able to share my story with them and see their eyes light up and see that I'm just like them, and look where I am today."
Part of her job includes connecting these girls to resources, much like her mother's friend connected her to NIJC all those years ago. Alejandra credits NIJC for helping her achieve a kind of stability that empowered her to live her life.
"I am only one of, I can imagine, thousands of individuals who have been able to obtain an adjustment of some sort to their immigration status who are now able to make their livelihood, and thanks to you guys, I'm now able to provide for my daughter," she said. "We have a stable life, because when I came knocking on your doors, I didn't have that. I was literally without income, living in my parents' house, trying to make ends meet, my parents were in the same bracket. My dad didn't want to drive outside of the city because he was afraid that immigration was going to get us. We lived a life of fear, and in the shadows. My life was in the air until you guys came along and helped us out, and that was the saving grace for me."
Alejandra Oliva is the communications coordinator for NIJC.