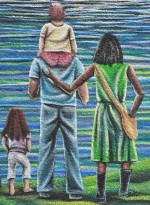 Alexander* recently returned from a trip to his native South Africa, where he saw his mother for the first time in a decade. Soon after his return, he and his wife Janine moved into their new home in West Humboldt Park. These milestones were made possible when Alexander, with help from the City of Chicago's Legal Protection Fund, was granted lawful permanent residence. Today the couple lives without fear as they plan for their future.
However, the future didn't always seem as bright for Alexander.
Living without status
Alexander immigrated to the United States to work and study. He was a seasonal employee at Six Flags Great America, and soon after obtained a student visa and enrolled at a local community college. Alexander was doing well until his financial aid was delayed. His unpaid tuition caused him to fall out of status.
"I asked my school. I just needed an extension," Alexander says. "The lady that handles international students told me, there is nothing I can do for you. We have to let immigration know you are not signed up. And I would say, a month and a half later, they came busting up in my apartment."
"They [Immigration and Customs Enforcement, or ICE] " just opened up my bedroom door and asked me 'Are you Alexander? Do you know, sir, you're illegal in the country?' They had guns pointed at me too.
"I cooperated with them. I got in the vehicle and… they took us somewhere downtown for processing. I've never been arrested ever in my life."
That day was eye-opening for Alexander. He says he saw the hurt the current immigration system causes and does not "wish that on anybody."
While Alexander was in detention, a friend who worked at Catholic Charities pointed him toward lawyers at NIJC. 
NIJC helped Alexander obtain a jail bond and worked to get him out of detention. Because Alexander's wife at the time was a U.S. citizen, he had a pathway to citizenship. He had hopes of remaining here with his wife and daughter. The two started the process for a family petition. But two weeks before his court date, his wife asked for a divorce and decided not to go through with the application.
"I was devastated, because I didn't know what the future held for me here," Alexander remembers. "My marriage was done and I lost my daughter. I didn't see my newborn daughter for a year."
listen

Listen as Alexander explains what it was like to be arrested by ICE agents. 
Alexander's immigration judge decided not to deport him and instead terminated his case. But Alexander still did not feel free. He did not have lawful status in the United States and could be placed in removal proceedings again at any time.
A chance encounter
Almost four years passed before Alexander met Janine at a Valentine's Day party. Janine says it was fate that brought them together: "He actually wasn't even supposed to be at the party. He came and then left back to Gurnee. His best friend called him and said, 'you know, I don't know what it is, but I have a feeling you're going to meet somebody.'"
The two became inseparable. "I know he suffered a lot," Janine says. "I felt his suffering. I think that's why we just became fast friends. I never met anybody like him. He changed my life more than anything."
listen

Listen to Janine describe her devotion to Alexander
The couple stayed together through Janine's full-term pregnancy and the tragic stillbirth of their child, and realized they wanted to get married.
Shortly after getting married, the two set to find a way to ensure Alexander could stay in the country. Alexander originally tried working with an immigration attorney; however, the couple couldn't afford the attorney's fees. He remembered the help he originally received from NIJC and called to see if he qualified for services.
Through the Legal Protection Fund, Alexander qualified for free legal representation from NIJC. By not having to pay attorney fees, the couple were able to focus on saving for the costly government filing fees that accompany any immigration application.
"Even putting that money together was difficult," Janine says. "We had to borrow and we had to ask the family. It's not like we just had money laying around. I wish we could have said we had a savings, but it just wasn't like that."
And the couple did not take the complexity of the application process lightly. They knew how complicated filing paperwork with U.S. Citizenship and Immigration Services (USCIS) would be. "We understood what's at stake and what we needed to do," Alexander says.
Obtaining legal help
NIJC attorney Amanda Garcia represented Alexander and Janine in their case. Because Alexander's deportation case had been terminated, his route to status was more straightforward than others might be. He also had entered the United States legally, which meant he didn't have to return to South Africa to go through consular processing. The couple were able to complete the entire process together with a USCIS officer in Chicago — which still involved two separate interviews for Janine and Alexander that delved into their personal lives.
The first interview was with Janine, who had to prove that their marriage was what USCIS considers a "good faith marriage." She described their life together and the pain of losing their first child together. The second interview focused on Alexander, with questions about whether he had any criminal involvement in his past. He did not.
With the Legal Protection Fund's legal assistance, Alexander and Janine were approved for their family petition and Alexander received lawful permanent residence.
"First of all, by getting my green card, I was able to go see my family in South Africa. I hadn't seen my mother in 10 years," Alexander says. "Also, I can actually apply for a regular job now ... there aren't those hurdles in my way. I can apply, if I qualify, like any other person now."
Janine has advice for other couples going through the family petition process: "I would say to keep going and don't quit," Janine says. "And keep your faith strong. I mean things worked themselves out for us. I know it's not always the case with every story but you just have to keep going and keep pushing and keep working at it."
*Alexander's name has been changed for his privacy.
Photo credit: Stephen Zacharias via Flickr/Creative Commons."mural in Winnipeg, Canada." 
Isabel Sophia Dieppa is the communications coordinator at the National Immigrant Justice Center.