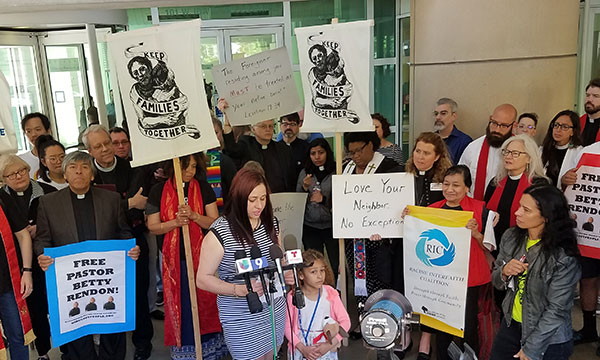 Two weeks after Betty Rendón and Carlos Hincapié were arrested at their Chicago home as part of a U.S. Immigration and Customs Enforcement (ICE) operation, advocates and faith communities joined the couple's daughter and granddaughter in a rally outside ICE's Chicago Field Office, as the couple's attorney filed a petition with the agency to request a stay of removal.
Betty and Carlos remain in ICE detention at Pulaski County Jail in southern Illinois and are represented by attorneys from the National Immigrant Justice Center (NIJC) through the City of Chicago's Legal Protection Fund.
"They are separating our family," said Paula Hincapié, Betty and Carlos's daughter, who was joined at the rally by her five-year-old daughter Layla. Paula, a DACA recipient, was arrested in the same May 8 enforcement operation as her parents and later released. "Our family has always been together. I feel totally alone—my parents are my main support as a single mother. I hope my parents get released and can stay here."
"ICE has the authority to stop Betty and Carlos's deportation. In this case, we believe the agency should exercise that authority on account of their strong family and religious community ties in the U.S. and their serious health conditions," said NIJC Attorney Diana Rashid. "Deporting Betty and Carlos would mean permanently separating the Rendón and Hincapié family, an incredible betrayal of our country's family values and a disservice to our Midwestern communities."
The family fled Colombia in 2004 after guerillas threatened Betty, a teacher who opposed guerilla recruitment of her students.
Since the couple's arrest, more than 65 organizations submitted letters of support through the Emaus Evangelical Lutheran Church in Racine, Wisconsin, where Betty is a student pastor. The letters were included in the stay petition requesting that ICE use its prosecutorial discretion to halt the couple's deportation and release them from detention. Milwaukee-based immigration rights organization Voces de La Frontera has launched an online petition calling on ICE to release Betty and Carlos.
"We stand in solidarity with this family as a symbol of the injustice that is happening to so many families," said Christine Neumann-Ortiz, director of Voces de La Frontera. "We are fighting back, and this fight is a critical fight for us to win."
"We are grateful for the support of so many people across the country in recent days to respond to the arbitrary and capricious arrest, detention and threatened deportation of Betty and Carlos," said Bishop Paul Erickson of the Greater Milwaukee Synod, Evangelical Lutheran Church in America. "The systems and the structures and the laws of our land are supposed to protect us from harm, not subject us to violent arrests and cruel and inhumane treatment. The people who are elected and appointed to oversee our society are charged with the responsibility to enhance life and support families that make up the heart and soul of our communities, not tear families apart."
Bishop Erickson and Neumann-Ortiz announced a national day of action on June 20, World Refugee Day, to support Betty and Carlos.
"We love you all, and we're here for you. We don't want you to be separated," Reverend Mary Janz, retired pastor of Emaus Lutheran Church, told Paula and Layla. "We don't want families to be torn apart. That is unjust. It is not 'we' and 'they,' or 'they' and 'we.' We are all one, together."
With ICE enforcement operations ongoing in Chicago neighborhoods, community leaders also are working to help people understand how to protect their rights if they encounter immigration agents.
"With Trump's aggressive immigration enforcement on the rise, we have to work towards protecting each other," said Fernanda Castellanos an organizer with Organized Communities Against Deportation in Chicago. "As the case of Betty and Carlos illustrates, ICE will do anything to come after our families. But we must remember we have rights, no matter your immigration status, and as a community we also have the power to fight for our people."
Resources for immigrants facing ICE enforcement:
Chicago residents in need of immigration legal assistance can obtain free legal consultations from NIJC through the Legal Protection Fund by calling (312) 660-1370.
Anyone who observes ICE activity in their neighborhood is encouraged to call the Illinois Coalition for Immigrant and Refugee Rights' Family Support Hotline at 1-855-435-7693.