June 27, 2012, was a big day for Jose. Appearing before a judge in an orange prison jumpsuit, he had to convince the Chicago Immigration Court that he deserves asylum in the United States for fear of returning to Mexico because he is gay.

Jose knew at an early age that he is gay. But being raised in a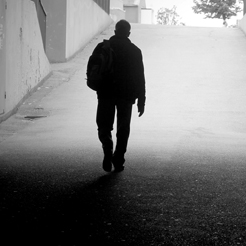 devoutly religious household, he was taught that being gay is an abominable sin. He hid his sexuality for fear of being rejected and harmed by others. In 1993, at the age of 16, Jose came to the United States as an undocumented immigrant to escape the repeated rapes he endured from three much older men.

But moving to the United States proved to be even more challenging. For almost 20 years, Jose lived in constant fear that authorities would discover he was undocumented and deport him. Because of his religious upbringing and some chronic health conditions, he struggled to come to terms with his sexuality. To make matters worse, his main sources of support in the United States were other immigrants who have strong ties to his hometown in Mexico and did not know he is gay. All of these factors combined to prevent Jose from coming forward to apply for asylum. By the time his fear of deportation became a reality and he was arrested and put in removal proceedings, he had missed the one-year deadline that the government sets for asylum seekers to seek protection following their arrival in the United States.

Indeed, one of the main challenges that Jose faced during his hearing was proving that he qualified for the exception to the one-year bar. As his legal counsel, I argued that his poor health, particularly coupled with his religious upbringing and his struggle to accept his sexual orientation, constitutes both a "changed circumstance materially affecting his eligibility for asylum" and an "extraordinary circumstance relating to the delay in filing."

Another challenge I encountered during my representation of Jose was demonstrating he had a well-founded fear of future persecution if he were forced to return to Mexico. Because the Mexican government has recently enacted laws to "improve" the plight of LGBT individuals, I thought it would be difficult to prove to the immigration judge that Jose would be in danger if he returned. But there is a plethora of news articles and reports showing that despite these legal reforms, violence against the LGBT community in Mexico has worsened. Headlines about uninvestigated murders and hate crimes continue to fill the pages of online newspapers and blogs.

But by far, the most challenging aspect of Jose's case was forcing him to retell his story to others and discuss such personal matters with strangers. The sexual abuse that Jose experienced in Mexico was harrowing and traumatic, and recounting those memories brought to life buried struggles. Tears rolled down his cheeks as he realized the great likelihood he would be harmed if he were sent back to Mexico. His wavering voice showed how nervous he was. As his advocate, I knew that no amount of preparation or practice for his hearing would prepare him to endure this kind of emotional pain. Trying to maintain his composure, he wiped the tears off his face and finished his testimony.

Being in removal proceedings has forced Jose to "come out." Coming out could be a traumatizing experience for most people who are not prepared to fully disclose certain information about themselves in public. For Jose, this difficulty stems from his past experience of rejection and continuing stigmatization of LGBT individuals and undocumented immigrants. Now that he is in removal proceedings, Jose faces the possibility of being deported back to Mexico because of his undocumented status and the possibility of being harmed because he is gay.

Jose remains hopeful even as he sits in detention waiting for a positive outcome of his case. His story highlights the continuing struggles of detained gay individuals seeking asylum in the United States. It also highlights the importance of access to legal counsel for immigrants in Jose's situation. I was attuned to the difficulties Jose faced, was able to empathize with his situation, and was able to use my own experience to become a better advocate. As a first-generation gay immigrant who had my own experience of homophobia before coming out, I was able to bridge this gap and tell the judge Jose's story in the best light possible. Earlier this month, the Judge granted Jose's request for asylum, but the government has appealed that decision. We expect a decision from the Board of Immigration Appeals in several months.

Michael Santos was an NIJC summer intern and is a student at the University of Southern California, Gould School of Law.
Photo credit: Felix Huth via Creative Commons