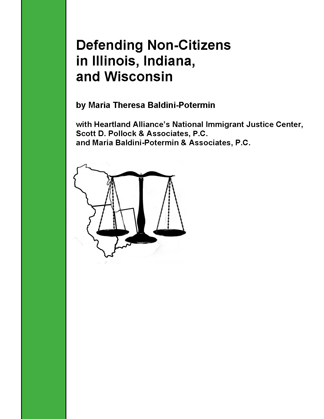 By Maria Theresa Baldini-Potermin

With Heartland Alliance's National Immigrant Justice Center,
Scott D. Pollock & Associates, P.C.
and Maria Baldini Potermin & Associates, P.C.

Defending Non-Citizens in Illinois, Indiana, and Wisconsin addresses the immigration consequences of criminal dispositions for non-citizens. It provides federal statutes and definitions with interpretations, analysis of the state laws as they are affected by federal immigration law, and case studies and practice tips.

Available as a free PDF download!
Download the full manual (10 MB)
Download by Chapter:
Chapter 1 - Defending Non-Citizens in Illinois, Indiana, and Wisconsin: An Overview
Chapter 2 - Definition of "Conviction" for Immigration Purposes
Chapter 3 - Grounds of Deportability for Non-Citizens
Chapter 4 - Grounds of Inadmissibility
Chapter 5 - Juveniles and Immigration Consequences
Chapter 6 - Immigration Remedies and Defenses Under the Immigration and Nationality Act for Non-Citizens
Chapter 7 - Enforcement and Detention by Immigration and Customs Enforcement
Chapter 8 - Criminal Proceedings, Post-Conviction Relief, Illegal Reentry Cases, and Pardons