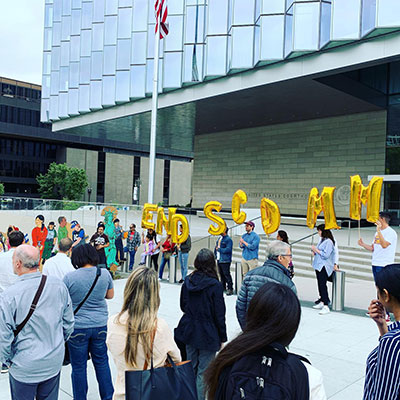 Gonzalez v. ICE challenges various U.S. Immigration and Customs Enforcement detainer practices, including the agency's reliance on error-ridden databases to generate requests, known as detainers, for local law enforcement to hold individuals to be transferred into immigration custody. The detainers generated by these databases are the foundation of an immigration enforcement program called Secure Communities.
According to ICE, the Secure Communities program is responsible for 70% of all ICE arrests. A significant portion of those arrests stem from detainers issued solely on the basis of unreliable electronic databases. ICE officers and contractors, sitting behind computer screens, review the results of automated databases searches on every person booked into police custody anywhere in the country. Based on nothing more than information pulled from flawed databases, ICE has subjected more than 2 million people to these unconstitutional arrests since the inception of the program in 2008.
In February 2018, the district court held that ICE's practice of issuing detainers based on evidence of a person's foreign place of birth and the absence of information about a person's citizenship or immigration status in federal databases violates the Fourth Amendment of the U.S. Constitution.  It also held that ICE's practice of issuing detainers without obtaining an administrative warrant violates its own statutory arrest authority.  The court referred the case to trial for further consideration regarding factual issues about the reliability of ICE databases.
Following trial, in a landmark ruling on September 27, 2019, a federal judge issued a permanent injunction blocking ICE from issuing arrest requests based solely on information from electronic databases. The decision applies to all ICE detainers issued out of the Central District of California, including to those issued by ICE's Pacific Enforcement Response Center (PERC) in Laguna Niguel, from which ICE contractors issue detainers 24-hours-a-day within California and after-hours to 41 other states. The court further found that ICE violates the Fourth Amendment by issuing detainers in states where there is no explicit state statute authorizing civil immigration arrests on detainers. In a final order and judgement issued on February 6, 2020, the court ruled that the injunction would continue to apply to detainers issued via PERC even if the center moved to another state.
The Plaintiffs
The case, filed in 2013 and litigated in partnership with the National Day Laborers Organizing Network and the American Civil Liberties Foundation Union of Southern California, and the law firm Kaye, McLane, Bednarski & Litt LLP, was named for plaintiff Gerardo Gonzalez, who was detained by the Los Angeles Sheriff's Department based on a request issued by ICE in 2012. But Gonzalez was a natural born U.S. citizen, born in Pacoima, California. In September 2016, the district court certified the case as a class action.
Timeline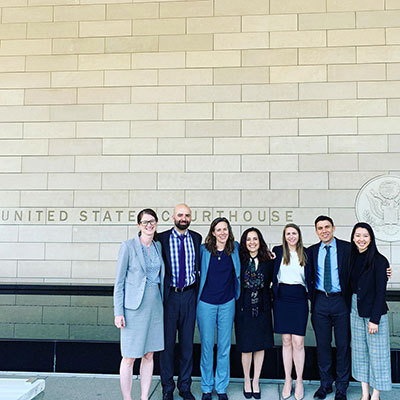 August 18, 2014
Third amended complaint filed
September 9, 2016
Court issues class certification order
February 7, 2018
Summary judgement order, granting in part plaintiffs' motion for summary judgment
May 7 to May 16, 2019
Trial on plaintiffs' database claim
September 27, 2019
Court issues its findings of fact and conclusions of law
February 6, 2020
Court issues final order
Relevant Documents
Final order (February 6, 2020)
Findings of Fact and Conclusions of Law (September 27, 2019)
Summary Judgement Order (February 7, 2018)
In the Media
Press release: Federal Court Rules ICE's Primary Deportation Program Unconstitutional (September 2019)
Press release: Federal Court Finds ICE and Los Angeles Sheriff Collaborated to Unlawfully Detain Thousands of Suspected Immigrants (February 2018)
Los Angeles Times: A bad day for Trump administration on immigrant front as it suffers three legal defeats in one day (9/27/2019)
Los Angeles Times: As Trump continues to push deportations, a fight over data goes to court  (5/6/2019)