Careers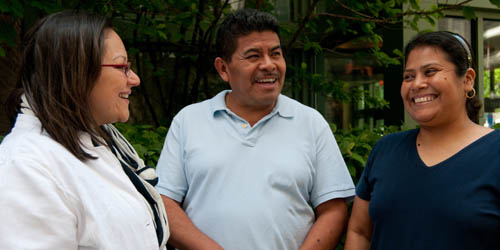 Open positions at the National Immigrant Justice Center
Staff Attorney with NIJC's Immigrant Legal Defense Project
This position provides legal representation and immigration service counseling to immigrants and refugees appearing before the U.S. Citizenship & Immigration Services (USCIS). A Staff Attorney advocates for clients before other government administrative agencies and before other service agencies, as needed and/or as appropriate.
Essential Duties and Responsibilities:
Conducts preliminary intake interview, gathers all relevant facts for presentation at unit meetings. Makes assessment of income eligibility and makes appropriate referrals for those individuals not eligible for organization services. Recommends exceptions to financial guidelines to the supervisor.
Develops and implements preliminary case strategy in terms of immigration law and procedure. Develops further strategy in terms of immigration law and procedure. Develops further strategy in consultation with supervisor.
Prepares the case for hearing, drafting legal papers, engaging in negotiation, presenting evidence, etc. in accord with the Code of Professional Responsibility for the legal profession.
Conducts assessment of client on social, psychological and economic functioning and determines appropriate interventions and referrals. Ensures the provision of a wide range of services for clients.
Carries a volume of work as required by the department. Has in-depth knowledge of legal and other resources. Provides a wide range of court advocacy services.
Remains current on immigration law, policies and procedures. Remains current on implications of criminal and civil law as it apples to the representation of immigrants and refugees.
Develops and maintains professional relationships with the USCIS, government and social service organizations, and community organizations. Interprets immigration and department policies and programs to the public, including public speaking.
In accord with the ethical standards required of the legal profession, the Code of Professional Responsibility, preserves client confidentiality, accounts for client monies and avoids conflict of interest.
Maintains complete and accurate client records. Prepares timely statistical reports. Conducts quarterly case audits for presentation and review of the supervisor.
Participates in training on immigration procedures as assigned by the supervisor. May conduct training sessions as assigned by the supervisor.
Participates in developing and implementing special projects. May have the primary responsibility for a project involving presentation of a particular ethnic group, immigration problem or advocacy issues on a systematic level.
Identifies trends and recurring legal and social concerns. Recommends strategies for solutions and other needed advocacy.
Interprets and translates for department and other organization staff as needed.
Qualifications:
Education and/or Experience: Juris Doctorate Degree required; and one year of direct experience in social service counseling and/or legal representation.
Language Skills: Ability to read, analyze, and interpret general business periodicals, professional journals, technical procedures, or governmental regulations. Ability to write reports, business correspondence, and procedure manuals. Ability to effectively present information and respond to questions from groups of managers, clients, customers, and the general public. Ability to read, speak and write in at least one non-English language.
Fellowships
NIJC is currently accepting applications for post-graduate legal fellowships. NIJC is open to any funding source identified by a candidate, but expects to, at a minimum, identify a candidate for an Equal Justice Works Fellowship application, and possibly a Skadden Fellowship or a Soros Fellowship.
Application Materials:
Cover Letter: Please explain why you are interested in working with NIJC and any experiences you have working with immigrant populations.
Resume: Be sure to identify any language skills that you have. Fluency in Spanish is required for nearly all positions with NIJC.
Writing Sample: Please provide a 5-10 page excerpt from a document you have produced in law school or in a legal position that is your own work, with minimal editing by someone else.
Brief Project Proposal: Most post-graduate legal fellowships require applicants to propose a specific project. Please give a brief description of the kind of work you would like to do. Your proposal should explain why that work is important and how you think it would complement NIJC's existing work. Do not worry if this proposal is incomplete; NIJC will work with the selected candidate to ensure a strong proposal. Candidates are welcome to propose work with any of NIJC's existing projects.
If you would like NIJC to host you for a fellowship other than any of the ones listed above, please provide a description of the fellowship and its requirements with your application. In addition to the above information, finalists will be asked to provide references and transcripts, and will be selected for various rounds of interviews.
Documents should be emailed to NIJC. No phone calls please. Applications will not be accepted after August 15, 2015.

Internships
NIJC offers internships to law students and undergraduates to work in variety of its different legal services programs. The internships present an excellent opportunity to learn more about U.S. immigration law and policies while making a difference in the lives of low-income and impoverished individuals who are in need of legal representation. NIJC will soon be accepting applications for 2015 fall internships for the following programs:
The Jeanne and Joseph Sullivan Project for Protection of Asylum Seekers
Detained Immigrant Protection Project
Immigrant Legal Defense
Immigrant Children's Protection Project
Counter-Trafficking Project
LGBT Immigrants Rights Project
Federal Immigration Policy Internship
National Litigation Project
Click here for more information about the internships NIJC has available and how to apply.

Back to top

NIJC is a program of the Heartland Alliance for Human Needs & Human Rights that champions the human rights and improves the lives of men, women, and children who are threatened by poverty or danger. For more than 100 years we have been providing solutions- both through services and policy- that move individuals from crisis to stability and on to success. Our work in housing, health care, legal protections, and economic security serves more than 100,000 people annually, helping them build better lives. Heartland Alliance makes all hiring and employment decisions without regard to race, creed, color, age, gender, gender identity, marital or parental status, religion, ancestry, national origin, physical or mental disability, sexual orientation, sexual identity, immigrant status, political affiliation or belief, ex-offender status (depending on the offense and position to be filled), unfavorable military discharge, membership in an organization whose primary purpose is the protection of civil rights or improvement of living conditions and human relations, height, weight, or HIV infection, in accord with the Organization's AIDS Policy Statement of September, 1987. Individuals with disabilities requiring accommodation should contact the Employee Services Office at (312) 660-1431.