Careers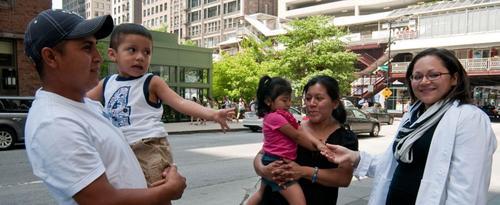 Open positions at the National Immigrant Justice Center

Executive Administrator
This position provides proficient support services to the Director of the National Immigrant Justice Center (NIJC), acts as a staff liaison to NIJC's Leadership Board, coordinates internal and external communications and performs activities and special projects as assigned.
Essential Duties and Responsibilities:
Oversees paid and unpaid interns including coordinating their schedules and maintaining a roster, providing orientation materials and trainings.
Coordinates with Human Resources to post new job openings and process new hires and departures.
Coordinates internal staff meetings and prepares minutes.
Acts on behalf of the Director during his or her absence, ensuring the functioning of the Director's Office in relationship to both internal and external needs and inquiries.
Serves as primary department contact; screening visitors, funders, pro bono attorneys and callers and responding to requests within this position's responsibilities.
Composes written material for the processing of correspondence and inquiries.
Assists with or executes communications related activities such as preparing brochures and writing copy, advanced word processing, and preparing presentations.
Designs and prepares a wide array of materials for use by the Director's Office in advancing organizational mission including letters, strategic planning documents, budgets, proposals and more.
Develops and maintains the department's filing system. Develops procedures for the control, storage, use and availability of office supplies and related items.
Acts as the point of contact with IT for maintenance of office copy machine, computers, laptops and network user accounts.
Processes incoming donations, fees and grants by updating the database, filing hard copies of checks and acting as a liaison to Finance and Accounting Services.

Manage fundraising events which includes coordination of the events, active participation and teamwork with fundraising committees, develop materials, and serve as main contact for these events.

Ability to react to change productively and handle other essential tasks as assigned.
Qualifications:
Education and/or Experience: Bachelor's degree and one year of related experience. May give credit towards years of experience if attained a degree higher than a Bachelor's Degree.

Computer Skills: Proficiency in Microsoft Office, Internet Explorer, Outlook/Exchange; Windows operating systems; and other software routinely used by Heartland Alliance.

Language Skills: Ability to read and interpret documents such as safety rules, operating and maintenance instructions, and procedure manuals. Ability to write routine reports and correspondence. Ability to speak effectively before groups. Bilingual ability preferred.

Communication Skills: High levels of interaction with the NIJC Board, related Board Committees and a wide range of professional people and offices requires an understanding of social decorum and a respect for hierarchy. Strong editing skills.

Reasoning Ability: Ability to apply common sense understanding to carry out instructions furnished in written, oral or diagram form. Ability to deal with problems involving several concrete variables in standardized situations.
To Apply: Please read the full job description and apply on Heartland Alliance's job board.
Associate Director of Resource Development
The Associate Director of Resource Development develops the National Immigrant Justice Center's (NIJC) strategic and annual fundraising plans; maximizes contributions from public and private prospects through grant writing, appeals, special events and other campaigns; oversees grants management and ensures grant compliance and gift stewardship; supervises reception staff; and formulates and manages NIJC's budget. This position collaborates closely with the Executive Director, Leadership Council and senior management.

Essential Duties and Responsibilities:
Grants & Fundraising: Defines resource development strategy in collaboration with the Executive Director to maximize private and public contributions and to diversify NIJC's donor base; Oversees grants management process including but not limited to researching donor prospects, writing letters of inquiry and grant proposals, compiling statistics and supplemental information, maintaining records related to project activities and producing progress reports; Coordinates NIJC's participation in the planning and execution of the annual Human Rights Awards luncheon fundraiser; Prepares year-end giving and other direct mail solicitations; works with support staff to maintain donor records and accurate data entry.
Budgeting: Formulates and manages NIJC's annual budget in collaboration with the ED and Finance staff, produces grant and contract budgets, approves expenditures and oversees the preparation of receivables reports and donor acknowledgements.
Supervision: Prepares performance evaluations for assigned staff inclusive of duties and responsibilities in relation to work quantity and quality; Manages hiring, discipline, promotion, and other relevant employment transactions, within defined parameters.
Qualifications:
Education and/or Experience: Bachelor's degree and 5 years of relevant experience required. Master's degree preferred. Experience in development, particularly in cultivating a diverse individual and corporate donor base. Familiarity with online fundraising and communications tools preferred.
Language Skills: Proficiency in Spanish is preferred. Excellent writing and editing skills. Ability to write clearly and concisely.
Computer Skills: Proficiency in Microsoft Office, Internet Explorer, Outlook/Exchange; Windows operating systems; and other software routinely used by Heartland Alliance.
Other Skills: Excellent organizational and interpersonal skills. Experience with access to justice and/or immigration issues is preferred.
To Apply: Please read the full job description and apply on Heartland Alliance's job board.

Staff Attorney, Detention Project
The National Immigrant Justice Center's Detention Project provides removal defense and detention-related advocacy to noncitizens detained by the Department of Homeland Security (DHS) in its Chicago Area of Responsibility. With the support of pro bono attorneys, the project (1) represents detained individuals before the United States Citizenship & Immigration Services, the Chicago Immigration Court, the Board of Immigration Appeals, the U.S. district courts, and Courts of Appeals, (2) advocates for improved conditions for detained individuals, and (3) advises criminal defense attorneys on the immigration consequences of criminal convictions. The staff attorney will participate in multiple areas of the project's work and will be expected to visit detention centers and advise detained noncitizens on a regular basis.
Qualifications:
Law degree from ABA accredited law school and a law license.
At least one year of experience working with noncitizens. NIJC will recognize internships and relevant pre-law school work.
Fluency in Spanish required.
Valid driver's license is required.
Excellent writing, editing, organizational, analytical, and computer skills.
Ability to manage multiple tasks efficiently and perform well under strict deadlines.
Ability to work in fast-paced, professional, environment.
Proficiency in Microsoft Office, Internet Explorer, Outlook/Exchange, Windows operating systems, and other software routinely used by Heartland Alliance.
Duties and Responsibilities:
Provide information to detained noncitizens. One of the main responsibilities of the attorney will include traveling to detention centers. The attorney will give presentations to detained individuals educating them about the immigration process, will conduct interviews with individuals, and will help individuals prepare materials to enable them to represent themselves.
Increase project's capacity by representing clients. The attorney will also have client-representation responsibilities. Case types include: U visas; cancellation of removal; adjustment of status; asylum, withholding of removal, and relief under the Convention Against Torture; and prosecutorial discretion. The staff attorney will appear primarily in immigration court but will also draft appeals to the Board of Immigration Appeals. The staff attorney will represent applicants in bond hearings and file requests for release with Immigration & Customs Enforcement. All representation must be done in accordance with the Code of Professional Responsibility for the legal profession.
Increase project's capacity by developing new pro bono partnerships. In addition to providing representation to individual clients, the staff attorney may also be responsible for providing support to pro bono attorneys who are representing clients through NIJC's pro bono program. The staff attorney may be asked to identify cases that are appropriate for pro bono placement, place those cases with pro bono attorneys, and supervise pro bono attorneys throughout the process of representing clients.
Screen cases for representation. The staff attorney will conduct intake, assess client income, gather relevant documents, and perform preliminary research regarding claims and will present this information at weekly project meetings. The staff attorney will also review transcripts and administrative records and make recommendations regarding appellate representation for detained individuals.
To Apply: Please read the full job description and apply on Heartland Alliance's job board.
Fellowships
NIJC is currently accepting applications for post-graduate legal fellowships. NIJC is open to any funding source identified by a candidate, but expects to, at a minimum, identify a candidate for an Equal Justice Works Fellowship application, and possibly a Skadden Fellowship or a Soros Fellowship.
Application Materials:
Cover Letter: Please explain why you are interested in working with NIJC and any experiences you have working with immigrant populations.
Resume: Be sure to identify any language skills that you have. Fluency in Spanish is required for nearly all positions with NIJC.
Writing Sample: Please provide a 5-10 page excerpt from a document you have produced in law school or in a legal position that is your own work, with minimal editing by someone else.
Brief Project Proposal: Most post-graduate legal fellowships require applicants to propose a specific project. Please give a brief description of the kind of work you would like to do. Your proposal should explain why that work is important and how you think it would complement NIJC's existing work. Do not worry if this proposal is incomplete; NIJC will work with the selected candidate to ensure a strong proposal. Candidates are welcome to propose work with any of NIJC's existing projects, but we are most interested in individuals who are interested in working with detained immigrants and/or asylum seekers.
If you would like NIJC to host you for a fellowship other than any of the ones listed above, please provide a description of the fellowship and its requirements with your application. In addition to the above information, finalists will be asked to provide references and transcripts, and will be selected for various rounds of interviews.
Documents should be emailed to NIJC. No phone calls please.

Internships
NIJC offers internships to law students and undergraduates to work in variety of its different legal services programs. The internships present an excellent opportunity to learn more about U.S. immigration law and policies while making a difference in the lives of low-income and impoverished individuals who are in need of legal representation. NIJC will soon be accepting applications for 2014 winter internships for the following programs:
The Jeanne and Joseph Sullivan Project for Protection of Asylum Seekers
Detained Immigrant Protection Project
Immigrant Legal Defense
Immigrant Children's Protection Project
Counter-Trafficking Project
LGBT Immigrants Rights Project
Federal Immigration Policy Internship
National Litigation Project
Click here for more information about the internships NIJC has available and how to apply.

Back to top

NIJC is a program of the Heartland Alliance for Human Needs & Human Rights that champions the human rights and improves the lives of men, women, and children who are threatened by poverty or danger. For more than 100 years we have been providing solutions- both through services and policy- that move individuals from crisis to stability and on to success. Our work in housing, health care, legal protections, and economic security serves more than 100,000 people annually, helping them build better lives. Heartland Alliance makes all hiring and employment decisions without regard to race, creed, color, age, gender, gender identity, marital or parental status, religion, ancestry, national origin, physical or mental disability, sexual orientation, sexual identity, immigrant status, political affiliation or belief, ex-offender status (depending on the offense and position to be filled), unfavorable military discharge, membership in an organization whose primary purpose is the protection of civil rights or improvement of living conditions and human relations, height, weight, or HIV infection, in accord with the Organization's AIDS Policy Statement of September, 1987. Individuals with disabilities requiring accommodation should contact the Employee Services Office at (312) 660-1431.