Careers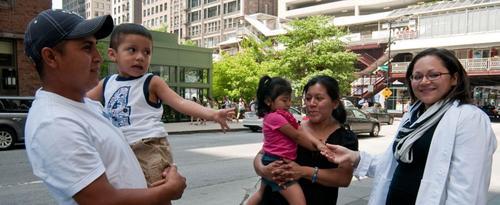 Open positions at the National Immigrant Justice Center
Director of Resource Development
Heartland Alliance's National Immigrant Justice Center (NIJC) seeks Director of Resource Development for its Chicago office. The selected candidate will develop strategic and annual fundraising plans, plan annual fundraising events, cultivate donor relations, maintain accurate records, and collaborate with the executive director and co-director of resource management to draft letters of inquiry, grant proposals, and reports.

Essential Duties and Responsibilities:
The Director of Resource Development will collaborate with NIJC's team to ensure the financial sustainability of the organization. This position will be responsible for a range of duties, which will include developing plans to maximize public and private contributions across a diverse donor base; recruiting, training, and supporting members of the development committee; collaborating with senior management to initiate, cultivate and maintain organizational relationships with individual and institutional donors; conducting research to identify donor prospects and writing letters of inquiry and maintain records regarding individual donors, their interest and identify ways to keep them involved; planning and implement NIJC's annual appeal and annual NIJC Human Rights Awards luncheon; developing compelling materials that capture clients' stories and NIJC's ability to solve problems on an individual and systemic level; assisting in messaging and development of print and digital promotional materials, website content, and special publications; maintaining donor records and accurate data entry; assisting in drafting proposals, grants and reports; and fulfilling other duties as assigned.

Qualifications:
Education and/or Experience: Bachelor's degree and 5 years of relevant experience required. Master's degree preferred. Experience in development, particularly in cultivating a diverse individual and corporate donor base. Familiarity with online fundraising and communications tools preferred.
Language Skills: Excellent writing and editing skills. Ability to write clearly and concisely.
Computer Skills: Proficiency in Microsoft Office, Internet Explorer, Outlook/Exchange; Windows operating systems; and other software routinely used by Heartland Alliance.
Other Skills: Excellent organizational and interpersonal skills. Experience with access to justice and/or immigration issues is preferred.
To Apply: Please read the full job description and apply on Heartland Alliance's job board.

Executive Administrator
This position provides support services to the Director of the National Immigrant Justice Center (NIJC), acts as a staff liaison to NIJC's Leadership Board, coordinates internal and external communications, and performs activities and special projects as assigned.
Essential Duties and Responsibilities:
Serves as primary department contact; screening visitors, funders, pro bono attorneys and callers and responding to requests within this position's responsibilities.
Provides high level support to the Director including, but not limited to, communications functions, office systems development and the maintenance and management of inquiries and correspondence.
Acts on behalf of the Director during his or her absence, ensuring the functioning of the Director's Office in relationship to both internal and external needs and inquiries.
Coordinates with Human Resources to post new job openings and process new hires and departures.
Prepares monthly reports and coordinates the timely completion and submission of NIJC staff reports and relevant data entry.
Provides independent support and service to the Leadership Board, external and internal work groups, coalitions, and task forces. This includes updating rosters, coordinating meetings, developing meeting agendas, preparing and collecting materials for the meetings, preparing minutes, planning events and serving as the main point of contact.
Designs and prepares a wide array of materials for use by the Director's Office in advancing organizational mission including letters, strategic planning documents, budgets, proposals and more. Composes written material for the processing of basic to intermediate level correspondence and inquiries.
Processes incoming donations, fees and grants by updating the database, filing hard copies of checks and acting as a liaison to Finance and Accounting Services.
Submits and maintains requisitions for all incoming invoices. Approves and coordinates requisitions for office supplies and related items or services within defined budgetary limitations.
Manage fundraising events which includes coordination of the events, active participation and teamwork with fundraising committees, develop materials, and serve as main contact for these events.
Identifies funding resources, drafts proposals, and plays active role in negotiating contracts.
Qualifications:
Education and/or Experience: Bachelor's degree and one year of related experience. May give credit towards years of experience if attained a degree higher than a Bachelor's Degree.
Computer Skills: Proficiency in Microsoft Office, Internet Explorer, Outlook/Exchange; Windows operating systems; and other software routinely used by Heartland Alliance.
Language Skills: Ability to read and interpret documents. Ability to write routine reports and correspondence. Ability to speak effectively before groups. Bilingual ability preferred.
Communication Skills: High levels of interaction with the NIJC Board, related Board Committees and a wide range of professional people and offices requires an understanding of social decorum and a respect for hierarchy. Strong editing skills.
To Apply: Please read the full job description and apply on Heartland Alliance's job board.

Paralegal (Goshen, IN)
NIJC is expanding its presence in Indiana and is seeking a paralegal to increase direct client services in Indiana, respond to the needs of unaccompanied immigrant children, provide support to pro bono attorneys handing NIJC matters, and contribute to the work of the associate director of legal services. This position is based in Goshen and requires frequent travel to Chicago, Indianapolis, and other locations in NIJC's service area.
Essential Duties and Responsibilities:
Conducts intake; assesses cases to determine eligibility; reviews, analyzes and presents cases to supervisor.
Conducts legal and factual research.
Conducts interviews with clients and witnesses.
Drafts applications, affidavits, letters and/or legal pleadings and prepares supporting documentation.
Prepares materials for submission to Department of Homeland Security, Immigration Court, or other entities as appropriate.
Conducts educational presentations.
Remains current on immigration law, policies and procedures.
Qualifications:
Education and/or Experience: Bachelors degree with demonstrated experience working with immigrants, refugees and/or asylum seekers. At least one year of experience working with these populations preferred.
Language Skills: Fluency in a second language may be required. Ability to communicate articulately with internal and external audiences.
Other Qualifications: Excellent writing, editing, organizational and computer skills required. Ability to manage multiple tasks efficiently and perform well under strict deadlines.
To Apply: Please read the full job description and apply on Heartland Alliance's job board.

Staff Attorney (Bilingual)
The staff attorney provides legal representation and immigration service counseling to immigrants and refugees appearing before the U.S. Citizenship & Immigration Services (USCIS). This position advocates for clients before other government administrative agencies and before other service agencies, as needed and/or as appropriate.
Duties and Responsibilities:
Conducts preliminary intake interview, gathers all relevant facts for presentation at Unit meetings. Makes assessment of income eligibility and makes appropriate referrals for those individuals not eligible for services.
Develops and implements preliminary and further case strategy in terms of immigration law and procedure.
Prepares the case for hearing, drafting legal papers, engaging in negotiation, presenting evidence, etc. in accord with the Code of Professional Responsibility for the legal profession.
Conducts assessment of client on social, psychological and economic functioning and determines appropriate interventions and referrals. Ensures the provision of a wide range of services for clients.
Carries a volume of work as required by the department. Has in-depth knowledge of legal and other resources. Provides a wide range of court advocacy services.
Remains current on immigration law, policies and procedures. Remains current on implications of criminal and civil law as it apples to the representation of immigrants and refugees.
Develops and maintains professional relationships with the U.S. Citizenship & Immigration Services (USCIS), government and social service organizations and community organizations. Interprets immigration and department policies and programs to the public, including public speaking.
In accord with the ethical standards required of the legal profession, the Code of Professional Responsibility, preserves client confidentiality, accounts for client monies and avoids conflict of interest.
Maintains complete and accurate client records. Prepares timely statistical reports. Conducts quarterly case audits for presentation and review of the Supervisor.
Participates in training on immigration procedures as assigned by the Supervisor. May conduct training sessions as assigned by the Supervisor.
Participates in developing and implementing special projects. May have the primary responsibility for a project involving presentation of a particular ethnic group, immigration problem, or advocacy issues on a systematic level.
Identifies trends and recurring legal and social concerns. Recommends strategies for solutions and other needed advocacy.
Interprets and translates for department and other staff as needed.
Qualifications:
Education and/or Experience: Juris Doctorate Degree required; and one year of direct experience in social service counseling and/or legal representation.
Language Skills: Ability to read, analyze, and interpret general business periodicals, professional journals, technical procedures, or governmental regulations. Ability to write reports, business correspondence, and procedure manuals. Ability to effectively present information and respond to questions from groups of managers, clients, customers, and the general public. Ability to read, speak and write in at least one non-English language.
To Apply: Please read the full job description and apply on Heartland Alliance's job board.
Fellowships
NIJC is currently accepting applications for post-graduate legal fellowships. NIJC is open to any funding source identified by a candidate, but expects to, at a minimum, identify a candidate for an Equal Justice Works Fellowship application, and possibly a Skadden Fellowship or a Soros Fellowship.
Application Materials:
Cover Letter: Please explain why you are interested in working with NIJC and any experiences you have working with immigrant populations.
Resume: Be sure to identify any language skills that you have. Fluency in Spanish is required for nearly all positions with NIJC.
Writing Sample: Please provide a 5-10 page excerpt from a document you have produced in law school or in a legal position that is your own work, with minimal editing by someone else.
Brief Project Proposal: Most post-graduate legal fellowships require applicants to propose a specific project. Please give a brief description of the kind of work you would like to do. Your proposal should explain why that work is important and how you think it would complement NIJC's existing work. Do not worry if this proposal is incomplete; NIJC will work with the selected candidate to ensure a strong proposal. Candidates are welcome to propose work with any of NIJC's existing projects, but we are most interested in individuals who are interested in working with detained immigrants and/or asylum seekers.
If you would like NIJC to host you for a fellowship other than any of the ones listed above, please provide a description of the fellowship and its requirements with your application. In addition to the above information, finalists will be asked to provide references and transcripts, and will be selected for various rounds of interviews.
Interested candidates should submit the following information to NIJC by July 31, 2014. Documents should be sent to Katelyn Banner at kbanner@heartlandalliance.org. No phone calls please.

Internships
NIJC offers internships to law students and undergraduates to work in variety of its different legal services programs. The internships present an excellent opportunity to learn more about U.S. immigration law and policies while making a difference in the lives of low-income and impoverished individuals who are in need of legal representation. NIJC is now accepting applications for 2014 fall internships for the following programs:
The Jeanne and Joseph Sullivan Project for Protection of Asylum Seekers
Detained Immigrant Protection Project
Immigrant Legal Defense
Immigrant Children's Protection Project
Counter-Trafficking Project
LGBT Immigrants Rights Project
Federal Immigration Policy Internship
National Litigation Project
Click here for more information about the internships NIJC has available and how to apply.

Back to top

NIJC is a program of the Heartland Alliance for Human Needs & Human Rights that champions the human rights and improves the lives of men, women, and children who are threatened by poverty or danger. For more than 100 years we have been providing solutions- both through services and policy- that move individuals from crisis to stability and on to success. Our work in housing, health care, legal protections, and economic security serves more than 100,000 people annually, helping them build better lives. Heartland Alliance makes all hiring and employment decisions without regard to race, creed, color, age, gender, gender identity, marital or parental status, religion, ancestry, national origin, physical or mental disability, sexual orientation, sexual identity, immigrant status, political affiliation or belief, ex-offender status (depending on the offense and position to be filled), unfavorable military discharge, membership in an organization whose primary purpose is the protection of civil rights or improvement of living conditions and human relations, height, weight, or HIV infection, in accord with the Organization's AIDS Policy Statement of September, 1987. Individuals with disabilities requiring accommodation should contact the Employee Services Office at (312) 660-1431.