Careers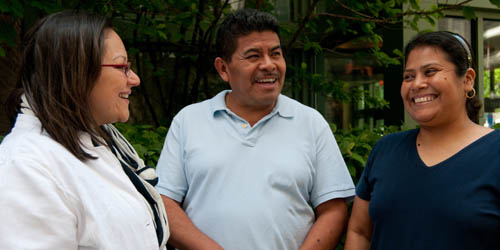 Open positions at the National Immigrant Justice Center


Director of Policy
The Director of Policy helps develop, implement, and execute policy priorities. The Director is responsible for advancing NIJC's strategic advocacy efforts, primarily at the federal level. In addition, the Director of Policy coordinates the policy reform elements of NIJC's Detention, Democracy, and Due Process (D3P) Project, a national campaign to reform the immigration enforcement and detention system. The Director of Policy will advance these goals in collaboration with NIJC's legal and communications staff, as well as with immigrant and human rights organizations, advocates, legislators, representatives from administrative agencies, other policy makers, and the media. Specific accountabilities and work volume will be established through the development of annual Success Objectives, within the framework outlined below. The position reports to NIJC's Executive Director and works closely with the Executive Director to ensure that NIJC's advocacy goals are achieved. This position is based in Washington, D.C. or Chicago.
Essential Duties and Responsibilities:
Lead NIJC's advocacy efforts on Capitol Hill and serve as one of the organization's primary voices/representatives in Washington, D.C.
Coordinate with NIJC's communications, litigation, detention, and legal services staff to devise strategic approaches to advance reform goals. These may include litigation, petitions for rulemaking, Office of Civil Rights and Civil Liberties complaints, international human rights mechanisms, and other avenues for advocacy.
Analyze, with input from NIJC legal staff, pending legislation and amendments; prepare analysis and suggested modifications; prepare talking points; and work with staff to identify client stories to support policy positions.
Develop and maintain relationships with members of Congress and members of the administration and federal agencies consistent with achieving NIJC's advocacy goals.
Develop questions and provide information to policymakers and legislators engaged in Congressional hearings and other agency oversight; track and research executive branch nominations related to immigration policy and/or enforcement; recommend hearing and oversight questions to policy makers and legislators.
Conduct educational briefings for Congressional staff on issues relevant to NIJC's priority concerns related to immigration reform, due process, and protection mechanisms.
Write and deliver remarks/speeches on immigration issues at conferences and other events; participate in panel discussions.
Work in formal and informal coalitions of legal aid and advocacy organizations to advocate for policy reform; draft and edit statements, reports, and other jointly-produced products.
Educate policy makers, the media, and the public on pending legislation and administrative forms of relief.
Analyze and draft comments in response to agency notice-and-comment rulemaking; prepare comments on agency-proposed policies, guidance, programs, and other initiatives not subject to notice-and-comment rulemaking.
Write advocacy and educational materials on emerging policy issues, and work with NIJC staff, Leadership Board members, pro bono attorneys, project partners, clients, and other stakeholders to build their capacity to respond to such issues effectively.
Represent NIJC with regional and national partners, colleague agencies, and national networks on immigration policy matters.
Work with litigation team and participate in discussions on litigation goals and strategies, with a particular focus on how other forms of advocacy may complement litigation plan.
In coordination with the Executive Director and the leadership team:

Create strategic policy priorities on issues related to immigration enforcement and detention practices; due process protections; and issues related to refugees, asylum seekers, children, LGBTI immigrants, and survivors of domestic violence and trafficking.
Develop and implement diverse grassroots, local, state, and federal advocacy strategies on immigrant rights issues.
Write and edit grant reports and project proposals and contribute to cultivating and maintaining individual and organizational donors.

Provide direct supervision and support to the Associate Director of Policy as well as other staff, interns and volunteers as assigned.
React to feedback productively and perform other job-related duties as assigned, including providing backup support to NIJC's other programs and their clients.
Qualifications:
To perform this job successfully, the ideal candidate must be able to perform each essential duty. The requirements listed below are representative of the knowledge, skill, and/or ability required. Reasonable accommodations may be made to enable individuals with disabilities to perform the essential functions. The ideal candidate:
is a mature professional who can work independently and "goes the extra mile," particularly in response to tight deadlines and emerging opportunities;
is a strong public speaker who can represent NIJC well and can confidently articulate the organization's policy goals;
identifies/anticipates emerging opportunities or issues; and
pays attention to detail, knows how to prioritize his/her work, has strong organizational skills, maintains confidentiality, thrives in a fast-paced and demanding environment, and is open to change.
Required Experience:
Education and/or Experience: J.D. or relevant master's degree; minimum of five years of related professional experience.
Language Skills: Excellent oral and written communication skills. Demonstrated competency in public speaking and exceptional interpersonal skills.
Other Skills: Experience working with elected officials and/or legislative and administrative agencies required. Experience with immigrant or refugee issues and experience working with federal budgets and congressional appropriations a plus. Ability to lead teams and mentor staff and other individuals.
Computer Skills: Proficiency in Microsoft Office, Internet Explorer, Outlook/Exchange; Windows and include a willingness to learn new software.
Click here for full job description and how to apply on Heartland Alliance's job board.

Internships
NIJC offers internships to law students and undergraduate students to work in a variety of its different legal services programs. The internships present an excellent opportunity to learn more about U.S. immigration law and policies while making a difference in the lives of low-income and impoverished individuals who are in need of legal representation. NIJC is now accepting applications for Fall 2016 part-time internships.
Click here for more information about available internships and how to apply.

Fellowships
NIJC is currently accepting applications for post-graduate legal fellowships. NIJC is open to any funding source identified by a candidate, but expects to, at a minimum, identify a candidate for an Equal Justice Works Fellowship application, and a Skadden Fellowship or a Soros Fellowship with NIJC's Counter-Trafficking Project. NIJC also welcomes applicants who will be seeking post-graduate fellowship funding through their own law schools.
Application Materials:
Cover Letter: Explain your interest in NIJC and any experiences you have working with immigrant populations.
Resume: Identify any language skills that you have. Fluency in Spanish is required for almost all positions with NIJC.
Writing Sample: Provide a 5-10 page excerpt from a document you have produced in law school or in a legal position that is your own work.
Brief Project Proposal: Most post-graduate legal fellowships require applicants to propose a specific project. Please give a brief description of the kind of work you would like to do. Your proposal should explain why that work is important and how you think it would complement NIJC's existing work. NIJC will work with the selected candidate to ensure a strong proposal. Candidates are welcome to propose work with any of NIJC's existing projects, but we are most interested in individuals who are interested in working with immigrant victims of trafficking, detained immigrants, and/or asylum seekers.
Other: If you would like NIJC to host you for a fellowship other than any of the ones listed above, please provide a description of the fellowship and its requirements with your application. In addition to the above information, finalists will be asked to provide references and transcripts, and will be selected for various rounds of interviews.
Interested candidates should submit the following information to NIJC by June 30, 2016. Documents should be sent to Tarrajna Walsh. No phone calls please.

NIJC is a program of the Heartland Alliance for Human Needs & Human Rights that champions the human rights and improves the lives of men, women, and children who are threatened by poverty or danger. For more than 100 years we have been providing solutions- both through services and policy- that move individuals from crisis to stability and on to success. Our work in housing, health care, legal protections, and economic security serves more than 100,000 people annually, helping them build better lives. Heartland Alliance makes all hiring and employment decisions without regard to race, creed, color, age, gender, gender identity, marital or parental status, religion, ancestry, national origin, physical or mental disability, sexual orientation, sexual identity, immigrant status, political affiliation or belief, ex-offender status (depending on the offense and position to be filled), unfavorable military discharge, membership in an organization whose primary purpose is the protection of civil rights or improvement of living conditions and human relations, height, weight, or HIV infection, in accord with the Organization's AIDS Policy Statement of September, 1987. Individuals with disabilities requiring accommodation should contact the Employee Services Office at (312) 660-1431.