Careers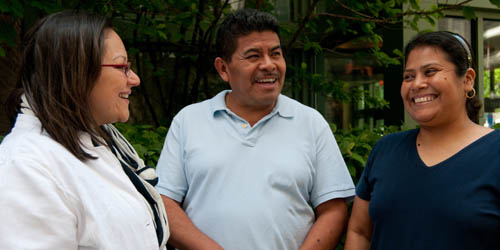 Open positions at the National Immigrant Justice Center
Paralegal (Detention Project)
This position provides provides general paralegal support through intake, research, case review, documentation preparation and other related tasks to support general operations and the work of staff and pro bono attorneys. This posting is for a position with NIJC's Detention Project, which works to uphold the due process protections of detained individuals.
Essential Duties and Responsibilities:
Conducts intake, as assigned.
Conducts legal and factual research.
Assesses cases to determine eligibility.
Conducts interviews with clients and witnesses.
Drafts applications, affidavits, letters and/or legal pleadings and prepares supporting documentation.
Prepares materials for submission to Department of Homeland Security, Immigration Court, or other entities as appropriate.
Reviews, analyzes and presents cases to supervisor.
Conducts educational presentations.
Remains current on immigration law, policies and procedures.
Maintains complete, thorough, accurate and current records in an organized fashion in accordance with legal standards, rules and ethics.
Qualifications:
Education and/or Experience: Bachelors degree with demonstrated experience working with immigrants, refugees and/or asylum seekers. At least one year of experience working with these populations preferred.
Language Skills: Fluency in another language may be required. Ability to communicate articulately with internal and external audiences.
Other Qualifications: Excellent writing, editing, organizational and computer skills required. Ability to manage multiple tasks efficiently and perform well under strict deadlines.
Click here for full job description and how to apply on Heartland Alliance's job board.

Outreach Coordinator
The Outreach Coordinator is responsible for serving as the NIJC representative with community-based, faith-based and ethnic organizations, domestic violence shelters, schools, governmental agencies, including public libraries and legal aid programs working with immigrants to educate and engage their constituents and/or clients on access to immigration legal services. The Coordinator will be expected to lead organizational outreach: identify potential partner organizations, develop materials to share with the organizations' staff and materials for clients/constituents, and create networks for collaboration in the delivery of legal services to low-income immigrants. The Coordinator will work closely with in-house and external experts on the use of technology in the delivery of legal services, as well as with supervising attorneys from NIJC's programs in order to keep abreast of the most current developments in immigration law.
Essential Duties and Responsibilities:
Identify underserved immigrant communities and develop comprehensive outreach strategy to ensure immigrants have access to accurate legal information
Identify and collaborate with strategic partners for effective outreach to immigrant communities
Conduct outreach to immigrants and/or immigrant communities and to organizations working in these communities
Develop an expertise in technological tools that will assist in the delivery of legal services, including NIJC's online intake tool, and provide training on those tools
Maintain database to track outreach and outcome
Manage the publication and distribution of NIJC's materials and online educational webinars
Maintain current knowledge of immigration policies, procedures, and internal structures
Serve as conduit of current information for community-based, faith-based and ethnic organizations and government agencies, including schools and public libraries
Manage educational trainings and presentations at law firms
Lead NIJC's outreach on the delivery of legal services
Conduct intakes on a regular basis
Assess cases for eligibility for immigration relief
Prepare applications and evidence to support applications, including affidavits
Provide representation before USCIS
Qualifications:
Education and/or Experience: Bachelor's degree required. Master's degree preferred. Minimum of two years of experience in human rights field, legal and/or communications work required. May give credit towards years of experience if attained a degree higher than a Bachelor's degree.
Language Skills: Fluency in English and Spanish or French. Ability to communicate articulately with internal and external audiences. Excellent oral and written communication skills. Demonstrated competency in public speaking and strong interpersonal skills required.
Computer Skills: Proficiency in Microsoft Office, Internet Explorer, Outlook/Exchange; Windows operating systems; and other software routinely used by Heartland Alliance.
Other Skills: Knowledge of: principles and practices of communications and public information techniques through different mediums, including print, television, and internet; writing and editing techniques for a variety of audiences. Ability to: assimilate and convey messages on a variety of issues relating to due process violations and immigration detention in a succinct and compelling way and tailored to different audiences; write effective copy, press releases, design and layout electronic and print newsletters and website pages; work independently with limited supervision; be goal-oriented and multi-task; have a diplomatic presence; develop and maintain good working relationships with a wide variety of peer organizations; communicate effectively, both orally and in writing.
Click here for full job description and how to apply on Heartland Alliance's job board.
Staff Attorney (Immigrant Legal Defense Project)
The staff attorney provides legal representation and immigration service counseling to immigrants and refugees. This position works with NIJC's Immigrant Legal Defense Project, which offers offers a wide range of low-cost and free legal services to low-income immigrants in jurisdiction of the Chicago immigration court, and represents immigrants before U.S. Citizenship & Immigration Services and the Executive Office for Immigration Review. The staff attorney advocates for clients before other government administrative agencies and before other service agencies, as needed and/or as appropriate.
Essential Duties and Responsibilities:
Conducts preliminary intake interview, gathers all relevant facts for presentation at unit meetings. Makes assessment of income eligibility and makes appropriate referrals for those individuals not eligible for organization services. Recommends exceptions to financial guidelines to the supervisor.
Develops and implements preliminary case strategy in terms of immigration law and procedure. Develops further strategy in terms of immigration law and procedure in consultation with supervisor.
Prepares the case for hearing, drafting legal papers, engaging in negotiation, presenting evidence, etc. in accord with the Code of Professional Responsibility for the legal profession.
Conducts assessment of client on social, psychological and economic functioning and determines appropriate interventions and referrals. Ensures the provision of a wide range of services for clients.
Carries a volume of work as required by the department. Has in-depth knowledge of legal and other resources. Provides a wide range of court advocacy services.
Remains current on immigration law, policies and procedures. Remains current on implications of criminal and civil law as it apples to the representation of immigrants and refugees.
Develops and maintains professional relationships with the USCIS, government and social service organizations and community organizations. Interprets immigration and department policies and programs to the public, including public speaking.
In accord with the ethical standards required of the legal profession, the Code of Professional Responsibility, preserves client confidentiality, accounts for client monies and avoids conflict of interest.
Maintains complete and accurate client records. Prepares timely statistical reports. Conducts quarterly case audits for presentation and review of the supervisor.
Participates in training on immigration procedures as assigned by the supervisor. May conduct training sessions as assigned by the supervisor.
Participates in developing and implementing special projects. May have the primary responsibility for a project involving presentation of a particular ethnic group, immigration problem or advocacy issues on a systematic level.
Identifies trends and recurring legal and social concerns. Recommends strategies for solutions and other needed advocacy.
Interprets and translates for department and other organization staff as needed.
Adheres to professional standards as outlined by governmental bodies, (and/or other appropriate professional associations), private funding sources, organization plans/policies and unit guidelines. Participates in periodic evaluative reviews and/or in-house and external staff training to ensure that she/he understand and continues to adhere to such standards. Initiates requests for assistance or guidance from supervisor to address new issues or complex concepts affecting adherence to professional standards.
Competencies:
Analytical - Synthesizes complex or diverse information; collects and researches data; uses intuition and experience to complement data; designs work flows and procedures.
Design - Generates creative solutions; translates concepts and information into images; uses feedback to modify designs; applies design principles; demonstrates attention to detail.
Problem Solving - Identifies and resolves problems in a timely manner; gathers and analyzes information skillfully; develops alternative solutions; works well in group problem solving situations; uses reason even when dealing with emotional topics.
Project Management - Develops project plans; coordinates projects; communicates changes and progress; completes projects on time and budget; manages project team activities.
Technical Skills - Assesses own strengths and weaknesses; pursues training and development opportunities; strives to continuously build knowledge and skills; shares expertise with others.
Customer Service - Manages difficult or emotional customer situations; responds promptly to customer needs; solicits customer feedback to improve service; responds to requests for service and assistance; meets commitments.
Interpersonal Skills - Focuses on solving conflict, not blaming; maintains confidentiality; listens to others without interrupting; keeps emotions under control; remains open to others' ideas and tries new things.
Oral Communication - Speaks clearly and persuasively in positive or negative situations; listens and gets clarification; responds well to questions; demonstrates group presentation skills; participates in meetings.
Written Communication - Writes clearly and informatively; edits work for spelling and grammar; varies writing style to meet needs; presents numerical data effectively; able to read and interpret written information.
Teamwork - Balances team and individual responsibilities; exhibits objectivity and openness to others' views; gives and welcomes feedback; contributes to building a positive team spirit; puts success of team above own interests; able to build morale and group commitments to goals and objectives; supports everyone's efforts to succeed.
Visionary Leadership - Displays passion and optimism; inspires respect and trust; mobilizes others to fulfill the vision; provides vision and inspiration to peers and subordinates
Change Management - Develops workable implementation plans; communicates changes effectively; builds commitment and overcomes resistance; prepares and supports those affected by change; monitors transition and evaluates results.
Delegation - Delegates work assignments; matches the responsibility to the person; sets expectations and monitors delegated activities; provides recognition for results.
Leadership - Exhibits confidence in self and others; inspires and motivates others to perform well; effectively influences actions and opinions of others; accepts feedback from others; gives appropriate recognition to others.
Quality Management - Looks for ways to improve and promote quality; demonstrates accuracy and thoroughness.
Business Acumen - Understands business implications of decisions; demonstrates knowledge of market and competition; aligns work with strategic goals.
Cost Consciousness - Works within approved budget; develops and implements cost saving measures; conserves organizational resources.
Diversity - Demonstrates knowledge of EEO policy; shows respect and sensitivity for cultural differences; educates others on the value of diversity; promotes a harassment-free environment; builds a diverse workforce.
Ethics - Treats people with respect; keeps commitments; inspires the trust of others; works with integrity and ethically; upholds organizational values.
Organizational Support - Follows policies and procedures; completes administrative tasks correctly and on time; supports organization's goals and values; supports affirmative action and respects diversity.
Strategic Thinking - Develops strategies to achieve organizational goals; understands organization's strengths & weaknesses; analyzes market and competition; identifies external threats and opportunities; adapts strategy to changing conditions.
Judgment - Displays willingness to make decisions; exhibits sound and accurate judgment; supports and explains reasoning for decisions; includes appropriate people in decision-making process; makes timely decisions.
Motivation - Sets and achieves challenging goals; demonstrates persistence and overcomes obstacles; measures self against standard of excellence; takes calculated risks to accomplish goals.
Planning/Organizing - Prioritizes and plans work activities; uses time efficiently; plans for additional resources; sets goals and objectives; organizes or schedules other people and their tasks; develops realistic action plans.
Professionalism - Approaches others in a tactful manner; reacts well under pressure; treats others with respect and consideration regardless of their status or position; accepts responsibility for own actions; follows through on commitments.
Quality - Demonstrates accuracy and thoroughness; looks for ways to improve and promote quality; applies feedback to improve performance; monitors own work to ensure quality.
Quantity - Meets productivity standards; completes work in timely manner; strives to increase productivity; works quickly.
Safety and Security - Observes safety and security procedures; determines appropriate action beyond guidelines; reports potentially unsafe conditions; uses equipment and materials properly.
Adaptability - Adapts to changes in the work environment; manages competing demands; changes approach or method to best fit the situation; able to deal with frequent change, delays, or unexpected events.
Attendance/Punctuality - Is consistently at work and on time; ensures work responsibilities are covered when absent; arrives at meetings and appointments on time.
Dependability - Follows instructions, responds to management direction; takes responsibility for own actions; keeps commitments; commits to long hours of work when necessary to reach goals; completes tasks on time or notifies appropriate person with an alternate plan.
Initiative - Volunteers readily; undertakes self-development activities; seeks increased responsibilities; takes independent actions and calculated risks; looks for and takes advantage of opportunities; asks for and offers help when needed.
Innovation - Displays original thinking and creativity; Meets challenges with resourcefulness; Generates suggestions for improving work; Develops innovative approaches and ideas; Presents ideas and information in a manner that gets others' attention.
Qualifications:
Education and/or Experience: Juris Doctorate Degree required and one year of direct experience in social service counseling and/or legal representation.
Language Skills: Ability to read, analyze, and interpret general business periodicals, professional journals, technical procedures, or governmental regulations. Ability to write reports, business correspondence, and procedure manuals. Ability to effectively present information and respond to questions from groups of managers, clients, customers, and the general public. Ability to read, speak and write in at least one non-English language.
Click here for full job description and how to apply on Heartland Alliance's job board.
Fellowships
NIJC is not currently accepting applications for post-graduate legal fellowships, but we expect to begin accepting applications for Fall 2016 soon. Please check back soon for application deadlines and submission instructions. NIJC is open to any funding source identified by a candidate, but expects to, at a minimum, identify a candidate for an Equal Justice Works Fellowship application, and possibly a Skadden Fellowship or a Soros Fellowship.
Internships
NIJC offers internships to law students and undergraduates to work in variety of its different legal services programs. The internships present an excellent opportunity to learn more about U.S. immigration law and policies while making a difference in the lives of low-income and impoverished individuals who are in need of legal representation. NIJC is now accepting applications for summer 2016 internships for the following programs:
The Jeanne and Joseph Sullivan Project for Protection of Asylum Seekers
Detained Immigrant Protection Project
Immigrant Legal Defense
Immigrant Children's Protection Project
Counter-Trafficking Project
LGBT Immigrants Rights Project
Federal Immigration Policy Internship
National Litigation Project
In your cover letter, please specify for which period you are applying.
Click here for more information about the internships NIJC has available and how to apply.

Back to top

NIJC is a program of the Heartland Alliance for Human Needs & Human Rights that champions the human rights and improves the lives of men, women, and children who are threatened by poverty or danger. For more than 100 years we have been providing solutions- both through services and policy- that move individuals from crisis to stability and on to success. Our work in housing, health care, legal protections, and economic security serves more than 100,000 people annually, helping them build better lives. Heartland Alliance makes all hiring and employment decisions without regard to race, creed, color, age, gender, gender identity, marital or parental status, religion, ancestry, national origin, physical or mental disability, sexual orientation, sexual identity, immigrant status, political affiliation or belief, ex-offender status (depending on the offense and position to be filled), unfavorable military discharge, membership in an organization whose primary purpose is the protection of civil rights or improvement of living conditions and human relations, height, weight, or HIV infection, in accord with the Organization's AIDS Policy Statement of September, 1987. Individuals with disabilities requiring accommodation should contact the Employee Services Office at (312) 660-1431.