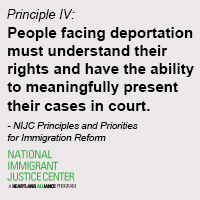 Earlier this year, Melissa* found herself locked up in immigration detention, awaiting a deportation flight to Mexico. U.S. immigration law said she did not have the right to see a judge, and most of her family and friends told her to give up and just let the deportation happen. Luckily, with the help of her U.S. citizen girlfriend Alicia*, Melissa decided to seek legal advice anyway.
As it turns out, Melissa had ample reason to continue fighting her case. But as one of an estimated 900,000 LGBT teens in America who are homeless or near homeless, she has had to overcome significant legal and financial hurdles to do so.
Melissa's immigration troubles began when she had a non-violent misdemeanor arrest as a teenager and was turned over to immigration on a detainer. U.S. Immigration and Customs Enforcement (ICE) released Melissa, a minor at the time, to her mother's custody and sent all of her vital case documents—including notice of her hearing date—to her mother's home. Like many LGBT teens, Melissa had a strained relationship with her family and mostly relied on friends for housing. She never received the documents from her family, and as a teenager who did not have a lawyer, Melissa did not understand their significance anyway.
When she did not appear for her hearing, the judge ordered her deported. A few months ago, at age 20, a traffic stop landed Melissa back in immigration custody and ICE tried to put that deportation order into effect. Because she had already received a deportation order, the law disqualifies her from the right to another hearing, but having a lawyer has given her a chance to challenge the order.
Alicia and Melissa first contacted a private lawyer recommended by other detainees. He filed a motion with the court to have the deportation order rescinded and requested that Melissa be allowed a chance to see a judge. However, with Melissa still detained and unable to work, the lawyer's fees quickly became too costly for the young couple to pay. That is when they contacted Heartland Alliance's National Immigrant Justice Center (NIJC). The LGBT Immigrant Rights Initiative took the case pro bono and discovered that Melissa was potentially eligible for three different types of relief from deportation: a visa for victims of crimes based on childhood sexual abuse, asylum as an LGBT youth fearing persecution in her native country of Mexico, and possibly President Obama's Deferred Action for Childhood Arrivals program.
While NIJC worked to prove that Melissa should be given the opportunity to fight her case in front of a judge, Alicia struggled to survive with her girlfriend locked up. The two of them had lived together, and Melissa had been their sole source of income while Alicia finished college. After Melissa was detained, Alicia was forced to drop out—just one month short of graduation. She began working two jobs, but between the lawyer fees and expensive phone calls to Melissa in detention, she could not hold on to her apartment and moved into a homeless shelter.
Recently, Melissa and Alicia got their first good news: The judge rescinded Melissa's deportation order and gave her the lowest bond possible—$1,500. Melissa's mother agreed to help pay the bond, and Alicia and Melissa are working to put their lives back together. But Melissa still has a long road ahead as she works with NIJC to fight her case in immigration court.
Melissa and Alicia could have avoided a lot of heartache and trouble if Melissa had been able to speak with a lawyer the first time she was detained. Their problems could have been further prevented had Melissa been given access to free or low-cost legal services as soon as she was detained the second time. Of the people who currently are detained, 84 percent will be deported without having access to legal representation. The immigration reform bill passed by the Senate earlier this year would improve access to lawyers for unaccompanied immigrant children, individuals with mental illness, and other vulnerable immigrants in deportation proceedings. No person should be deported without the opportunity to understand their rights and, at a minimum, speak with a judge. If Melissa had taken her family's original advice not to fight her deportation, or had not found NIJC, that is exactly what would have happened. Melissa would be living in a place she had not seen since she was seven years old, where she would face a likelihood of persecution based on her sexual orientation, while Alicia struggled to get by in the United States without the support of her partner.
*Names have been changed to protect individuals' privacy.
Mary Georgevich is the LGBT project coordinator for Heartland Alliance's National Immigrant Justice Center.
Rethink Immigration is a blog series in which National Immigrant Justice Center staff, clients, and volunteers share their unique perspectives and specific recommendations on what Congress and the Obama administration must include in comprehensive immigration reform to create an inclusive, fair, and humane immigration system.