The U.S. government's criminalization of immigrants has marooned thousands of men and women in the quagmire where criminal and immigration laws meet. For this latest post in NIJC's series, two members of NIJC's legal staff and a federal defender in Texas tell the story of how they are working together to help a hardworking father keep his green card.
Something amiss
By Gabriel Reyes, Assistant Federal Defender, Alpine, Texas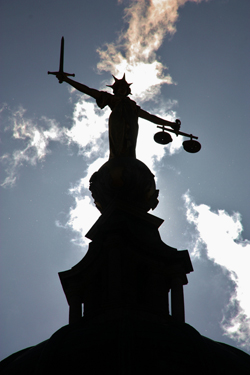 In March 2012, I was appointed to the case of Jorge*, a lawful permanent resident (green card holder) from Mexico who had lived and worked in Ohio for decades to support his family before he was charged with illegal reentry. As a federal public defender in west Texas, I've had many such cases. However, as soon as I began exploring Jorge's history, I noticed something unusual.

I saw right away that Jorge had not been present at the immigration hearing in which the judge had issued the deportation order the government later used as the basis for the illegal reentry charge.

Illegal reentry—now the most prosecuted crime in the United States—is charged when a non-citizen who has a prior deportation order comes back into the United States without permission. If there is some type of flaw with the underlying deportation order—if there was a constitutional violation or procedural irregularity in how it was issued, for example—then the person has a valid defense in his criminal illegal reentry case. However, it's a tough defense to raise. At the end of the day, even if the person is acquitted of illegal reentry, they still have the underlying deport order against them, which immigration authorities can reinstate at any time.

The far better route to help a client who was unjustly ordered deported in the first place is to try to reopen the person's underlying deportation case in immigration court and vacate the deportation order. If this strategy succeeds, the court must dismiss the illegal reentry charge. But there are significant hurdles in taking this route, too. Because there are strict timing rules for reopening immigration cases, many people run out of time. Even more significantly, public defenders are limited to representing clients in criminal cases, not deportation cases, and free immigration legal service providers who are able to step in are few and far between.

I asked Jorge why he hadn't attended his deportation hearing, and this is whenI knew we had a case. Jorge was clearly an attentive, responsible, and capable person. He had attended all of his prior immigration hearings. He had worked for decades at a plant in Ohio and had been promoted to supervisor. He was a loving father and husband and worked hard to take care of his family as best as he could—sending money and making visits, because his wife and children lived in Mexico.

Jorge told me that a few weeks before his hearing, his wife had called to tell him that their son was gravely ill. Jorge contacted the immigration court to make sure that he had time to do so before his hearing, and then went to Mexico to visit his ill son. He diligently brought his paperwork with him, and when he came back to the United States days before his hearing he presented it to border officials. The documents showed that he had an immigration court hearing a few days later, and Jorge told the officials that he was expected in court. Nevertheless, border records show that the officials turned Jorge away and sent him back to Mexico. In so doing, they violated Jorge's right to come into the United States and attend his hearing. A few days later, the immigration judge had no choice but to order Jorge deported "in absentia."

I sensed that there was a way to challenge the deportation order, since Jorge had tried to come back for his hearing but was barred from doing so. But, not being an immigration lawyer, I didn't know how to go about doing it. I reached out to my immigration clinic professor at Columbia Law School for advice. She in turn sent an email to a national listserv of immigration lawyers asking if anyone might be willing to try to reopen Jorge's immigration case in Ohio.

That same day, Sarah Rose Weinman at the National Immigrant Justice Center in Chicago responded to the listserv posting and offered to help.
Devising a strategy
By Sarah Rose Weinman, Baker & McKenzie Equal Justice Works Fellow at NIJC

As the point person for NIJC's Defenders Initiative, I'm used to responding to inquiries from attorneys who, like Gabriel, are representing non-citizens in criminal proceedings. The Defenders Initiative provides case consultation and advice to criminal defense attorneys about the immigration consequences that non-citizen defendants face as a result of even the most minor criminal conviction. However, it's not often that we, as immigration lawyers, have the opportunity to step in and directly help out with a defense attorney's case.
Today's immigration
system moves in such a
quick and opaque manner
that it regularly forces
people to gamble.
When I first got in touch with Gabriel, I thought it would be a regular Defenders Initiative inquiry. I would ask him the basic facts of the case and then let him know what the immigration consequences would be. But, like Gabriel, I knew right away that something was amiss in the underlying removal order that Jorge had received. I also saw right away that we were within the narrow window of time allotted to challenge that removal order and reopen Jorge's immigration case—another rarity, as Gabriel mentioned above. Finally, I gleaned that Jorge had been eligible for a special kind of relief from deportation, and had actually been preparing to apply for that relief before he was ordered removed in absentia. I knew that if Jorge was able to get his removal order rescinded and reopen his immigration case, he would not only be able to get his illegal reentry charges dropped, but would actually be able to stay in the United States lawfully.

My colleagues and I decided that NIJC would take on Jorge's motion to reopen case. Gabriel was able to schedule Jorge's criminal hearing date for August, far enough in the future so we would have enough time, we hoped, to file a motion with the Cleveland immigration judge showing why the court should rescind Jorge's past removal order and reopen his immigration proceedings. If the motion succeeded, Gabriel could then work to get Jorge's illegal reentry charges dismissed, and NIJC could work to get him relief from removal and a way to keep his green card.

That's where Kim Ybarra stepped in to make heroic efforts to gather more than 90 pages of documentation to convince the immigration judge to reopen Jorge's case.
Race against the clock
By Kim Ybarra, NIJC National Litigation Project Coordinator

When I was asked in mid-April to help collect information and supporting documents for Jorge's case, it seemed like a simple and ordinary request.

But the case quickly developed into a resource-intensive one. Jorge was detained in criminal custody in Texas, and his immediate family, including wife and children, were in Mexico. The most difficult hurdle was arranging times to speak with Jorge and his wife over the phone to prepare affidavits. In Mexico, his wife worked long hours, so we could only work together for about an hour in the mornings on approximately 10 occasions. Making direct calls abroad was too expensive for NIJC's nonprofit budget, so we relied on Skype. Because of her location in Mexico, calls sometimes couldn't go through because of a bad connection. It took patience on both ends to be efficient in how we used our time when the call was able to go through to her residence.

As difficult as the calls to Mexico were, communicating with Jorge was even more trying. As in most criminal facilities, Jorge was only allowed to make collect calls, even to his attorneys. The only alternatives were to send letters by postal mail or visit in person. Whenever I reviewed Jorge's case and found gaps in the information, I wrote down my thoughts and waited for him to call me during the limited hours when my office could accept collect calls. In working on his case over about six weeks, we only were able to speak three times. Each of these conversations was less than 20 minutes long, the maximum amount of time the collect call provider allowed.

Aside from getting facts from Jorge, I also needed something much more basic: his signature. We needed an original signature for his retainer, affidavits, and immigration fee waiver application. Like the differing phone protocols, each facility has its own policy on allowing inmates to send faxes to counsel. As is the situation with almost all of NIJC's immigration detention clients, we were dependent upon the facility's staff to a) like us, b) be willing to help us, and c) have the follow-through to obtain Jorge's signature and fax it back to us as quickly as possible.

One particularly time-sensitive fax came toward the end of Jorge's case. The government had responded to our motion to reopen, and we only had a week to submit our reply, including the day it would take for the reply to reach the immigration court by mail. Because of some of the issues the government raised, we decided that submitting another affidavit from Jorge, to supplement our brief, was the best response. I immediately called the Texas facility to tell them we would be faxing another affidavit page for Jorge, and to ask them to send him a message that we urgently needed him to call us. In this conversation, one of the facility's officers told me that a call wouldn't be possible for that day because the phones for detainees were down for maintenance. I didn't doubt that this was true, but we needed that affidavit. I did what any one of NIJC's staffers would do on behalf of a client—I begged. I explained that it was an urgent matter, and we had a short amount of time to respond. I pleaded and told them in my kindest voice that I would try to never make such a request again, and that I would only need to talk to the client for a short amount of time. The officer discussed it with a supervisor, and returned to tell me that they would permit Jorge to use one of the phones in their offices. The officers kept their word and Jorge called me that afternoon. Sarah and I were able to quickly pepper him with questions and confirm his affidavit. That day we submitted it to the immigration court along with our reply brief.
Victory
SRW: Once we filed the reply in mid-June, there was nothing to do but sit, wait, and hope for the best. We told Jorge the same and encouraged him to stay optimistic as he waited out the future of both his immigration status and his criminal case.
Finally, on July 17, we got an envelope in the mail from the Cleveland court. Inside was a decision from the immigration judge granting our motion. It was an incredibly rewarding moment for those of us who had worked on the case, and for everyone nearby who came to ask what all the excitement was about. We emailed a copy of the decision to Gabriel. He, in turn, sent it along to the assistant U.S. attorney assigned to the illegal reentry case. Within about a week, the AUSA moved to dismiss the indictment against Jorge.
Being able to get Jorge's criminal charges dropped and his immigration case reopened was an incredible victory – for Jorge, for Gabriel, and for NIJC. But there are many uphill battles in front of us. After his federal case was dropped, Jorge was transferred from federal criminal custody to an immigration detention facility in rural southeast New Mexico. Although we are working to get him out on bond, the process is time-consuming and difficult. Moreover, the Department of Homeland Security has been trying to get Jorge's case sent away from the immigration judge in Cleveland—who has handled it for two years and made every significant decision in the case thus far—to the immigration court in El Paso, New Mexico. The El Paso court has an incredibly overcrowded docket and is unfamiliar with the case's complex procedural history. We're fighting that motion, and speaking with Jorge as often as possible to let him know the latest developments. With any luck, we hope that Jorge will be able to be released from custody in New Mexico so that he can appear for his hearing before the immigration judge in Ohio, where we will represent him in his application for relief from removal.

KY:
The biggest highlight of working on the motion to reopen was winning Jorge's trust. Jorge did not reach out to NIJC directly. We learned of his case only through his public defender. He couldn't conduct a Google search of us or come to our offices to confirm our work. Nothing about his case was in his control. When we were able to talk, because the calls were timed and his case was difficult, I didn't have time for some of the professional niceties that
A reminder that we
can make a difference on illegal reentry cases.
I usually use to make clients feel at ease. Both Jorge and I became quickly aware of how difficult it was going to be to have a conversation, so unfortunately our calls were just about the facts. I apologized to him each time we talked, for how quickly I needed the conversation to proceed so that I could get all of the information. He graciously accepted this.

I think now of how I would feel in a similar situation: battling a criminal case related to a border official's mistake about my immigration status; unfamiliar with the intricacies of immigration law; and reliant on the word of a voice over the phone. I know he had the word of his public defender as to our credibility, but it shocks me that he was so trusting about something he had worked so hard to obtain in the first place—his U.S. residency. I realize that he did this because we were his only option. Today's immigration system moves in such a quick and opaque manner that it regularly forces people to gamble. In the end some get lucky, but many don't.

GR:
On July 31, I received the federal judge's order dismissing the illegal reentry charges against Jorge. The dismissal represented a big win for Jorge and for my office. He now has a decent shot at keeping his green card. For my office, it highlights the importance of teamwork and how strategic alliances can benefit our clients.

Within the federal defenders office, our investigator deserves a lot of credit for uncovering the critical factual issues during the initial interview following our appointment to the case; our paralegal for gathering important documents; and our legal assistant for tracking down and returning $300 that Border Patrol confiscated upon Jorge's arrest.

Outside the office, my former professor deserves thanks for providing me an introduction to NIJC when I quickly needed top-notch immigration counsel in the Midwest. Sarah, Kim, and their NIJC colleague Claudia Valenzuela deserve bushels of credit for overturning the underlying deportation order. Jorge is not totally out of the woods. But instead of facing his immigration proceedings alone, Jorge will be represented by counsel at NIJC well versed in immigration law and the details of his case.

This victory is a good reminder that we can make a difference on illegal reentry cases.
*Psuedonym used to protect the client's privacy.

Gabriel Reyes is the assistant federal defender in Alpine, Texas; Sarah Rose Weinman is the Baker & McKenzie Equal Justice Works Fellow at Heartland Alliance's National Immigrant Justice Center (NIJC); and Kim Ybarra is the NIJC national litigation project coordinator.
Photo credit: James Burke via Creative Commons