"We are here today because everyone deserves a second chance."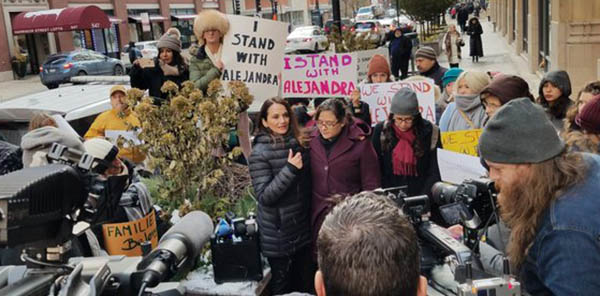 CHICAGO (November 14, 2019) – Alejandra Cano, a single mother of two who came to the United States with her own parents as a toddler and was at risk of detention today during a secondary inspection appointment at the Customs and Border Protection (CBP) office in Chicago, was granted a one-month reprieve while the government seeks additional documentation regarding her case. Dozens of family members, supporters from Chicago's addiction recovery community, and community allies and faith leaders held vigil for nearly four hours this morning while Alejandra and her attorney appeared for her scheduled check-in.
"We are here today because everyone deserves a second chance, including me," Alejandra told supporters before she entered the building. When she exited four hours later, she thanked the many supporters who remained outside and invited them to return to support her during her next scheduled check-in on December 19 at 9 a.m.
Alejandra came to the U.S. when she was 1.5 years old, with her parents who were political asylees from Chile. She has lived in the United States for 41 years and is a lawful permanent resident. In her teens, after a confusing and alienating childhood, Alejandra began self-medicating. Her struggles with addiction resulted in criminal convictions which now make her subject to detention under punitive U.S. immigration laws, despite her successful rehabilitation and years of advocacy to support others seeking to recover from addiction. Alejandra's lawyers believe she has a strong case to remain in the United States, and her family and community are calling on the Department of Homeland Security to use its discretion to not lock her up while her case plays out.
"The reason Alejandra remains at risk of detention is a demonstration of how harmful and unnecessarily punitive our country's immigration laws are," said National Immigrant Justice Center attorney Kate Ramos, who is representing Alejandra under the City of Chicago Legal Protection Fund. "The officers inside CBP's office today were aware that Alejandra had a community outside supporting her, and we truly believe that made a difference. When we return next month, they will have an opportunity to decide to keep Alejandra together with her children, and with the community who needs her, while her immigration case is pending."
"Today the community stepped up to make sure Alejandra was not detained," said Erendira Rendon, vice president, immigration advocacy at The Resurrection Project. "We will be back December 19th to stand by her side once again!"
###
The National Immigrant Justice Center (NIJC) is a nongovernmental organization dedicated to ensuring human rights protections and access to justice for all immigrants, refugees, and asylum seekers through a unique combination of direct services, policy reform, impact litigation, and public education. Visit =immigrantjustice.org and follow @NIJC on Twitter.
The Resurrection Project (TRP) is a multifaceted organization that seamlessly blends community development, community organizing, human service delivery, and advocacy to build healthier and engaged communities. Since its founding in 1990 with an initial seed capital of $30,000, TRP has leveraged more than $469 million in community reinvestment through homes for ownership, rental housing, small businesses and community facilities. To date TRP has developed 844 units of affordable housing, and created over 275,091 square feet of community commercial space, creating vibrant, healthier and involved communities. For more information about The Resurrection Project, please visit www.resurrectionproject.org.