Thank you for showing such tremendous support for Dreamers on #GivingTuesday! NIJC supporters gave more than $50,000 – that's enough to help more than 50 Dreamers identify their legal options and apply for permanent status.
For many Dreamers, access to legal services means a chance to live a stable life, remain together with their families in the United States, and continue contributing to the country they call home. Thank you for giving immigrant youth that opportunity.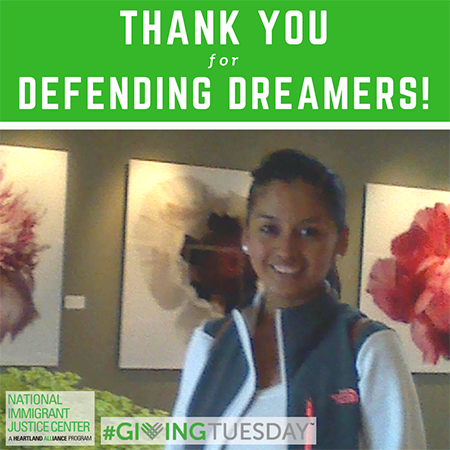 MARIA ELENA'S STORY
Maria Elena is a mother, wife, and an educator at her daughter's school in Chicago. Maria Elena had DACA and later became eligible for lawful permanent residency, which she received just eight days before the Trump administration ended the DACA program.
For Maria Elena, having legal status has meant more stability for her family and the opportunity to pursue her dream of a career in early childhood education.
"Working with students has helped me to learn a lot of things. It has helped me to help those kids who need an extra push, who unfortunately have their own situations at home, and they struggle. But they learn the material in a different way. We're just there to provide that extra help."
With the end of DACA, legal counsel is critical to help immigrant youth and young adults like Maria Elena identify their options and apply for permanent status.
"I have close family members who are Dreamers too, and unfortunately they don't have a path to citizenship. I was able to get my green card, but they are stuck being Dreamers and they want more than that. They want to continue to have more opportunities like everybody else."
For individuals who are not eligible for any status under current immigration law, a "clean" DREAM Act is currently their only hope. With a clean DREAM Act, undocumented immigrants like Maria Elena's family members would have the opportunity to continue their careers and live without fear of breaking their families apart.
"A clean DREAM Act would provide them with something permanent," said Maria Elena, "as Dreamers we should all be able to have that."
Read Maria Elena's full story and learn more about why we need a clean Dream Act.
TAKE ACTION to tell your members of Congress to pass a clean Dream Act that provides legal status for immigrant youth and does not jeopardize the safety and livelihood of other immigrants in the United States.

There's still time to participate in NIJC's #GivingTuesday campaign and DONATE to help even more Dreamers get critical legal advice.