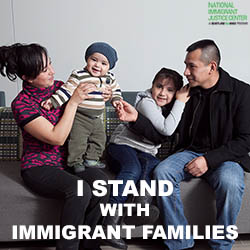 November 9, 2016
As America faces challenges in our long fight to uphold our founding values of liberty and justice for all, the National Immigrant Justice Center stands firmly with the immigrant communities who make our country strong. Though the president has the discretion to unilaterally alter some immigration policies, he cannot change the law itself. We will advocate strongly with the new Congress to retain protections for all immigrants.
In the meantime, here are four important things to know right now:
We do not recommend filing an initial application for DACA at this time. If you are considering filing a DACA renewal, first speak with qualified legal counsel, like NIJC, about the potential risks.
If you have DACA, do not apply for advance parole. If you already have approved advance parole, return to the United States before January 20, 2017.
Make an appointment for a legal consultation with a qualified legal service provider like NIJC as soon as possible to see if you are eligible for a permanent form of relief.
If you have been a permanent resident for three or more years, consult with a legal service provider about preparing to apply for U.S. citizenship. If you have ever had an encounter with the police, do not apply unless you have consulted with an attorney.
Contact NIJC to schedule a legal consultation by phone at 312-660-1370 or by email.
Join NIJC's action team to stay informed about immigration issues and defend immigrants' human rights.