Prominent immigrant rights activist and NIJC client, Abuelita Genoveva Ramirez, has been fighting a hard battle against U.S. Immigration and Customs Enforcement (ICE). The 67-year-old grandmother and great grandmother was told she had to permanently return to Mexico during a check-in appointment with ICE in August 2017, even though she had a pending application for a U visa, a special visa for victims of serious crimes. NIJC represented Genoveva in filing a federal lawsuit to delay her deportation until her visa application was reviewed. 
In Nov. 2017 Genoveva proved immigrant community organizers can win. Abuelita Genoveva was approved for a U visa giving her deferred action and protecting her from deportation. Abuelita Genoveva stood alongside lawyers and community members from PASO-West Suburban Action Project and Organized Communities Against Deportation to speak to the press about this magnificent victory. NIJC litigation attorney Kate Melloy Goettel represented Genoveva in a federal lawsuit demanding that USCIS conduct an initial review of her U visa application and grant her deferred action until her application is fully adjudicated.
Ms. Melloy Goettel joined with community members to celebrate Ms. Ramirez's victory this week and shared the following remarks:
"Genoveva's case highlights the maze of bureaucratic hoops that many immigrants must jump through to receive relief from deportation to which they are lawfully entitled. Genoveva applied for her U visa over a year ago. Right now, people face waits as long as 10 years to complete the U visa process. For Genoveva, who had been told she must depart the country by last week, that wait was too long. We are thrilled that after extensive advocacy and federal court litigation, the government expedited this preliminary adjudication and has determined that Genoveva may stay."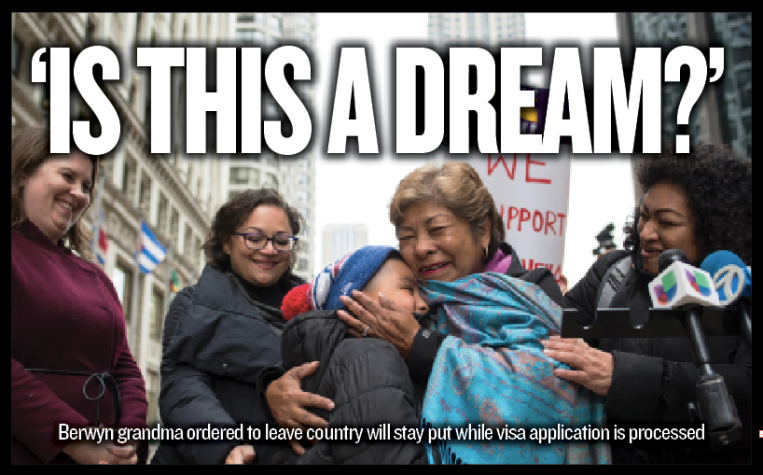 Chicago Sun Times: Berwyn grandma no longer in imminent danger of deportation (11/2/2017)

Chicago Sun Times: EDITORIAL: A win for Berwyn grandma who faced deportation, and for us (11/2/2017)

Univision Nacional: Genoveva Ramírez y Felipe Diosdado, los inmigrantes mexicanos que luchan contra la deportación (11/2/2017)

Univision (WGBO-DT): Abuelita indocumentada de Chicago se anota un triunfo migratorio (11/2/2017)

Telemundo (WSNS): Se salva de la deportación abuelita de Chicago (11/2/2017)

NBC5: Grandmother at Center of Deportation Case Can Stay For Now, ICE Says (10/10/2017) 

Chicago Sun Times: Good news for Berwyn grandmother facing deportation: 'I feel relieved' (10/10/2017)

Univision: Postergan orden de deportación contra mujer hispana que demandó a ICE tras haber solicitado una visa (10/10/2017)

Lawndale News: Chicago Grandmother Facing Deportation Sues DHS (9/21/2017)

ABC7: Grandmother with pending visa paperwork sues over deportation (9/18/2017); Local leaders, community members rally in support of grandmother facing deportation (8/31/2017) 
CBS2: Undocumented Grandmother Of 10 Faces 'Appointment' With Feds (5/29/2017)