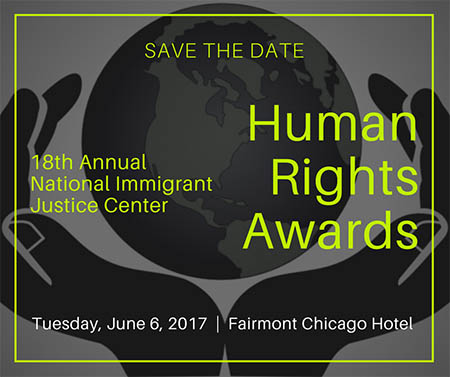 Since 2000, the National Immigrant Justice Center's Human Rights Awards luncheon has honored human rights champions and celebrated the contributions of business, civic, and philanthropic leaders. The event draws more than 800 attendees and provides critical funding for NIJC to ensure that it can continue to promote human rights and access to justice for immigrants.
National Immigrant Justice Center Human Rights Awards
Tuesday, June 6, 2017
Fairmont Chicago Hotel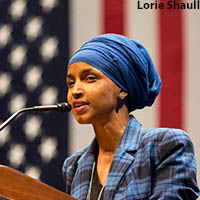 Keynote & Jeanne and Joseph Sullivan Award:
Rep. Ilhan Omar, Minnesota Legislature
Representative Ilhan Omar is the newly elected, Minnesota House Representative for District 60B. She is the first Somali-American, Muslim woman in the nation to hold an office at this level. Ilhan and her family fled the Somali civil war and spent four years in a refugee camp in Kenya before finallly arriving in the United States. Ilhan is an organizer committed to advancing unity and justice, helping women entrepreneurs, pursuing criminal justice reform and ensuring clean air and water. Ilhan has received multiple accolades and awards and has been featured in several news publications, including TIME, PEOPLE, NPR, and Al Jazeera. Adapted from ilhanomar.com.
Human Rights Corporate Award: Aon
Aon's commitment to pro bono legal services to immigrants, refugees and asylum seekers has been critical to ensuring access to justice.
Human Rights Practitioner Award: Reed Smith
Reed Smith has played a tremendous role in advancing human rights for Chicago's most vulnerable, expanding resources for NIJC staff and clients, and providing protection to refugees from Central America and Syria.
Commitment to Change Award: Dr. Zaher Sahloul
Dr. Sahloul is a critical care physician who volunteers throughout Syria and whose commitment to human rights makes health care more accessible and shines a light on the global refugee crisis.


If you or your company is interested in sponsoring the 18th Annual Human Rights Awards, please contact us. For more information about sponsorships, please view NIJC's sponsorship packet.